It occurred to me, as I wrote two recent travelogues, that I'd visited a lot of interesting places in the last few years. I recorded my thoughts and impressions from those journeys on the pages of Twelve Mile Circle. The intent was to describe my adventures while still fresh in my mind. Looking back through many of those pages recently, as a complete body of work, they seemed to have transformed into something more like a diary. I wasn't prescient as they unfolded at the time, just looking for topics that didn't require a lot of advance research. Travel stories were easy to draft and offered a break from the usual fare of geo-oddities that sometimes took hours to write.
I couldn't help getting a little nostalgic as the pages brought back events that had already started receding from memory. I couldn't believe how quickly years had passed. I wanted to create a catalog, probably more for myself than for my faithful readers, so that I could always stroll through those past haunts with ease. This article was the result.
2008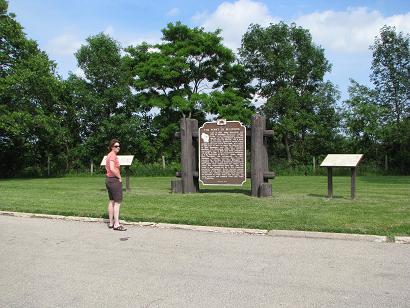 Wisconsin's Point of Beginning

The concept began with a family trip to see the in-laws during the earliest days of 12MC, only a few months after I began writing it. The trip coincided with severe flooding in the area. The first travelogue on the site sprang organically from those events in a series of four articles.
---
2009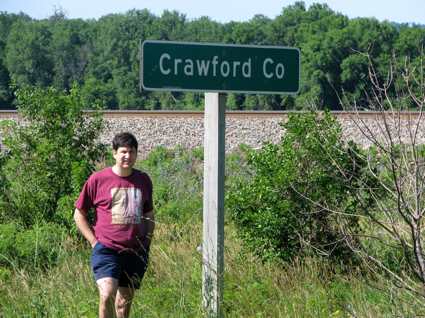 I visited My 1000th County in 2009

Travel continued remarkably strong as 12MC entered 2009. I poked around Key West, Florida and its environs, discovering weird geography and out-of-the-way history amidst the usual tourist fare.
Later we returned to Wisconsin and focused on the Great River Road along the Mississippi River. There I crossed into my 1000th county in my never-ending County Counting quest. I was up to 1,255 counties as of the time I published this article (June 2015) so I've progressed well. However I have to look at it realistically and I don't think that I will be able to capture every remaining county. I'm moving too slowly.
Later that summer we traveled to Maine. It would set precedence for an annual family tradition: that summer and each subsequent summer (excepting one) we've picked a different state as a family and then spent a week exploring it.
---
2010


Flying Over the Harding Icefield; Alaska's Kenai Peninsula

We'd visited my wife's relatives in Wisconsin a couple of times so 2010 offered an opportunity to focus on my family along the Mississippi and Louisiana Gulf Coast.
That was fine although I was probably more excited about the state we selected that year, Alaska. I'd been to Alaska a couple of times before and I wanted to try a different corner. We rented a house at a central point on the Kenai Peninsula in the tiny town of Cooper Landing (map) and radiated out from there on day trips. We experienced only one small slice of the massive Alaskan landmass although we saw it in depth. I'd gladly return.
---
2011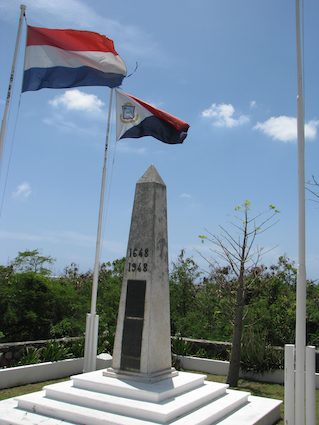 The Tropical Border Between France and the Netherlands on St. Martin/Maarten

We don't go to the beach ordinarily. I'm too restless and my wife sunburns too easily. Yet, a trip to the Caribbean during early Spring without any kids sounded downright attractive. I selected St. Martin / Maarten because it had an international border running through it. Isn't that how everyone chooses a tropical vacation destination?
Utah was our state of focus that summer. I continue to be amazed by its awesome desert scenery.
---
2012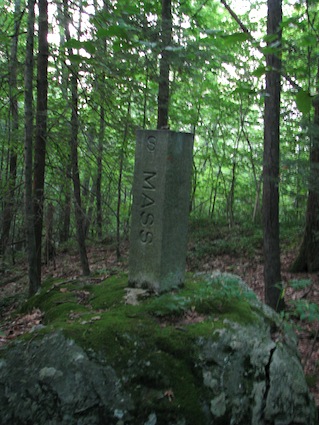 Northernmost Point in Connecticut

We let our older son pick the state in 2012 and he selected Oregon. That was an excellent choice. I'd been to Oregon's beautiful coastline several times so I decided to focus on the dry, hot eastern side of the Cascades this time. I also threw-in a couple of days in Washington for good measure. We spent most of the time near Bend, Oregon. It may have had something to do with the large concentration of breweries and brewpubs found there.
Then I joined Steve from Connecticut Museum Quest on a once-in-a-lifetime journey through an incredible array of Connecticut geography extremes that may never be equaled again. Steve, has it really been three years already?
---
2013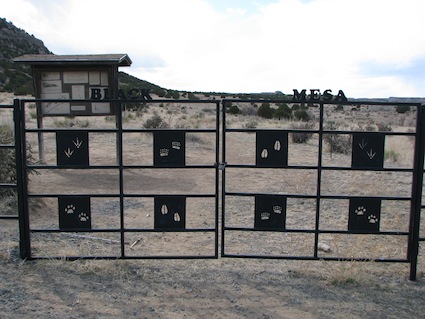 Trailhead to Black Mesa, the Oklahoma Highpoint

The Dust Bowl Adventures marked my first encounter with the Mainly Marathons organization. This was the first race series they'd ever sponsored; five races in five states in five days (now they do even more). The series was designed for people working on 50-state marathon (or half marathon) lists or adding to their lifetime totals. I was a driver for a runner, collecting all sorts of obscure counties while we wandered through unlikely corners where Oklahoma, Texas, Kansas, Colorado and New Mexico all came in close proximity to each other.
Kentucky was our state of choice that summer for the annual family vacation. We focused on its Appalachian region for the most part. Eastern Kentucky featured spectacular natural beauty along the wooded hills and tumbling brooks.
---
2014


County Cork, Kerry, Limerick Tripoint

We signed on for another Mainly Marathons series in 2014, this time along the Mississippi River with races in Kentucky, Tennessee, Arkansas, Mississippi and Louisiana. We never spotted Elvis although we did stop at Graceland.
Then we deviated from our usual pattern and selected Ireland for our family vacation instead of a U.S. state. One branch of my family came from Ireland and we were actually able to meet some of our distant cousins. We covered quite a bit of territory in the southwestern corner.
---
2015


Eastern Continental Divide: Which Way Will the Water Flow?

The current year may be my finest travel period ever. I began with some healthy exercise in April when I completed a four-day bicycle ride along the Great Allegheny Passage trail in Pennsylvania and Maryland.
Then, just a couple of weeks ago I went to the tip of Cape Cod, did some island hopping and made it down to Newport, Rhode Island.
That would probably be enough in a normal year. Fortunately I still have two more trips planned. I'll spend a week in the vicinity of Asheville, North Carolina later in the Summer. In Autumn we will participate in another Mainly Marathon event, the Center of the Nation Series (six races, six days, six states — North Dakota, South Dakota, Montana, Nebraska, Wyoming and Colorado). More travelogues will be forthcoming!
Under
Borders
,
Cities/Towns
,
Distance
,
Elevation
,
History
,
International
,
Island
,
Roads
,
Terrain
,
U.S. Counties
,
Water
,
Weather
| Taged
Travel Recap
---