Today we crown the "Smallest County in the United States." As noted in Parts 1 through 3 in this series, there were serious problems with the three smallest geographical units that are called counties (Kalawao County, Hawaii, New York County, New York and Bristol County, Rhode Island). Those three are counties in name only. They have no independently functioning governments and are more accurately described as counties of convenience, pseudo-counties or historical artifacts that have outlived their original purpose. Also independent cities by definition are not considered counties so they should not be considered for the title either.
The smallest "true" county in the United States is Arlington County, Virginia at 25.87 square miles and with about 200,000 people. One recognized source, the National Association of Counties, supports this distinction:
Counties vary greatly in size and population. They range in area from 26 to 87,860 square miles (i.e. Arlington County, Virginia and the North Slope Borough, Alaska). Similarly, the population of counties varies tremendously from Loving County, Texas with 67 residents to Los Angeles County, California, which is home to 9,519,338 people. Counties with populations under 50,000 accounted for nearly three-fourths of all county governments in 2000.
View Larger Map
The
Arlington County
government hedges its bets by describing itself as the "smallest self-governing county" in the United States and explains its situation rather succinctly:
Arlington, Va., is a world-class urban community that was originally part of the "10-mile square" parcel of land surveyed in 1791 to be the Nation's Capital. It is the geographically smallest self-governing county in the United States, occupying slightly less than 26 square miles.
There are some additionally interesting aspects of Arlington County's geography. First, it is fully urbanized and has no incorporated towns within its boundaries. For that reason there is a common misconception that Arlington is a city. However it's not. It is a county. Second, it contains some of the most recognizable symbols of the United States military within its tiny borders including the Pentagon, Arlington National Cemetery, the Marine Corps War Memorial (a.k.a. the Iwo Jima memorial) and the new Air Force Memorial dedicated in 2006. Third, as mentioned in the quote above, Arlington was once part of the District of Columbia, a small part of Virginia territory transferred to the District but later returned to Virginia during an 1847 retrocession. Many of the original District of Columbia boundary markers placed by Andrew Ellicott in 1791-1792 still remain undisturbed along parts of Arlington's southwestern and northwestern borders.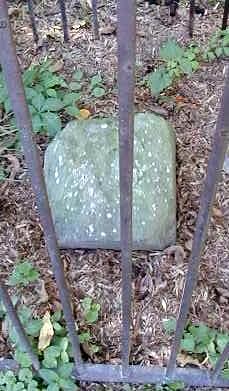 This stone here, for example, was the original
District of Columbia Southwest Border Stone number 9.
It rests today within a little park along a quiet residential street on the Arlington County border.At the beginning of this series I mentioned that it wasn't going to be easy to determine the "smallest county" in the United States, and indeed this was the case. It seems like it should be such a simple issue but it's not. Even so, I believe I've laid out a a case that Arlington County, Virginia should receive that distinction. Dissenting views are encouraged and warmly welcomed.Other Posts in this Series:
Under
Borders
,
Government
,
History
,
U.S. Counties
| Taged
Air Force Memorial
,
Arlington
,
Arlington National Cemetery
,
Boundary Stones
,
District of Columbia Boundary
,
Iwo Jima Memorial
,
Marine Corps War Memorial
,
National Association of Counties
,
Pentagon
,
Smallest County
,
Virginia
---