There was a book, then a movie called "The Bridges of Madison County." The story was set in Iowa and the bridges refrenced were covered. The plot involved a love affair or so I've inferred from summaries. I neither read the novel nor saw the film because I never felt I was part of the target audience I supposed. Nonetheless I thought about the title and stole it for today's Twelve Mile Circle. The rest of the article had no relation whatsoever.
I felt a bit skeptical when a friend invited me on a 50-mile bike ride through northern Frederick County, Maryland one recent Saturday morning. I'm an urban biker primarily — with one notable recent exception — and I try to stick to paved off-road trails. I tend to stay away from actual roads unless they have dedicated bicycle lanes for fear that someone might plow into me while texting behind the wheel or something. Traffic is heavy and dangerous where I live so I wasn't sure how I felt about an extended ride on streets, even rural ones. I've been converted, though. The roads east of Thurmont were exceptionally well maintained with minimal traffic. They were better than my local trails. I think I saw more bikes than cars during the ride.
My friend chose a route that featured four of Frederick's historic bridges. The map above showed their relative placement although that wasn't the actual route we biked. I'm not sure where we went exactly, to tell the truth. We meandered around until we hit the desired distance; I simply played follow-the-leader. The course involved a roughly counterclockwise oval north of the City of Frederick and east of U.S. Route 15, crossing paths with the bridges in succession as the morning unfolded.
---
LeGore Bridge
We first encountered the LeGore Bridge over the Monocacy River (map). A steep downhill led to a pull-off where I stopped for photos. The website Historic Bridges noted that James LeGore built this bridge around 1900 to provide a convenient path to his nearby stone quarry. Naturally, owning a quarry, he favored stone construction for his imposing five-arch structure. There was also one horrible twist of fate involved. His son George jumped from the bridge, committing suicide in 1930.
Had I taken this photo maybe 3 or 4 seconds later, I would have captured a scary bicycle wreck. Some guy barreled way too fast down the steep rightward slope approaching the bridge and couldn't hold the curve. He flew across the opposite lane and whacked into a guardrail immediately behind me as I stood there taking pictures. He spilled onto the deck, tumbled a couple of times and somehow suffered only a bent wheel plus an unpleasant scrape on his forearm and damage to his pride. His fancy multi-thousand dollar bike might have been toast too. We didn't stick around long enough to find out after making sure he was okay. It was entirely his own fault. He ignored the ominous road signs leading up to the bridge.
---
Roddy Road Bridge
We rambled on for awhile until we approached the Roddy Road bridge over Owen's Creek (map). This marked the first of three covered bridges in Frederick County, with only three or five other bridges like that in the entire state of Maryland (sources vary). The most direct automobile route could be found on the county's Historic Covered Bridges Driving Tour if one wanted to take the easy way out.
The Roddy family built their bridge across Owens Creek circa 1856. It was the smallest of the three covered bridges in Frederick, only 40 feet long. Rumor had it that "Confederate General JEB Stuart and his cavalry crossed Roddy Road Covered Bridge on July 5, 1863 during the Gettysburg campaign of the Civil War." Of course, just about every spot in this corner of Maryland had a Civil War connection. Troops routinely traipsed through here between major campaigns like Antietam and Gettysburg. I imagine I could draw a mile-wide circle anywhere in the county and find something of Civil War significance there.
---
Loy's Station Bridge
If JEB Stuart crossed the Roddy Road bridge then one shouldn't be surprised that Union general George Meade allegedly crossed Loy's Station Bridge over Owen's Creek a few days later in pursuit of fleeing Confederates after the battle (map). This would have been a new bridge at the time, having been constructed circa 1860. Unfortunately an arsonist torched the structure in 1991. The rebuilt bridge incorporated as many elements as possible from the original bridge, including "hardware, rafters and braces."
This was probably the most impressive of the bridges we saw during our ride. It looked like what would be expect of a covered bridge, and placed in a beautiful setting with an adjacent park.
---
Utica Mills Bridge
Near the end of the ride we rumbled through the Utica Mills bridge over Fishing Creek (map). This structure had an interesting history. A bridge had been built nearby on the Monocacy River sometime around 1850, however it washed away during the same deluge responsible for the horrific Johnstown Flood of 1889. Wood salvaged from that earlier bridge was recycled to form the Utica Mills crossing. It was getting a fresh coat of red paint the day we cycled over its planks.
I think I'll have to return to northern Frederick County for further biking adventures sometime soon.
My recent trip to western North Carolina was like the gift that kept on giving of Twelve Mile Circle article ideas. Sadly I've reached the end of the line on that thread so this will be the last article that contains a connection to that earlier adventure. As noted in a prior installment, I enjoyed walking around Asheville in the early morning before the town woke up. I discovered all sorts of interesting nooks as I wandered aimlessly down deserted streets. One was the Thomas Wolfe House on Spruce Street, included as part of the museum complex at 52 N. Market Street (map).

Thomas Wolfe Memorial (my own photo)

This inviting structure has been designated as the Thomas Wolfe Memorial State Historic Site, the childhood home of the author. The Queen Anne style home served as a boardinghouse operated by Wolfe's mother. He used it as a backdrop for his thinly veiled 1929 autobiographical novel, "Look Homeward, Angel." That distinction certainly made it a property worth preserving. It occurred to me that oftentimes a famous person's adult home might be preserved while his or her childhood home might be neglected, with notable exceptions of course. Certainly preservation made sense here.
---
Mark Twain

Mark Twain Boyhood Home and Museum Properties by Missouri Division of Tourism (cc)

Another place where I thought preservation made sense was the Mark Twain Boyhood Home at 206-208 Hill Street, in Hannibal, Missouri (map). Samuel Clemens, a.k.a. Mark Twain, drew upon his youthful memories from Hannibal for some of his novels. These included actual locations associated with people who inspired major fictional characters such as Tom Sawyer, Huckleberry Finn and Becky Thatcher.
That was all fine and appropriate. However I wanted to bring the concept into the present. I wondered if there were people of more recent vintage whose childhood homes might someday become national historic landmarks. Where would tourists flock and stand in line to walk through rooms where a notable person once lived as a child? The big one of course was Elvis Presley, and for him that distinction had already been achieved. I wrote about Elvis' early childhood shotgun-shack in Tupelo, Mississippi in The Cult of Elvis back in 2009. After Elvis, then the next logical choice might have to be…
---
Michael Jackson

Michael Jackson first house by Paolo Rosa on Flicker (cc)

What would be a bigger Thriller than driving down to the corner of 23rd and Jackson Street in Gary, Indiana (map)? The Michael Jackson house probably stood a solid chance of becoming an historic landmark to rival anything from Elvis. It already seemed to be generating cult-like status barely five years after Jackson's death judging by the numerous photos I saw on the Intertubes. Invariably images showed throngs of people, piles of tributes, a large granite marker and a generally celebratory environment courtesy of pilgrims and devotee that converged there.
Another question remained. Will tourists ever be able to visit Neverland Ranch like they can Graceland?
---
Kurt Cobain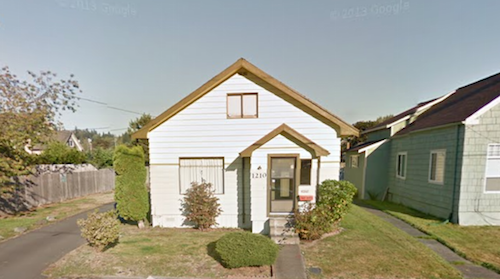 Kurt Cobain's Childhood Home; Aberdeen, WA
via Google Street View, October 2012

I moved on to another music icon, albeit from a different genre. Kurt Cobain passed away at the height of success while fronting the band Nirvana, in 1994. One would think that his childhood home might attract the attention of some of his fans, and yet it didn't seem to resonate much. The real estate website Redfin featured his mother's property at 1210 East 1st St., Aberdeen, Washington (map) in August 2015, "Kurt Cobain's Childhood Home Drops in Price, Again."
Kurt Cobain's mother, Wendy O'Connor, just shaved off $71,000 from the price of his childhood home, bringing the new price tag to $329,000… His bedroom, which looks like a converted attic, still has Iron Maiden and Led Zeppelin logos that he stenciled on the walls, and holes from where he punched the walls as a teen.
It would seem to demonstrate great provenance and even some residual historic significance given the doodles and damage. It remained unsold as of a few days ago.
---
Sandra Bullock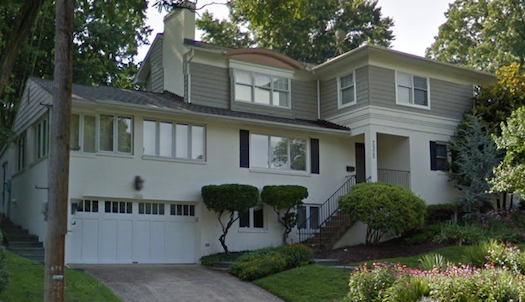 Sandra Bullock's Childhood Home; Arlington, VA
via Google Street View, July 2014

A childhood home might have historical significance even if the celebrity who lived there happened to still be living, right? I selected Sandra Bullock solely because she lived fairly close to where I live today in Arlington, Virginia. In fact my children will someday attend the same high school that she attended during her formative years, Washington-Lee. Bullock spent most of her childhood at 2925 26th Street North in the Woodmont neighborhood (map). The Arlington County property search website valued the home at $1,241,900 for the 2015 tax year. It also noted that "Bullock John W & Helga M" purchased the property originally in 1966 for $40,000 (and it sold for $1,115,000 in 2005).
Kurt Cobain's childhood home would be a lot more cost effective for, you know, creepy people who need to own one of those kinds of places.
The readers of Twelve Mile Circle seemed to anticipate where this conversation was heading when I wrote about the advanced age of the French Broad River recently. I'd actually intended to write a single article about really old rivers. I had to split it when it got too wordy. I'd seen that same list of rivers by age on Wikipedia noticed by several readers and I decided to have some fun with it. I won't recite the list in order though. I'll meander though a bit of it in my own peculiar way.
New River
For sure, I thought, someone would mention the ironic naming of the New River in southern Appalachia, flowing from North Carolina into Virginia and then into West Virginia. I wasn't disappointed. The New River originated during the same Alleghanian Orogeny as the previously-mentioned French Broad River, as did the Susquehanna River. They all dated back about 300 million years, predating the Appalachian Mountains.
Nobody really knew exactly how or when the New River came to be encumbered with a misleading name although the Friends of the New River offered several possibilities.
One educated guess regarding the origin of the name is the theory that in the late 1700s or early 1800s, surveyors were working their way across the new country. When they happened on the New River, they discovered that it wasn't on any of their existing maps, so they charted it and labeled it as "a new river." Another version of this story attributes the label "a new river" to Peter Jefferson, Thomas Jefferson's father. The official name change to New River seems to have occurred between 1740 and 1750, although the two names, Woods and New, were used interchangeably in records and on maps in other states until about 1770.
Thus it could have just have easily been known as the Woods River into perpetuity, named for Colonel Abraham Wood who trades with local Native Americans in the 1650's. Instead it became a very old river with a very New name.
I have been whitewater rafting on a stretch of the New River in West Virginia numerous times. I'd recommend it highly.
---
Nile River

Fishing in Sudd wetland by Water, food and livelihoods in River Basins (cc)

If one searches for the oldest river using online tools one will invariable encounter frequent references to Africa's Nile River. However the Wikipedia list didn't even place it in the top ten, explaining that it was "65 to 75 [million] for the Sudd section; the rest of the river is only 1 or 2 million years old." Further, the page linked to a site at the University of Texas – Dallas that stated, "Although the Nile seems like an ancient river – after all, it was there long before one of the earliest civilizations began to develop on its banks – it is really a very young river and has gone through many changes over the recent (in geologic terms) past." The only ancient part — still considerably younger than the French Broad — was a portion in South Sudan in a swamp (map).
Don't expect the rest of the Intertubes to issue a clarification though.
---
Finke River


Finke River and MacDonnell Ranges by Georgie Sharp of Flickr (cc)

So now we finally arrive at #1 on Wikipedia's list, presumably the very oldest river in the world, Australia's Finke River along with various other smaller rivers nearby (map). They all predated the Alice Springs Orogeny, which would make them up to 400 million years old. The orogeny happened so long ago that most of the mountains have eroded away with the exception of the MacDonnell Ranges and a scattering of other ridges deep within the Australian interior. The highest remaining remnant was Mount Zeil at 1,531 metres (5,023 ft) (map)
Much of the Finke River has been preserved within Finke Gorge National Park.
---
Meuse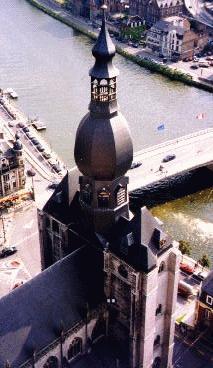 I seem to have a little extra room in this article. I guess I should also list second place from the list too, if only because I've been there in person (as noted on my travel page for the Citadel of Dinant in Belgium, one of the oldest parts of my website). This was a long time ago. In fact, the image I've embedded came from a time prior to digital photography. I had to scan it from a print photo.
The Meuse predated the Hercynian Orogeny that resulted in the formation of the Ardennes. The river course ran from a corner of France to Belgium, onward to the Netherlands and finally into the North Sea.
---
Completely Unrelated
Several months ago I mentioned that I would be supporting a runner in Mainly Marathon's Center of the Nation race series. That adventure is now just around the corner. I'll be in eastern Colorado, Wyoming and Montana, and in western North Dakota, South Dakota and Nebraska, September 14-19, 2015. They have options for single races and distances as short as 5K in case there are any 12MC runners in the area who might be interested. I have a big list of adventures planned including a few based on readers suggestions, so thank you all for that earlier input.