Sometimes events don't unfold as one might hope. This weekend I planned to capture six remaining West Virginia counties that I'd not visited before. I figured April would be a safe time of year with beautiful springtime weather and minimal traffic. That dream will need to be deferred for a little while longer. The route I envisioned crossed Appalachian ridges on obscure rural byways. Weather reports indicated snow spreading broadly across the state with higher accumulations in the mountains. In April!
I'll need to bump this out a few weeks or so. Nonetheless, and even though I'm sitting at home today instead of hitting the road, I can still tell Twelve Mile Circle about my plan. It's long overdue for another trip.
Those Residual Counties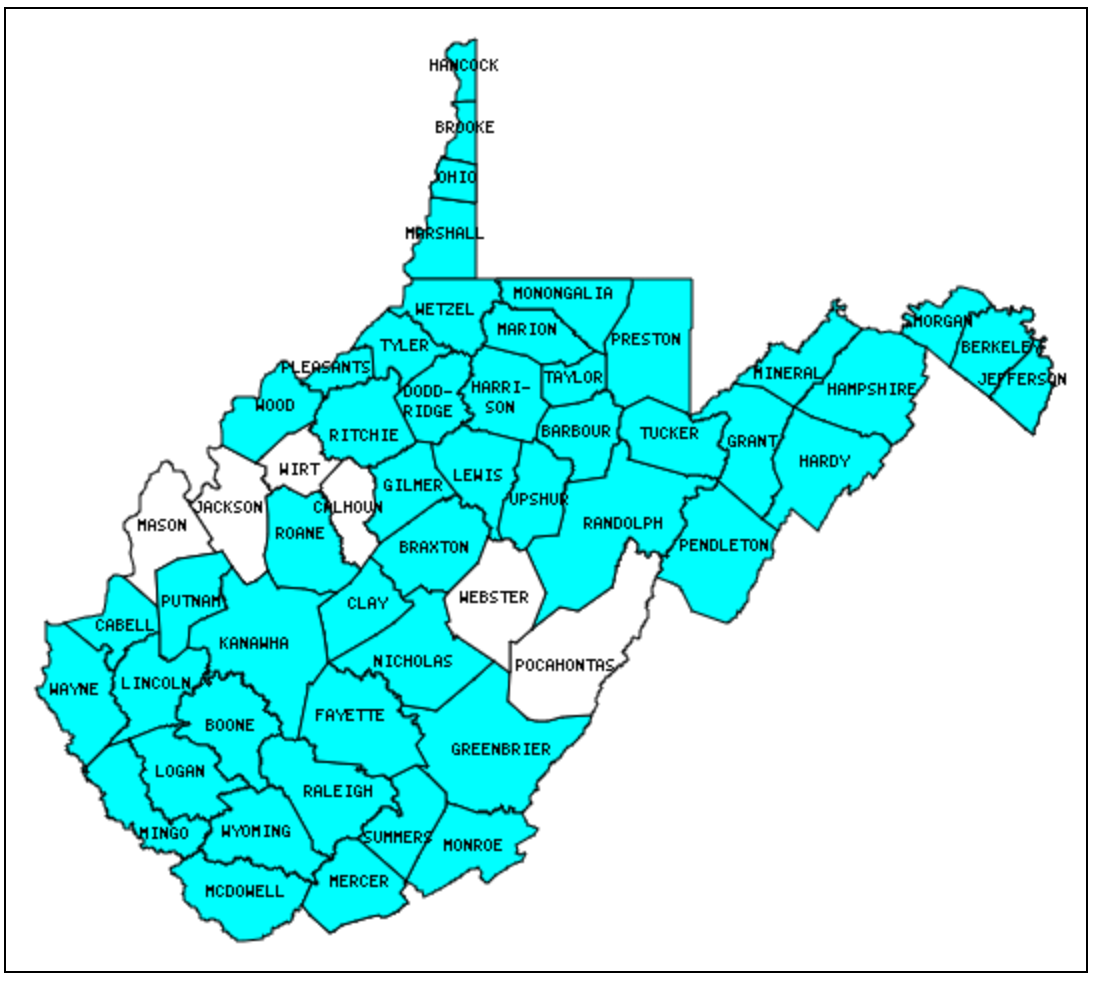 Six Counties I've Not Yet Visited in West Virginia
Underlying map courtesy of Mob Rule

The remaining West Virginia counties fell within two clusters like a belt across its mountainous girth. That didn't mean they'd be easy catches. No convenient, fast, direct route strung them together. I'd need to climb ridges, drop into hollows, dodge farm equipment and avoid speed traps in tiny villages ready to stick it to out-of-state drivers. Mason, Jackson, Wirt and Calhoun Counties formed the western grouping. Webster and Pocahontas fell towards the east. I figured I might venture across the Ohio River and snag a couple of new Ohio counties since I was already out there too. It seemed like a fine plan.
I'd chipped away at West Virginia slowly over the last several years. My approach felt fragmented, the result of too little time for an area that size. Maybe I could focus on county counting more rationally sometime in the distant future when I retire. However current efforts continued to happen sporadically out of necessity. Even with limitations I gradually made progress and I finally stood within striking distance.
---
How I Got to Where I Am
As I reflected on my previous efforts, I realized that I'd taken at least five separate trips to a West Virginia in the last five years. That was in addition to earlier random drives that strayed across its borders on the way to other places.
Kentucky Adventure (July 2013). While the trip focused on Kentucky, I plowed through West Virginia on the way back. We went whitewater rafting on the New River and then took an even more circuitous route back home. That let me gain a few rural counties along the way.
Riverboat Adventure (April 2014). This became my first drive along Interstate 79 between Morgantown and Charleston, logging a number of counties heading due south through the middle of the state. Nothing beats Interstate counties for ease and convenience. I've taken that route several more times since then.
Bluefield on the Border (October 2014). I chauffeured my wife to a race in Bluefield. This trip doubled as a geo-oddity so I didn't mind: the course crossed the boundary between Virginia and West Virginia multiple times. I also captured a couple of extra counties the next morning while everyone else slept-in.
Appalachian Loop (April 2016). We toured all over the southwest corner of the state and then into adjacent Kentucky as we explored Hatfield and McCoy country. The area offered a lot more than its hillbilly moonshine stereotypes.
Counting West Virginia (October 2016). My son and I focused specifically on the state's northern panhandle along with some nearby northern counties. This corner differed from the rest of the state by aligning more towards the Rust Belt than traditional Appalachia.
---
The Plan
When I complete the trip — in a few weeks or months or whatever — the route will likely follow something like this:
That will be an awful lot of driving for a 3-day weekend. That's why I need optimal driving conditions. West Virginia will be conquered someday, just not today.
Stay tuned.