The Jersey Shore trip came to an end all too soon.  I still had a few things to talk about, though.  Some topics didn't fit neatly into the earlier categories so I lumped them all together in this final article.  After that, Twelve Mile Circle will hibernate once more until I find something else to write about.  I'm not sure when that will be.  Currently I don't have any travel plans so it may be awhile.
Rutgers Half Marathon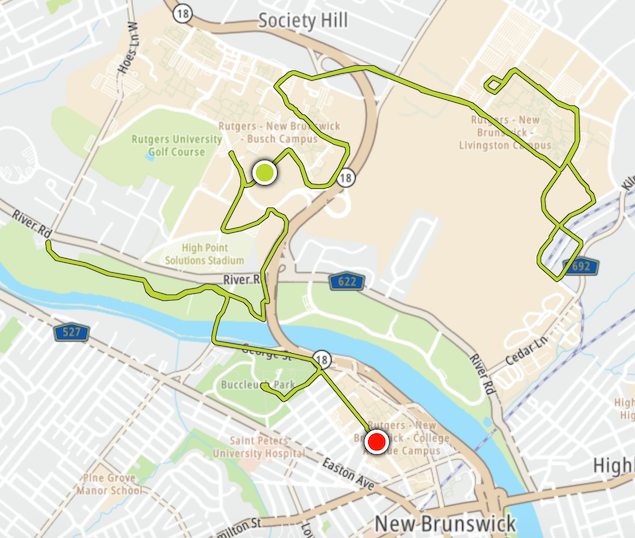 After the unexpected, miserable ten hour drive to our initial destination where I could barely make it through dinner at a local brewpub without falling asleep, I didn't feel very confident about running the next morning.  Oddly, I felt great when the new dawn arrived, as if the previous day never even happened.  The course felt pretty comfortable too.  I finished the Rutgers Half Marathon with a time of 1:43:32 in pretty decent shape.
That put me in 180th place overall, although surprisingly it was good enough for third place in my age group.  Sometimes getting older doesn't suck and I got an extra medal for my effort too.  I kept pace for an even faster finish until we hit the last two miles with a couple of strenuous uphills and had to slow down.  Seriously, what kind of sadistic race director puts the hills near the end?  I still enjoyed the race and I'd probably do it again if I found myself in the area.
---
Gambling
I'm not a gambler.  I could probably move to Nevada and live in one of the two towns that ban gambling without any issues.  Of course, avoiding gambling in New Jersey would be a lot easier since it's not nearly as ubiquitous.  We were in Atlantic City though.  How could I not visit at least one casino?
That said, I had no idea where to stay.  I knew nothing about the wide range of casino hotels available there.  The Super 8 wouldn't do, naturally enough, although that hardly limited the choices.  A co-worker familiar with such things suggested the Hard Rock Hotel and Casino so we stayed there. Hotels were dirt cheap, subsidized by guests' gambling losses, no doubt.  We paid half as much at the Hard Rock as we did at any other place during our entire Jersey Shore trip.
My wife gambled double her usual amount… $2!  No worries.  She let me count my counties so I could hardly begrudge a couple of bucks.
---
Lucy the Elephant
I love roadside attractions, the cheezier the better, and Margate City included a true icon of the genre.  Various sites on the Intertubes described Lucy the Elephant as the oldest surviving roadside attraction in the United States (map).  I couldn't prove that claim although Lucy dated back to 1881 so it was genuinely old. Thank goodness local activities saved Lucy from the wrecking ball in the 1960's when she fell into serious disrepair.  Now she continues to tower over the beach in her original splendor.
Lucy should have been closed that day like the lighthouses.  I stopped to take some exterior shots and found her open for business!  Our lucky streak continued.  We got to go inside and climb the stairs in Lucy's back leg, and discovered a surprisingly room interior, not cramped at all (photo).  It felt like the cross between a church and a social club.  Then we climbed more stairs to her howdah for great views up and down the beach (photo).  What a fortunate opportunity!
---
Southernmost Point in New Jersey
I also managed to capture a genuine geo-oddity, the southernmost point of land in New Jersey.  This didn't make it onto any tourist maps.  I tracked it down all on my own in Cape May (map).  The boulder on the far left marked the actual spot.  For one brief shining moment, nobody in New Jersey could claim to stand any farther south within the state than me.  Not that anyone else cared.  I knew better though.
---
Cape May – Lewes Ferry
We left New Jersey on the Cape May – Lewes Ferry, crossing the seventeen mile mouth of Delaware Bay (map).  This remarkably large ferry carried about a hundred vehicles; cars, recreational vehicles and even trucks.  I'm not sure it really saved any time even if the overland route followed a large U-shaped detour around the Delmarva Peninsula. That wasn't really the point.  I'd rather take a relaxing boat ride followed by an easy drive down a lightly-traveled highway on a more direct route any day.
I rode this ferry once before.  In fact, I'm pretty sure this may have been the very first ferry I ever experienced (certainly the first I remembered).  We took a family trip across the bay sometime during my early High School years.  This sparked a lifetime interest in ferries and began my relentless collection of them ever since.  I welcomed the opportunity to return to where it all began.
---
Articles in the Jersey Shore Series:
See Also: The Complete Photo Album on Flickr