All those large restaurant meals began to take a toll on my waistline even with our busy touring schedule. I hadn't come close to my normal fitness regimen even with frequent walks and hikes to various sites. I was on vacation and I supposed that should be expected. Still, I needed to get out and stretch my legs in a more meaningful way. Eventually I managed to find space for a handful of runs over my time in New Zealand and Australia. Each of the homes we rented opened to beautiful scenic backdrops perfect for running. That provided additional motivation.
I kept things metric even though my watch measured in miles. I planned to run at least 10 kilometres each outing which equated to 6.2+ miles. When in Australasia, do as the Australasians I figured. My watch caught a GPS signal without difficulty and uploaded my completed courses just like normal. The resulting maps looked fine. If you don't want to read about the running then you'll probably still enjoy the maps.
Mount Eden (Auckland)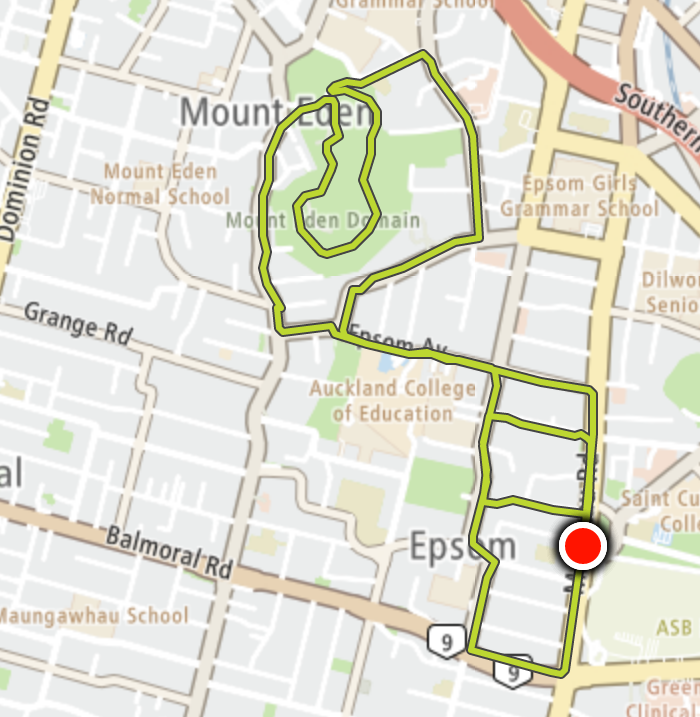 It took nearly a week to get around to that first run and by then I really needed it. My timing could have been better though. I'd attended a beer festival in Auckland the previous afternoon, I felt somewhat dehydrated, and I nursed a minor hangover. Any complaints would have been ignored so I didn't try. My wife completed the Auckland Woman's Half Marathon that morning and would have given precious little sympathy. I simply had to crawl out of bed and wander around the neighborhood for awhile.
I'd walked to the summit of Mt. Eden, Auckland's highest point of elevation the previous morning. Maybe this time I should run to the top (map)? I figured, how hard could it be? I won't lie. It nearly broke me although I made it to the top, just barely, slowing practically to a crawl as I climbed higher. The road up and around the caldera can be seen as the stretched circle at the northern end of the map. After I came down I wandered amongst residential streets until I completed my target distance. I felt pretty good about my orienteering because I never got lost even though I had only a basic understanding of the road layout.
The hill and hangover conspired to keep my pace slower than usual.
* Metric: 10.6 kilometres at a 5:22 minutes/kilometre pace.
* Imperial: 6.59 miles at an 8:37 minutes/mile pace
---
Nelson Bay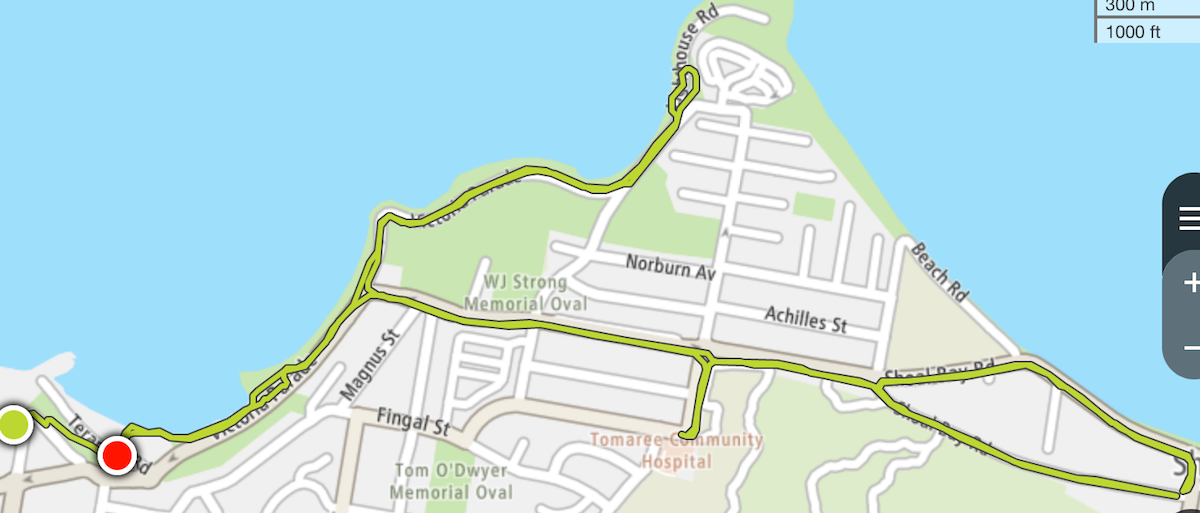 I felt a lot better a few days later in Nelson Bay, NSW, Australia and I could go a little faster too. The apartment we rented opened onto a path that led directly down to the waterfront of Nelson Bay Harbour (map). The initial downhill was a little steep although the rest of the course featured an easy, gentle roll.
My route hugged the waterfront for the first leg, leading to a lighthouse on a headland northeast of town. I looped around and returned about halfway then cut due east towards Shoal Bay. Once there I chanced upon a paved walking path and took that for awhile before starting my return. For one brief moment I lost my way although I figured it out after a couple of blocks. That could be seen pretty clearly on the map too, the little appendage sticking out by itself, due south near the middle.
I'd already more than hit my target distance as I approached the base of the hill leading back up to our apartment. I didn't really feel like running uphill it so I turned off my watch and walked. That's why the red finishing dot wasn't superimposed on the green starting dot.
* Metric: 10.9 kilometres at a 5:08 minutes/kilometre pace.
* Imperial: 6.77 miles at an 8:15 minutes/mile pace.
---
Sydney Harbour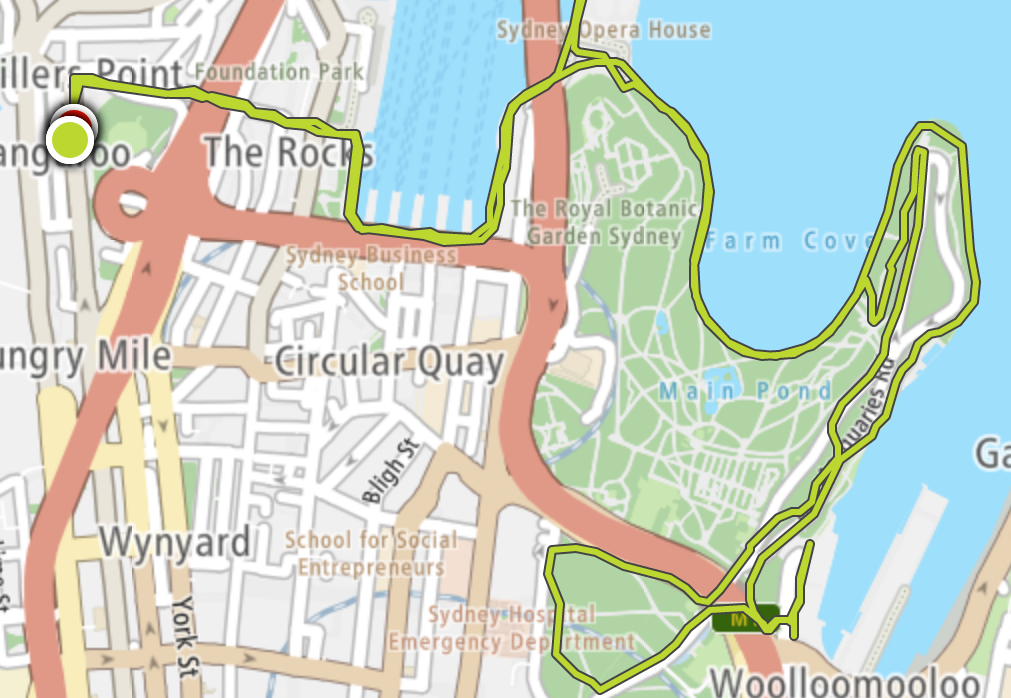 It took me until near the end of our trip when we got to Sydney, Australia before I returned to something near my normal pace. We stayed in Millers Point (map), an historic neighborhood just a stone's throw from The Rocks and Circular Quay. I'm an early riser so I hit the trail at dawn on a weekend morning. Otherwise I'd be tripping over tourists because the scenic backdrop included icons like the Harbour Bridge and the Sydney Opera House. I took something of a random route as I meandered all through the Royal Botanic Garden. The map displayed all of my weird tracks.
This one felt great, just hilly enough and in perfect weather. Plenty of other runners had the same idea and that motivated me to keep my pace up. Plus, each turn of a corner brought another amazing postcard view. I didn't want this one to end although I had to wrap it up because my younger son wanted to go to Manly Beach before lunch.
* Metric: 10.3 kilometres at a 5:00 minutes/kilometre pace.
* Imperial: 6.41 miles at an 8:04 minutes/mile pace.
Don't worry, I had plenty of downtime and lazy days too.
---
Articles in the Australasian Adventures Series:
See Also: The Complete Photo Album on Flickr