Many members of my extended family volunteered for wartime service. Some were on the "winning" side with the United States Army or Navy over the last two centuries, and some were on the "losing" side with the Confederate States Army during the Civil War. In a small number of instances, I am lucky to have received copies of letters that these brave soldiers sent back to their families. No matter when they served or on which side they fought, they expressed a number of common thoughts in their messages. These men were proud to serve but camp life was tough, the experience was isolating and lonely, and thoughts of home never strayed far.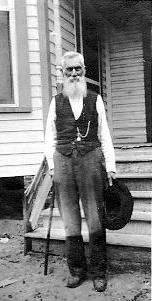 Thomas Philip Hull
circa 1911
Tommy Hull served as a Private in Company K., 1st Regiment North Carolina Volunteers, of the United States Army during the war with Mexico. He enlisted in March 1847 and was discharged August 1848. The letter written August 12, 1847 from Buena Vista, Mexico, describes warfare, sickness, and isolation during an American campaign into hostile territory. He received two things from his service to the country: a 160 acre bounty land warrant that he later sold for $96; and an intestinal illness that became increasingly debilitating as he aged. He later served as a first lieutenant in the Confederate States Army and as a captain in the Texas State Troops (a direct predecessor of the famous Texas Rangers). The United States government revoked his Mexican War pension on grounds of "disloyalty," but eventually restored it after years of arguing back-and-forth.
---
Family of Col. Edwin Sealy Hull
"1st row -- (L-R) Charles Francis (Frank), Col. Hull, Sarah Ann (Mrs. E.S.), Minnow Ellis (Little Auntie). 2nd row -- Thomas Fulton, Emily Ann (Emmie), James Henry Laurenston [sic.] Sarah Eleanor (Ellen), Edwin Alonza [sic.]."


---

Photo source: LaGrone, Leila B., ed., "A History of Panola County, Texas 1819-1978" (Panola County Historical Commission: Carthage, TX, 1979), page 326
James Henry Lauriston Hull
B. 1843, Scotland Neck, N.C.
D. 1906, Dallas County, Texas


---

Photo source: Brinkoeter Family Records
Lar Hull served as a 4th Sergeant, in Company F., 10th Texas Cavalry, of the Confederate States Army for the duration of the war from 1861 until he was surrendered in 1865. He served in Texas, Arkansas and Louisiana. While he never faced combat, in his letters he describes the daily routine of a civil war soldier: the rumors of war, the loneliness of camp life, the longing for family, and the constant specters of illness, violence and death. After the war he became an attorney and later a District Judge in Panola Co., Texas.
---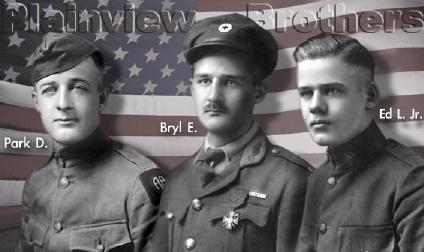 Composite image of Park, Byrl and Edwin (Jr.) Sylvester at approximately the same age.
Source photos courtesy of Plainview [MN] Area History Center; montage and editing courtesy of David Sylvester
Byrl Sylvester volunteered with the Norton-Harjes Ambulance Corps even before American troops assembled for combat. He served at various hotspots along the front and received the Croix de Guerre after being wounded at Verdun while retrieving injured soldiers from the battlefield. Upon his return to the United States he became a popular speaker at war rallies in Southeastern Minnesota. He intended to return to the war as a naval aviator. However, he died during a training accident when his seaplane entangled with another plane off the coast of Pensacola, Florida. He was buried with full military honors in Plainview, Wabasha Co., Minnesota.
---
---