I've never been to Wallace, Idaho but I simply couldn't get that place out of my head in spite of the controversy[1] surrounding its Center of the Universe claim. Seemingly, there is an odd story for each of its 960 residents. This one involves a stoplight.
It all comes down to geography and in this case topography, as is natural on Twelve Mile Circle. Here is Wallace:
View Larger Map
Notice the contour lines. Wallace occupies a small, relatively flat valley carved out by the south fork of the Coeur D'Alene River, at about 2,800 feet above sea level. Surrounding hills thrust steeply upward several hundred feet above the valley floor. Homes and businesses fill the flatlands. Wallace has precious room to spare.
I'll reuse the Street View image I posted previously. This time go ahead and rotate it around 360 degrees and get a better understanding of the buildable surface as constricted by rapid elevation changes.
View Larger Map
Did you notice that this image comes from the deck of an elevated freeway? That's part of the story too. Viaducts take longer to build, require more material, and present greater engineering challenges than surface freeways. They are also significantly more expensive to build and maintain, and yet, an elevated freeway traverses Wallace.
No interstate highway in the United States travels further than Interstate 90 on its daunting 3,099 miles journey between Boston, Massachusetts and Seattle, Washington. One small chink left this mighty highway incomplete until 1991. Every car and truck had to exit the interstate at Wallace, slow down to a crawl, and suffer its infamous stoplight firsthand before returning to freeway speeds.
The residents of Wallace had nothing personal against freeways in general but they didn't want one flattening their town either. Original designs identified a surface route that would have obliterated their business district. The physical limitations of a narrow river valley offered few affordable alternatives. Sensing destruction and growing concerned, Wallace submitted documentation to the National Register of Historic Places to protect every single building from the onslaught of bulldozers and road graders.
The Wallace Historic District comprised 80 acres and 485 buildings, and later expanded to protect another 1,000 acres and 301 buildings. Wallace halted freeway construction rather effectively. Traffic plodded slowly past the only stoplight blocking progress across an entire continent. Residents withstood relentless traffic as their only leverage against obliteration. Pressure mounted on highway builders to find a solution.
Only one overland route remained through town: the steep hillsides confining Wallace where homes could not be built. The Seattle Post-Intelligencer, reporting on the highway's 1991 completion, described the final segment as a "cantilevered, five-story-high S-curve" hugging the mountains.
The residents of Wallace held a mock funeral for their stoplight just to show there were no hard feelings. They placed their beloved traffic signal in a custom-designed coffin and enshrined it in the Wallace District Mining Museum where it can be viewed today.
This will probably be my final story about Wallace, although some of you may wish to explore one more fascinating fun fact on your own. I'll leave that story untouched (no pun intended) to preserve just a tiny shred of decorum here.
---
[1]Matthew of the prullmw site countered this claim with photographic evidence from the Fremont District of Seattle, which led me to conclude that the true Center of the Universe must be somewhere within the Pacific Northwest. Drawing a circle that incorporates both Wallace, ID and Seattle, WA produces the following result: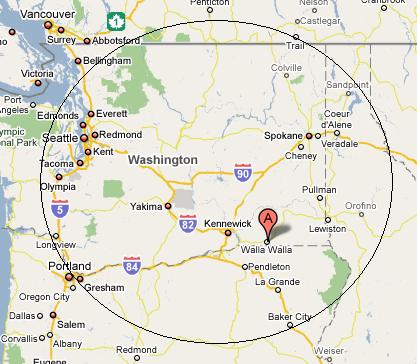 The Center of the Universe should be located somewhere within this area. Hey, isn't Walla Walla firmly entrenched within that circle? Now, Matthews' claim is starting to make more sense! Suspicious. Very suspicious.
Under
Cities/Towns
,
Elevation
,
Event
,
Roads
,
Terrain
| Taged
Elevated Freeway
,
Interstate 90
,
National Register of Historic Places
,
Stoplight
,
Topography
,
Viaduct
,
Wallace Idaho
---