My travels this summer fell into a distinct pattern as did recent Twelve Mile Circle articles.  I didn't even plan to mention the most recent long weekend excursion until I crossed an important milestone somewhat unexpectedly.  This marked our annual visit to Madison, Wisconsin for the Great Taste of the Midwest beer festival, our tenth straight year in a row.  No big deal.  That wasn't the milestone, and I've talked about that plenty of times so I didn't need to add anything more.  However, enough other interesting things happened last week so I decided to post an overview anyway.
One More Trip to Chicago
I spent most of the rest of the days after Madison in Chicago, for my job.  This worked out nicely.  Rather than fly home to Washington, DC only to turn around and fly back, I simply drove from Madison to Chicago.  It took about three hours — not bad — and I didn't have to hassle with an airport.
Chicago traffic rivals DC traffic for congestion and unpredictability so I feared a mid-afternoon downtown arrival by automobile.  Traffic actually seemed reasonable, maybe because I got there before rush hour kicked into high gear, or maybe because I got lucky.  I don't know.  Either way, now I can say I've driving into the heart of Chicago and survived.  Every other time I've arrived at O'Hare and taken the Blue Line L train.  I'd still prefer that.
I've always enjoyed Chicago.  I wouldn't mind if every business trip brought me there.
---
And One More University
Readers might be wondering what I did with the car after I got to Chicago.  Actually, my wife drove it back to Wisconsin the next morning and I flew back to DC later in the week.  We used the trip as another opportunity in our string of college visits for our older son, this time stopping at the University of Chicago.  He seemed to like it.  We'll see.  He's liked several of the others, too.
This visit also gave me an opportunity to show them the adjacent Midway Plaisance (map).  I mentioned this location awhile ago in 12MC's Trivial Chicago article.  The 1893 World's Columbian Exposition took place there.  It featured the world's first Ferris Wheel and of course every decent carnival now has something called a "midway"  named after the original too.  I got my chance to show-off some worthless trivia, my son saw another university, and the three of us shared an undersized urban hotel room.  It was plenty roomy after they left, when I stayed by myself a couple more days.
---
Two More Counties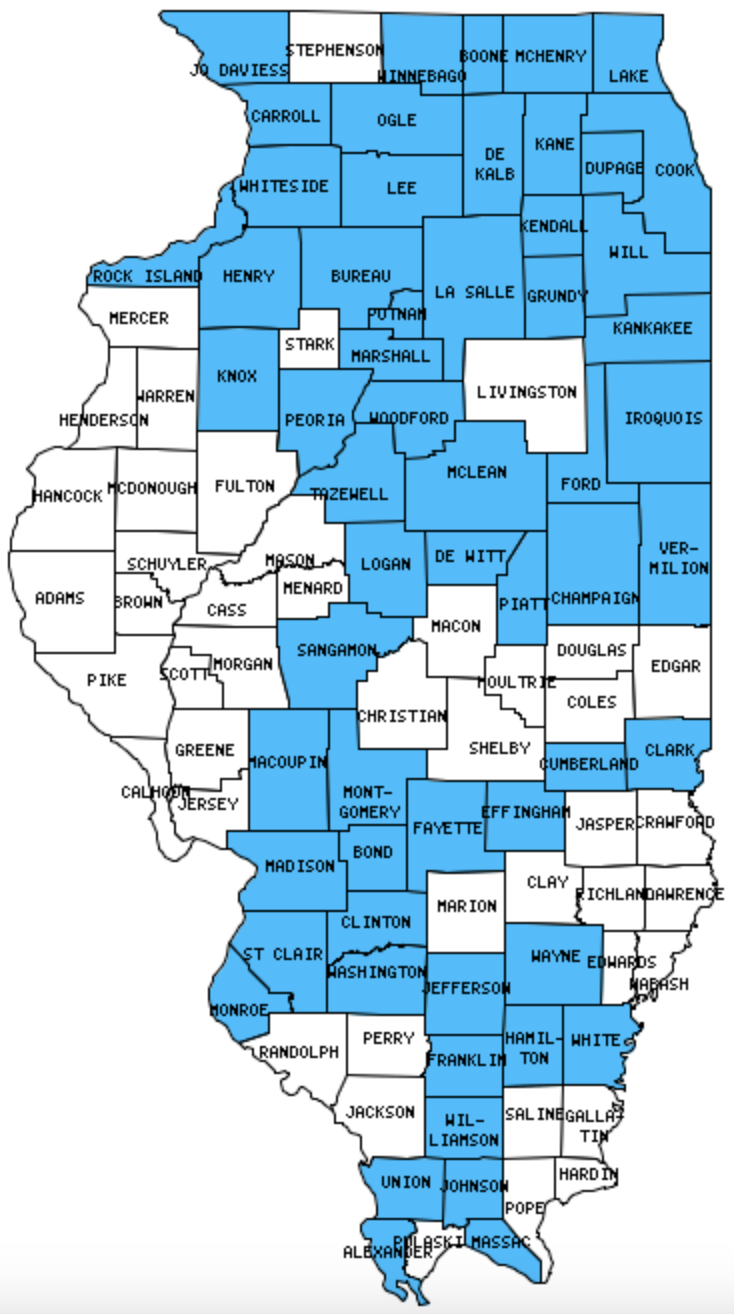 Almost exactly ten years ago, back in the summer of 2009, I wrote about my 1,000th new county visited.  Now I can say I've reached 1,500!  Ordinarily we would have driven east into Milwaukee and then south towards Chicago.  However, we needed to avoid huge backups caused by road construction near Milwaukee that has been a problem for months.  Instead, we cut south to Rockford, Illinois and then southeast to Chicago.  That would take a few minutes longer in normal circumstances although a better route this summer because of the construction.
I didn't intend to capture any new counties although I noticed we would cross into Boone and McHenry in Illinois (towards the eastern side of its norther border) as I planned the route.  I'd been chasing 1,500 all summer and those two captures put me over the top.  Maybe I should pick up the pace.  It will take more than 30 years for me to finish the remaining counties if I capture only 500 new counties a decade.
---
Three More Breweries
Well, yes, of course I stopped at some previously unvisited breweries along the way; three to be exact.
First, as we drove in ever-closer to Chicago on the Kennedy Expressway we paused for lunch at Old Irving Brewery before heading to the University of Chicago.  I liked the vibe.  I also liked the neighborhood.  Irving Park began as an early suburb in the 1870's, carved from farmland once far outside the city.  Rails connected Irving Park to Chicago as it does today, making it a reasonable commute.
That evening we took a rideshare to Gino's Brew Pub in River North, just north of the Chicago River as one would expect given the name.  Gino's East was a small local chain of pizza restaurants and they bolted-on a brewpub to their River North location.  They only had a couple of their own beers on tap because of problems with their brewing equipment.  Beer wasn't their primary focus.
Finally, a couple of days after my wife and older son left, I took a nice walk to Cruz Blanca Brewery & Taquería in the Near West Side neighborhood.  They had a great selection of street tacos to accompany their Mexican-inspired beverages.  This seemed like a bustling area, and just outside the Loop. I'd like to spend more time there on my next trip.