Twelve Mile Circle is an appreciation of unusual places, but they don't have to be famous necessarily to be noteworthy. Every town has at least one unusual place, maybe more. Perhaps even your own hometown.
There is a spot in Arlington County, Virginia where a contiguous road called "North 26th Street" changes names and jumps all the way up to "North 31st Street" after crossing through an intersection. How can that possibly be?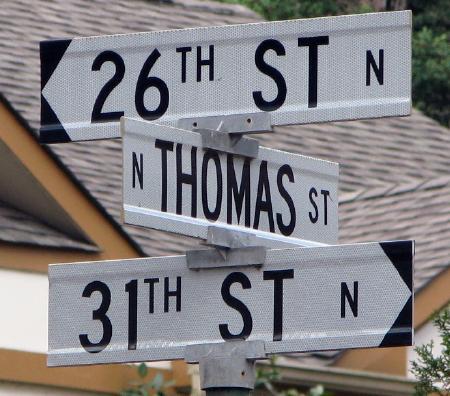 This happened when the county applied its establish a grid-based naming convention upon an area of hilly terrain. Grids are suitable for flatlands they but don't work so well in places where roads can't be cut in straight lines, and the Broyhill Forest subdivision was built in the 1950's to conform to the undulating contours of the land. The street numbering made sense within the context of roads framing the new subdivision, but as the roads extended into the neighborhood and around the hills and valleys, they did not meet cleanly in the middle. As a result, and in the most extreme instance, a single street bears the name 26th and 31st on the two sides of its intersection with N. Thomas Street.
View Larger Map
This is only the beginning of the strange street naming system in Arlington. Several other examples are found in a 1999 Washington Post article, " Arlington Streets Defy Logic."
---