Twelve Mile Circle reader "jlumsden" returned from vacation in South America recently and sent me a couple of photographs of the Triple Frontier (La Triple Frontera in Spanish, Tríplice Fronteira in Portuguese). This is the area where Argentina, Brazil and Paraguay come together at a common spot, an international tripoint. He wondered if this type of oddity interested me, and of course, it most absolutely does.
I'm not always able to see these these sights on my own but I love the next best thing: hearing from all of you as you reach your personal geographic milestones. Kudos to jlumsden and his tripoint!
View Larger Map
I've received permission to share his tripoint photos below, but please visit the jlumsden photostream on flickr where he's stored his "good" photos under the "Southern Core" set. The tripoint photos here are functional. The images on his site have artistic merit.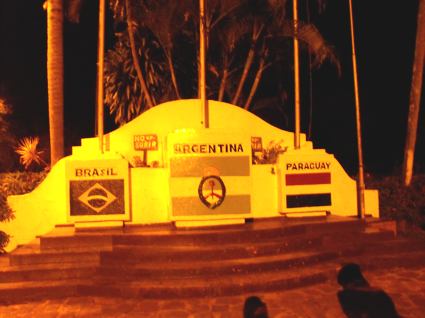 This is the Three Border Landmark in Argentina so naturally that country gets prominent placement front-and-center. Also Brazil has been listed as Brasil, using its Portuguese (and Spanish) spelling. I should note that a purist would probably scoff at this claim since the actual tripoint is located in the middle of the river. True enough. However, one would need proper documentation for all three countries and a boat to accomplish that to that purist's satisfaction, and I am not a purist. Upon reading the appropriate Wikipedia page I realized that perhaps it might not be such a good idea to jump across various borders here. Personally I consider anyone reaching this marker to be "close enough" and well deserving of accolades.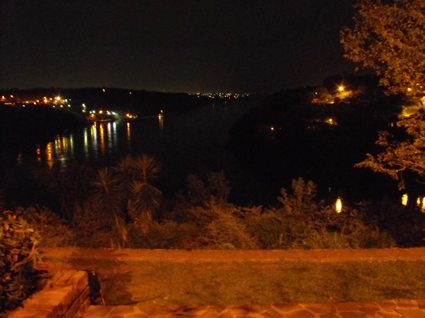 Here is a nighttime view. It's a little dark but Argentina is in the foreground, Brazil is across the river on the right, and Paraguay is across the river on the left. Lights twinkle along the riverbanks. Everything appears peaceful and serene.
Thanks again, jlumsden. It looks like you had a great time… wish I could have been there too.
---