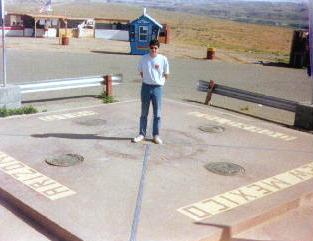 Four Corners – Summer 1992.
Utah, Colorado, New Mexico & Arizona come together at a single point
---
Four Corners is the only location in the United States where four states join together with a common boundary – a quadripoint. This location is clearly marked and easily accessible by automobile. It is perhaps the most famous and commercialized piece of "strange geography" in the United States. The Navajo Nation maintains the site and charges a nominal admission fee. Enterprising entrepreneurs sell a variety of Native American crafts and other items along the periphery of the monument.
Absolutely no logical reason exists for this barren patch of desert to be commemorated except that two artificially designated lines happen to cross there.
… And yet I'm curiously drawn to it.
---
View Larger Map
A couple of notes added after the original publication of this entry:
I am aware of the controversy concerning the placement of the Four Corners supposedly at the "wrong" spot and the quick rebuttals of that claim. Regardless of the claims and counterclaims, this is the spot that is established and recognized today as the point where four states intersect.
There is also a 4-Corners in Canada, featured previously.
---