I decided to have a little fun in the final article of the Four Corners series. A couple of my earlier posts mentioned a trip through the same general area many years ago. It served as a short leg of my longest road trip ever, eventually covering 8,000 miles (12,900 kilometres) in 28 days during the early summer of 1992. I wondered how memories tucked away for a quarter century would compare to the present. I hadn't returned to Four Corners, Chaco Canyon or Mesa Verde in the intervening twenty five years so this would be an interesting experiment.
Four Corners
Well of course we stopped at the famous Four Corners marker. You didn't really think I'd name this entire series of articles "Four Corners" and never mention the actual geographic spot, did you? The marker made its first Twelve Mile Circle appearance back during the earliest days of the blog in a post I called Four Corners- USA. The photograph I chose to illustrate that earlier article came from the 1992 trip.
1992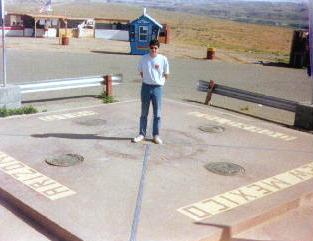 A much younger me stood on the exact spot necessary to split my body into equal portions of Arizona, Colorado, New Mexico and Utah.
2017
Obviously the location didn't change after 25 years. However, wow, the Navajo Nation certainly spruced it up and made it look nice. The earlier image showed what amounted to a marker plopped onto a parking lot protected by guardrails. Now an attractive masonry and stone patio neatly encased the entire area. The set of stands where Navajo artisans sold their wares also improved remarkably. Permanent wood and stone structures replaced what previously looked like those flimsy temporary stands hawking fireworks around the Fourth of July.
It didn't seem as remote as I'd remembered either. Sure, it was still out in the absolute middle of nowhere. This time we stayed overnight in Farmington so the drive to the marker took only an hour. That probably made the difference.
However, standing on that spot produced the same exact thrill. Bestill my geo-geek heart. Even the kids enjoyed it.
---
Chaco Culture National Historical Park
Chaco Canyon quickly became one of my most cherished memories from the earlier trip. I'd never heard of Chaco before that. That single viewing impacted me profoundly. I was so excited to return there, more than any other site on our trip. Check out these compare-and-contrast photos of the Kin Kletso pueblo taken from approximately the same spot atop the mesa twenty five years apart.
1992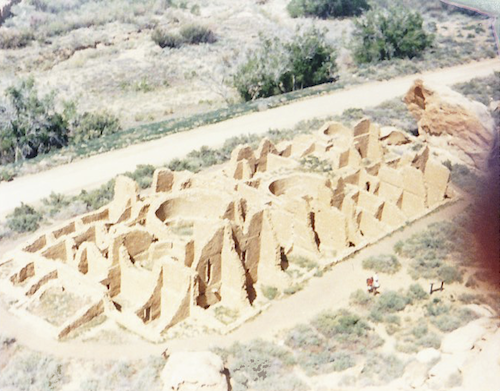 That dark smudge on the right didn't come from a bad scanning job, it came from a bad photo. Those of us of a certain age will remember the days before digital cameras. They probably existed in 1992 although a casual photographer such as myself didn't know anything about them. I probably couldn't have afforded one even if I had. I used a crappy point-and-shoot Kodak Instamatic with 110 film. That little blob was my finger straggling over the lens. We never really knew when a photo might be wonderful or horrible. With film, casual tourists didn't snap a dozen photos of the same thing and delete all but the best one. That was too expensive. So I took the photo, sent it off to be developed after I got home, waited another week to get it back, and hoped for the best. Apparently I deemed it "good enough" to keep.
2017
The recent image came out much better. Some of the scenery changed a little, the bushes and access road most noticeably. However, Kin Kletso itself didn't seem to change at all. Every stone in place in 1992 appeared to be remarkably the same after all those years. I tip my hat to the National Park Service for their great stewardship and preservation.
Getting there seemed a lot easier. I can't recall if U.S. Highway 550 had four lanes back then or not. It certainly did not have a 70 mile per hour (112 kilometres per hour) speed limit. Even if it did, I doubt the camper we drove would have hit that speed. The sixteen-or-so miles of gravel and dirt road from the highway to the park remained as lousy as ever though. I still found it unnaturally amusing that the park itself featured nicely paved roads. From any direction, visitors had to travel over dirt, a roiling dust storm behind them, only to arrive at a blessed asphalt oasis in an otherwise empty desert.
The park itself gave me the same thrill even after so many years. I'd love to return and spend a few days probing the remote corners I've not been able to reach yet.
---
Mesa Verde National Park
Did it really take us more than half an hour to get from the Mesa Verde visitors center at the park entrance to the main attractions? I'd totally forgotten about that. It didn't create any real hardship although it cut down our exploration time a little. The best photo contrast took place at Spruce Tree House.
1992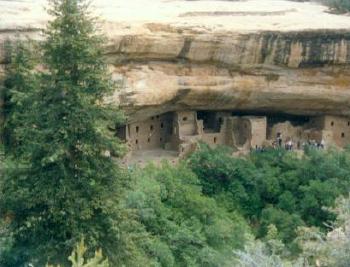 The earlier photograph actually turned out pretty well given the limitations of the camera and the person behind the lens.
2017
As with Chaco, everything remained pretty much the same at the actual ruins. Even the soot from ancient campfires along the mesa rim retained familiar patterns. The big spruce tree blocking the view disappeared somewhere over the course of time. However, other than that, I couldn't tell much difference.
Mesa Verde seemed a lot more crowded this time. That might have been due to time of year rather than increased popularity. Last time I visited in late May, right before Memorial Day and before the summer vacation season. This time we arrived in late July at its height. We couldn't see some of the features I'd visited earlier because they required tickets that sold-out for the day before we arrived. Nonetheless, we improvised and had a fine time. Our pivot to the Petroglyph Point Trail wouldn't have happened otherwise and I got to see something new.
My memories of these places held up pretty well. Naturally I'd forgotten a few of the details although I did confirm my favorable impressions of three remarkable places.
---
Articles in the Four Corners Series:
See Also: The Complete Photo Album on Flickr