Everybody sing along! "Bad boys, bad boys / Watcha gonna do / Watcha gonna do when they come for you?" That's right, if I'm quoting lyrics from Inner Circle then I must be talking about the long-running television show COPS again. Apparently more 12MC readers are fans of COPS than I ever imagined when I first posted 132 and Bush last September. I admitted at the time and I'll affirm once again that I'm more than a casual observer of this program.
I didn't expect to focus further attention on the topic. However I was presented with an opportunity that was simply too good to ignore. Long-time reader "Matthew" visited Portland, Oregon recently. He thoughtfully emailed a nice packet of photos from 132 and Bush and generously allowed me to share a couple with you. That's right, the 132 and Bush (map). Feel free to read that earlier article if you don't understand the monumental significance of my statement. Then let it sink in. Personally I believe the preponderance of evidence support Portland's claim to 132 and Bush, albeit with full disclosure in mind, there are competing theories.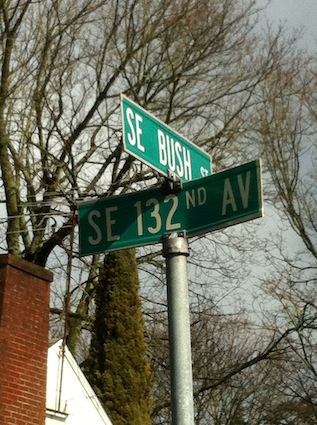 Here's the sign that marks the famous intersection, an address announced countless times over the last twenty years. I'll bet it's well into millions of repetitions given relentless syndication on just about every cable and satellite channel except perhaps Lifetime and the Oprah Winfrey Network. Matthew described this area as "a nice little working-class neighborhood, but not so nice that holding someone at gunpoint would not be out of the question." He also reports that one of the houses at the intersection appears to be vacant. I haven't checked any of the online real estate websites but this could signal your opportunity to own a home at one of the most (in)famous addresses in the United States.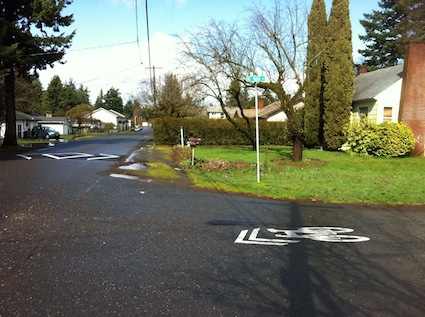 This is another great example of the lengths 12MC readers go to during their hunts for geo-oddities. I always enjoy hearing these kinds of stories so please keep them coming. Thank you for sharing Matthew, and congratulations on your visit.
---
An Update
View Larger Map
I was particularly pleased by Matthew's on-the-ground report because I hope to repeat that feat this summer. Awhile back I mentioned my upcoming trip to Oregon. It was included as a "totally unrelated" non sequitur at the bottom of the Shortest International Bridge article. The trip is coming closer to reality and it will happen in July. I've been culling ideas from your suggestions and from earlier articles such as Geo-Oddities of Portland, Oregon and of course 132 and Bush.
The map above is a very preliminary route. It will change as details fall into place so for now I consider it a basic guide. We'll start in Seattle primarily because that was the only affordable airport selection for a family of four traveling across the continent during the peak of summer. We'll remain on holiday for two weeks, including a full week in Bend, Oregon where we'll radiate out to places like Crater Lake for day trips. I could use some suggestions on the eastern edge of the loop in particular, focusing on spots along the Columbia River. The segment between Seattle and the Oregon border on the eastern loop will probably be non-stop unless I uncover some fairly remarkable geo-oddities. The town of George, Washington is tantalizingly close to that route but I don't know if it's worth an 80-mile round trip for what's essentially a play on words. Don't bet it hasn't crossed my mind though — it has — but the family probably won't appreciate it. I generally get one wacky geo-detour per vacation so I want to select it carefully.
I'm also going to try to arrange the route to hit as many new counties as possible (the blank spots on my Oregon and Washington maps). Also, I've been to the Olympic Peninsula a number of times in case you're wondering why I seem to be skipping an otherwise remarkable area. I may swing out that way to catch a couple of new counties, though.
You all know what I like. Am I missing any obvious weirdness along my approximate route that's worthy of Twelve Mile Circle coverage?