NOTE: This entry was written in JUNE 2008, recording a historical event as it unfolded. It does not represent conditions today.
The weather has been unusual, and not in the way that Twelve Mile Circle normally appreciates. Awhile ago I posted a story about a water shortage in the southeastern part of the United States that led to the resurrection of a long standing boundary dispute between the states of Georgia and Tennessee. Today I report on the opposite condition, the terrible flooding that has smacked the watershed of the upper Mississippi River so hard these last couple of weeks.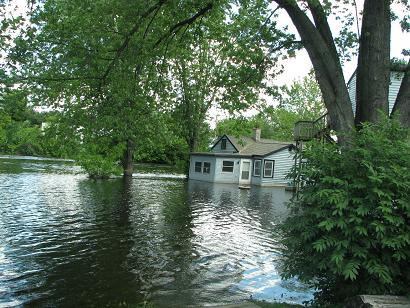 Regular readers know that I travel fairly frequently, and today I find myself in south central Wisconsin. The rains have stopped and much of the runoff has pushed further downstream towards Iowa and Missouri. Even so, southern Wisconsin continues to drain and leaves behind a a trail of misery and destruction.
I snapped this photograph yesterday (June 21, 2008) in rural Jefferson County, where the tiny town of Milford has intertwined with the Crawfish River more than usual or desired. Trees push above the water and a home soaks within the midst of a normally placid stream that has jumped its banks. Here the river rushes just a couple of feet below the bridge that carries County Road "A" across it, so close it's scary to even drive across it.
View Larger Map
Drainage runs north-south in this part of the state, a fact readily apparent from the map above. The Crawfish and Rock Rivers threw a lot of obstacles in our way yesterday as we attempted to traverse east-west. The Global Positioning System (GPS) doesn't do much good when half the roads are closed because of high water. We didn't even try. A GPS might tell us where we're standing, but so what. Detour signs sprang up randomly throughout the day. Normal modes of navigation wouldn't work so we felt our way across rolling terrain by intuition and detour sign.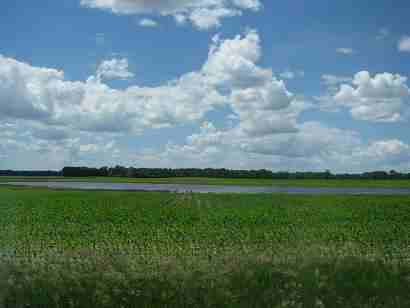 This is a cornfield that has become a pond. Welcome to the new Land of 10,000 lakes. The ground simply cannot absorb any further moisture. The water table pushes above the surface in many of the small hollows of farmer's fields, mile after mile. Water has receded in some places, leaving behind brown dead patches of drowned corn and soybeans amid the greenery.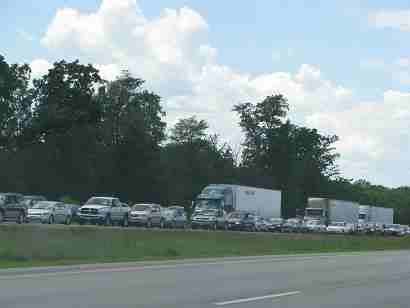 We took to these rural roads to avoid Interstate 94, the main artery between Milwaukee and Madison. The good news is that the interstate is running again, but unfortunately it's shut down to a single lane in each direction over the Rock River because one of two bridge spans has been closed. We rejoined the interstate further west and avoided the worst of it. Here's the traffic heading eastbound at Lake Mills on Saturday, backed up for a good eight miles before the constricted crossing at Johnson Creek.
I have a list of unusual places I want to visit on this trip but I'm not sure how many I'll be able to reach. I know the one Mississippi River ferry crossing that I wanted to document is closed indefinitely. I'll see what I can salvage from this adventure, or more likely, refocus my efforts to match the current conditions.
Under
Nature
,
Roads
,
Terrain
,
Water
| Taged
Crawfish River
,
Flood
,
Global Positioning System
,
GPS
,
Interstate 94
,
Johnson Creek
,
Lake Mills
,
milford
,
Mississippi River
,
Rock River
---