I found some border weirdness between Pontrilas in Herefordshire, England and Pandy in Monmouthshire, Wales. All would be fine in an automobile. Drive between the towns on A465, cross an unremarkable bridge over the border and continue on one's way for an eight-minute journey (map). No big deal. Take the same trip by train however and watch the magic begin.


View Train from Pontrilas to Pandy in a larger map

From Pontrilas, start in England and go 0.80 miles to the border, then into Wales for 0.37 miles, then back into England for 0.45 miles, then back into Wales for 0.52 miles, then back into England for 2.45 miles, and finally into Wales, arriving at Pandy after 0.78 miles. Discounting the two end sections, a train will cross the border an amazing 5 times in 3.79 miles (6.10 kilometres). The map I made shows English segments as blue lines and Welsh segments as red.
Both automobile and locomotive follow the valley of the River Monnow (Afon Mynwy in Welsh). The roadway remains south of river on the Welsh side, crossing into English territory just outside of Pontrilas on the way to Hereford. In contrast, the railway remains north of the River Monnow primarily during the same stretch. However, its tracks clip the River Monnow to avoid a sharp bend at one point, accounting for two of the border crossings. Additionally, the river must have changed course sometime in the past. The border deviates slightly from the watercourse and the railway clips that section too.

Station House in Pontrilas: Flickr by tomline43 via Creative Commons Attribution 2.0 Generic (CC BY 2.0) license
Completing this border-defying feat shouldn't be daunting although it would involve more than simply hopping a train in Pontrilas and riding the rails to Pandy, or vice versa. I couldn't find evidence that there was ever a regular station at Pandy. Pontrilas had a station although it stopped serving passengers in 1958 and closed altogether in 1964. Today it's the Station House bed and breakfast inn. The establishment caters to railfans and notes that "some 50 trains pass during the 24 hours on weekdays, approximately half comprising the hourly 'Express Sprinter' service from Cardiff to Manchester." That would be a drawback for most inns. That's a selling point here!
The route followed a very old railroad line, with the border-crossing segment originally constructed as part of the Newport, Abergavenny and Hereford Railway, circa 1853. It passed through several iterations eventually becoming known commonly as the North and West Route, and now the Welsh Marches Line (Llinell y Mers). The Welsh Marches of the middle ages formed a frontier between England and Wales, and to a degree maintained its independence from both. Today the term describes an amorphous and imprecise borderland more generically.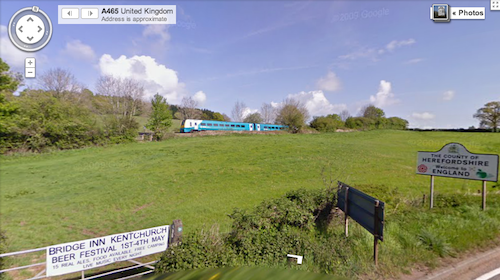 SOURCE: Google Street View "A465, Herefordshire HR2, UK," May 2009

A casual railway passenger on Arriva Trains Wales (Trenau Arriva Cymru) would find it completely feasible to experience the anomaly. Hundreds of people probably traverse this section every day without realizing its significance. One could board at Hereford, England and disembark at Abergavenny, Wales, covering a distance of about 28 miles with the anomaly included near its midpoint. Arriva posted a cheapest one-way fare of £9.60 when I checked this evening. It offered different travel options practically twice per hour.
Somehow I managed to capture one of the most remarkable geo-oddity Google Street View images I've ever witnessed (above). Don't bother to click it. I recorded it as a screen grab because someday Google will overwrite my discovery with new imagery and it will be lost. Feel free to refer to the original image until that happens.
What makes it so special?
It's on the border with a "Welcome to England" sign clearly visible.
An Arriva passenger train can be seen in the background just exiting the anomaly.
Did somebody say beer festival? — lower, left corner: "Bridge Inn Kentchurch Beer Festival 1st-4th May. 15 Real Ales, Food Available, Free Camping, Live Music Every Night." The Bridge Inn does have a website and I checked it. The establishment usually holds a beer festival during the Spring Bank Holiday weekend.
What a lovely scene. Trains, real ale and border weirdness; a trifecta of 12MC enjoyment. I need to put the Welsh Marches on my visit list. Absolutely.
Under
Borders
,
Cities/Towns
,
Distance
,
Roads
,
United Kingdom
,
Water
| Taged
Afon Mynwy
,
Arriva
,
England
,
Herefordshire
,
Monmouthshire
,
Pandy
,
Pontrilas
,
Railroad
,
River Monnow
,
Wales
---