And I don't mean Australia.
There are several ways to distinguish oneself on the Twelve Mile Circle. One path can take awhile. Stick around here long enough, post a bunch of comments and eventually I'll get to know you and write an article that I think will appeal to you directly, maybe seriously, maybe somewhat frivolously. Another path involves pure accidents of geography. Readers from anomalous locations receive quick attention.
As much as I obsess over Google Analytics maps, does anyone think I'd miss this developing trend in Kansas over the last couple of months?: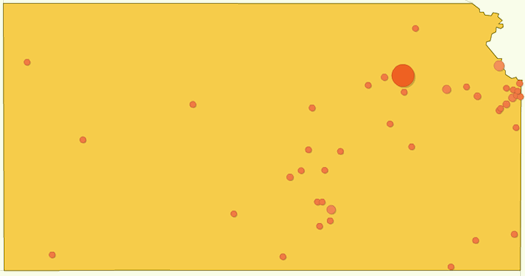 This is Wamego, Kansas. Hopefully I didn't just freak-out my Wamego visitor. He or she should have no worries: I have absolutely no way to identify this visitor except as a big blob on a map. You, sir or madam, will continue to have complete anonymity. I feature very few reader locations so specifically and I'm always a little nervous when I do it. I think I scared away my most famous reader after one instance. Well, there's a 0.01% chance that it was a famous reader but I'm sure it was her. She's been too busy with her TV reality show to stop by lately. I understand.
It's possible that Wamego serves a point-of-presence (POP) for an Internet service provider, a funnel for a much larger geographic area. That's what we think happened in Mount Pearl. The city of Manhattan, the one in Kansas not the famous one in New York, sits twenty minutes down the road with ten times Wamego's population. It's home to Kansas State University and I get a lot of .edu traffic in general. Wamego might mask the true location but I'm going to ignore that possibility.
Toto, I've a feeling we're not in Kansas anymore
Dorothy may have left Kansas for awhile in the classic 1939 movie "The Wizard of Oz," but a museum dedicated to all things Oz is tethered firmly to Lincoln Street in Wamego.
View Larger Map
The online reviews I consulted describe it as a small but worthwhile museum if one approaches it with appropriate expectations. The collection covers a complete Oz spectrum and not just the movie. It helps to have a wider interest in the topic, apparently. I wouldn't make a special effort to see the Oz Museum but I'd drop in if I happened to be cruising through Kansas along Interstate 70. Why not? After all, I'm the kind of guy who detours for a giant shoe.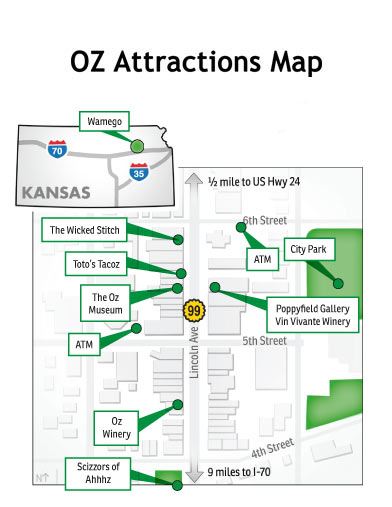 SOURCE: Wamego, Kansas Visitor Information

Wamego didn't stop with an Oz museum though. They ran with that theme and never looked back. Diners can order a Yellow Brick Burro'd, Tin Man Black Bean Burrito, or Toto-ly OZsome Spices at Toto's Tacoz. Also, I wasn't aware that Kansas was known for wine but apparently I'm wrong because one can also pick up a few bottles at the Oz Winery. I think I'd get the Drunken Munchkin. Finally, visitors who arrive during autumn might be lucky enough to time their trip with OZtoberFest. The puns are never-ending in Wamego.
I'm a bit surprised that Kansas doesn't take advantage of the Oz connection on a wider scale but good for Wamego for claiming the crown.
What else would one expect from the town that holds a festival called Ridiculous Days? I say that in admiration and awe.
---