Just when I thought I'd examined domestic ferry routes from every possible angle, and new question arose.
Longtime 12MC readers already know of my endless fascination with ferries and the saga of my formerly wildly popular ferry pages; still somewhat popular albeit Google's love affair with them has waned. It's a complicated relationship driven in equal parts by curiosity and indifference. I'm sure my kvetching doesn't help me remain in Google's good graces either. Eh, could be worse I suppose.
Even so, the major search engines drive a lot of ferry-related hits to the Twelve Mile Circle. The title of this article came word-for-word directly from one such query, "how many islands in the USA require ferry travel" Gosh, I don't know. I never thought about it. Why would anyone really need to know?


Ocracoke Island – My most recent ferry-required trip

Some people like the New York Times crossword puzzle. I like to figure out weird geography research questions provided unwittingly by random Intertubes surfers that happened to wash ashore on 12MC. Give me a quiet Sunday morning, a big cup of black coffee, some oddball query with no real practical purpose, and turn me loose. The answer is 64 The answer is 77.
Don't believe me? Feel free to check my handiwork.
First, I defined the question. I interpreted it to mean that each island had to be disconnected from the external road network, that no bridge, causeway, zip line, rope swing or other structure joined it to the mainland, directly or indirectly. A regularly-scheduled ferry with an established route had to be the only convenient and inexpensive transportation option available to the general public. Sure, someone could always charter a boat or hire an aircraft, and claim that a ferry wasn't technically required. In that case the answer would be zero. That's no fun.


Vinalhaven Island – Another great example

Let's apply some additional asterisks and caveats before the 12MC fact-checkers begin to salivate and prepare their rebuttal comments (which I love by the way). The biggest one: this was a quick eyeball survey and it's entirely possible, indeed likely, that I missed a small number of instances in my haste to prepare an answer before the kids woke up this morning and broke my concentration. I even found two more examples and added them to the list just before I hit the Publish button. Don't freak out if you find other(s). Let me know and I'll update the list.
Also, routes do change, generally due to the price of fuel and other financial considerations. I've done my best to compile the list as it existed on June 2, 2013. Someone reading this article far in the future will notice an ever-growing list of additions, deletions and variations.
Here's how ferry-only islands broke down by state (again, look at the spreadsheet if you want the details):
Alaska – 16
Maine – 13
Washington – 9
Michigan – 8
Massachusetts – 3 4
New York – 2 4
California – 1 3
Ohio – 3
North Carolina – 2
Rhode Island – 1 2
Wisconsin – 2
Florida – 1
Maryland – 1
Mississippi – 1
Virginia – 1
Hawaii also briefly had one although it was inter-island and did not connect to the mainland.
---
I wrestled with what should "count" as a ferry. Various national and state park properties, or portions of properties, are served solely by ferry: Dry Tortugas National Park; Governors Island National Monument; Gulf Islands National Seashore; Isle Royale National Park; Rock Island (Wisconsin) State Park. Are these ferries or are they excursions? They maintain regular schedules, however they don't serve a permanent population unless one considers a few park rangers. I kept them on the list for no other reason than I've taken a ride on a couple of them and I like them.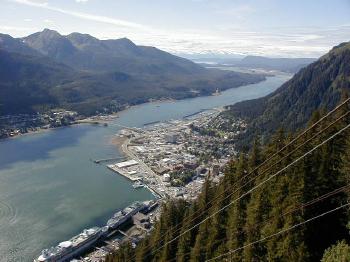 Juneau is NOT an island… but if feels like one

Alaska deserved special attention for its extensive Marine Highway. Many coastal towns are not connected to the larger road network even though they are not on islands. Some are remote outposts with too few people to justify the necessary road and bridge construction. Others are hemmed-in by massive coastal mountain ranges. They certainly display characteristics of islands, however they are not technically islands so I have not included them on the list. The most notable example was arguably Juneau. More than 30,000 people live in Juneau, it's the capital city of Alaska, and yet it remains unconnected to the external road network. Juneau is located on the mainland, not an island.
I'm particularly fond of double-disconnected islands. Those are rare places where a traveler would need to take two ferries to get there. These are islands connected overland only by ferry to an island that is connected only by ferry to the mainland. I found three examples.
Washington and Rock Islands, Wisconsin
Rock Island, a Wisconsin state park, can be accessed only from Washington Island by ferry, which in turn is accessed from the tip of the Door Peninsula by ferry. I've set foot on Washington Island (my visit) although I didn't have time to reach Rock Island because it was a day trip by bicycle. Rock Island remains on my short list of places I'd like to see.
Ketchiikan Alaska on Revillagigedo Island provides access to the other two examples. One is rather extensive with several settlements, Prince of Whales Island. The other is Gravina Island where Ketchiikan's airport is located, and which 12MC discussed previously. It's most notorious for the proposed but derailed "Bridge to Nowhere." People wouldn't reasonably take two ferries to get to Gravina Island they'd simply fly-in to the airport, although the double-ferry route is technically feasible.
Some of the Aleutian Islands in Alaska and Puget Sound islands in Washington might also count although I put them into a lesser category because they're placed in strings along a longer ferry route. Interceding islands serve as layovers. A traveler doesn't need to disembark and transfer to a different ship.
The number of islands requiring ferries surprised me in a couple of different ways. I thought there would be fewer examples and I thought Alaska would dominate the list even more than it did. I've taken 8 of the island routes personally: Beaver; Dry Tortugas; Madeline; Ocracoke; Ship; Tangier; Vinalhaven and Washington. I have many more to go.
---