I try to approach "-est" claims skeptically. Those are ones that purport to be the largest, tallest, longest, smallest, fastest, and so on. Often I'll use qualifiers such as likely, possibly, or supposedly, to hedge my bets even when fact-checking seems to confirm an assertion. Predictably, someone in the 12MC audience will discover a more extreme example, and frankly, that type of interaction is one of the things I enjoy most about the site. I learn something new every day.
It's easier to eat crow when I can respond to a reader comment and say legitimately, "well, I never claimed it was absolutely the quickest path between Mianus and Middelfart, just a very quick path" or whatever nonsense might be necessary to extricate myself from embarrassment. Bad things happen when I get too cocky and make bold assertions. Qualifiers allow me to save a little face even when I know I'm dead wrong. Start a sentence with an overworked cliché like "some say" and any crazy claim imaginable can be tossed out recklessly to the public without concern.
Some say… that the "Famous" Star Hotel in Moffat, Dumfries and Galloway, Scotland is the world's narrowest hotel. I discovered that happy declaration as I researched Little Miss Muffet the other evening. Anyone who has read Twelve Mile Circle for even a short time already understands that I'm a sucker for exactly that kind of oddity. I once went out of my way for a large shoe. I'd do the same for an ultra-skinny, record-shattering hotel. If I were in Scotland. Which I'm not.

Moffat Star Hotel by AndyRobertsPhotos, on Flickr
via Creative Commons Attribution 2.0 Generic (CC BY 2.0) license.

I examined photographic evidence. It certainly looked sufficiently slender to grapple for the title.
The hotel proudly proclaimed that it "found its fame for being the world's narrowest hotel AS MENTIONED IN THE GUINESS [sic.] BOOK OF RECORDS. At only 20ft wide and 162ft long. The Famous Star Hotel may be narrow but it has a BIG personality." That's some bold capitalization. Various sources claimed (another "some say" alert) that the width may have had something to do with taxation in the late 1700's when the hotel was constructed; taxation based on building frontage encouraged narrow structures.
It should be easy enough to confirm using the Search Records box at the Officially Amazing Guinness World Records website. That's what it calls itself now — The Officially Amazing Guinness World Records. Officially. Amazing. We also need to take a logical leap that Guinness is infallible.
Let's see:
Maybe I need to loosen the criteria.
Armada Hotel, Istanbul, Turkey
Narrowest: narrowest America's Cup finishing margin… narrowest street… narrowest j-turn… narrowest optic fiber channels. Nope. No hotel.
Hotel: A bunch of results including Farthest Milk Squirting Distance (because it took place at a hotel, "Ilker Yilmaz (Turkey) squirted milk from his eye a distance of 279.5 cm (9 ft 2 in) at the Armada Hotel, Istanbul, Turkey on 1 September 2004" just in case you were curious.) No mention of narrowest hotel either, or any term related to or implying narrowest.
The Star Hotel displays a certificate from Guinness to verify its claim so I don't doubt its sincerity. A number of things could have happened.
Guinness could have discontinued the category
The record may have been set too recently to make it into the database
The online database isn't as comprehensive as the book so readers will want to purchase the publication
I'd bet on the third option. Getting my hands on a print version of Guinness World Records would entail effort though, and well, I'm not sufficiently interested in the topic.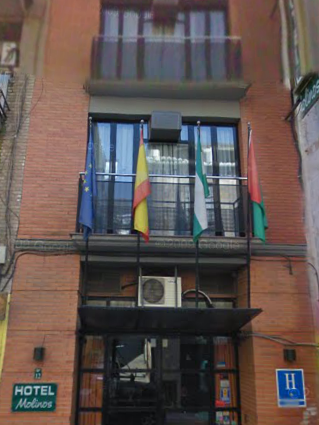 SOURCE: Google Street View, Hotel Molinos in Granada, Spain; February 2009

The claim was further complicated by a similar assertion from the Hotel Molinos in Granada, Spain, which said, "Hotel awarded the Guinness record for being the world's narrowest hotel, 5 meters at its narrowest and 5.20 meters at the widest, with a depth of 16.40 m." Their website also included a copy of the Guinness certificate in Spanish ("el hotel mas estrecho"). It's maximum width, 5.20 metres (17.06 feet) shaved nearly a metre from the Scottish claim at the Star Hotel.
What's going on? Some poking around the Intertubes demonstrated that the Star Hotel might be only the narrowest free-standing hotel. This post is not intended to pick on the Star Hotel. I'll accept at face value that it obtained a Guinness certificate. I'll also assume good faith. Rather, I'm using this confusing situation as an object lesson to illustrate the problem of -est. Would I stay at the Star Hotel if I happened to travel to Moffat? Sure, why not. It's still extremely skinny, plus it has two bars and free WiFi. It doesn't take much to make me happy.
However, it does call into question other claims made about Moffat, particularly those included on Scotland.com:
When you stand outside on the front steps of Star Hotel and look right and you can see across to Syme Street, the narrowest street in Scotland. Chapel Street, the shortest street in the country is just around the corner, hundred feet down Star Street.
Moffat seemed to have an overabundance of -est.
Under
Cities/Towns
,
International
,
Miscellaneous
,
United Kingdom
| Taged
Dumfries and Galloway
,
Granada
,
Guinness World Records
,
Hotel
,
Istanbul
,
Moffat
,
Narrowest
,
Scotland
,
Spain
,
Turkey
---