Today is the one-year Anniversary of this website, the Twelve Mile Circle. However I've yet to explain the Twelve Mile Circle behind the name. I promised myself I would do so if I could keep this site active for a year, and I've now met that goal. So here goes.
As many regular readers have already guessed, it refers to the arc that forms the preponderance of the border between Delaware and Pennsylvania. I find it particularly fascinating. Borders are generally based upon straight lines that have been formally delineated by surveyors or upon natural phenomena such as rivers, ridgelines, or coasts. Imagine, though, the sheer wackiness of a boundary based on a circle.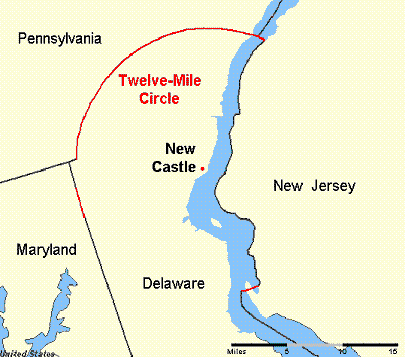 SOURCE: Wikimedia Commons, which notes that the map was obtained from an edition of the National Atlas of the United States, which is in the public domain.

---
This image gives a pretty good overview of the border between the two states. Clearly it is a perfect arc. This one happens to have a 12-mile radius. Notice the little red dot at New Castle which is the exact center. This unusual arrangement has roots in colonial times. Very simply put, the Duke of York was granted all lands within a circle of twelve miles surrounding New Castle. Eventually he conveyed his Delaware holdings to William Penn who decided to keep these lands distinct from Pennsylvania even though they were now both part of his domain. The circle survived.
View Larger Map
This is the exact center of the circle. It's the old courthouse in New Castle. Specifically it's the cupola right at the top of the courthouse. The circle may have been well-defined by land records but it's precise measurement on the ground was problematic due to its unusual shape. The 22.57 mile arc has been surveyed several times including 1710 by Taylor and Pierson and again in 1892-1893 by modern surveyors using more sophisticated techniques.
View Larger Map
Imagine the challenge of surveying this border. Rather than tracking a straight line, the surveyors needed to account for an infinite number of twelve-mile spokes emanating from New Castle.
In upcoming post I'll go into further detail on the numerous anomalies of the Delaware border. This is just a brief introduction of one aspect. Perhaps you've already noticed another anomaly (hint: look immediately to the left of the border arc). Stay tuned!
Under
Borders
,
Cities/Towns
,
Distance
,
History
,
U.S. States
| Taged
Arc
,
Delaware
,
Duke of York
,
New Castle
,
Pennsylvania
,
Twelve Mile Circle
,
William Penn
---