Strange queries land on Twelve Mile Circle. Recently I noticed search engines referencing questions in the form of "does the sun rise (or set) in [name a location]." and sending them to the site. Since I'm pretty sure those were daily events for most of us except perhaps at extreme latitudes during very specific times of the year, I wondered what the queries actually meant. People didn't seem to be searching for a trick question or answer. Seriously, some of them were like, "Does the sun rise in Chicago." I wanted to scream, YES OF COURSE THE SUN RISES IN CHICAGO! WHY WOULDN'T THE SUN RISE IN CHICAGO?!? I may, in fact, have said it out loud, or at least muttered it.
Maybe they really wanted to know the time of sunrise? Maybe it was an over-the-water thing, which is where the queries landed on 12MC? Maybe I somehow missed a grand catastrophe this morning and the sun won't actually rise in Chicago tomorrow?
That was an awfully long tangent to explain that the sequence made me start thinking about places called Sunrise.
Sunrise, Florida

View from our seats at BankAtlantic Center by Elliot, on Flickr
via Creative Commons Attribution 2.0 Generic (CC BY 2.0) license

I recalled the existence of Sunrise from a time when I had family in South Florida and I would travel down there to visit occasionally. I didn't remember anything other than the name; I knew nothing of Sunrise specifically. Nevertheless it came to mind during this exercise so it merited further exploration.
Why the hockey stadium? It turned out that the Florida Panthers National Hockey League team used Sunrise as its home base, at the BB&T Center in particular (formerly the BankAtlantic Center, and before that the Office Depot Center, and even earlier the National Car Rental Center and the Broward County Civic Arena, and probably something else completely different if someone reads this page a year from now). I know the Florida Panthers joined the NHL more than twenty years ago, and yet, hockey in Florida just seemed wrong. It didn't hit the level of weirdness of the curling club that played at the Panther's practice facility in nearby Coral Spring that I discussed in Sports Facilities I Never Imagined. Still, it was odd. Who knew South Florida was such a hotbed for winter sports? Maybe that was the point. People get tired of endless heat and sunshine.
---
Sunrise, Minnesota
Multiple Sunrises
Few things in life could be better than a quadruple sunrise. It would be a wonderful way to start each and every day. In eastern Minnesota, the Township of Sunrise had a village of Sunrise, located on Sunrise Road next to the Sunrise River. Paradise.
Step a block away from Sunrise Road, and one could experience quintuple sunrise by going to the Sunrise Community Museum. Of course a motivated traveler could go even more extreme by visiting the museum at dawn, at the actual sunrise, and I guess that would make it a sextuple sunrise.
I think I'm getting a headache. Maybe I need to get out of the sun.
---
Sunrise Beach, Missouri

Lake Sunset – Lake of the Ozarks by Phil Roussin, on Flickr
via Creative Commons Attribution-NonCommercial-NoDerivs 2.0 Generic (CC BY-NC-ND 2.0) license

Sunrise Beach seemed to be a nice little resort community found at Lake of the Ozarks, according to my quick search of the Intertubes.
In the 1920's and early 1930's, Sunrise Beach and surrounding communities consisted of nothing more than vast areas of timber and brush. After the construction of Bagnell Dam by Union Electric, several communities sprang up around the lake, primarily due to the beauty inherent in this area. Sunrise Beach, located on the west side of the lake, was one of those communities…
Ironically, the best photograph I could find of Sunrise Beach was taken at sunSET.
I discovered additional English-languages Sunrises in other parts of the world, although little practical information about them.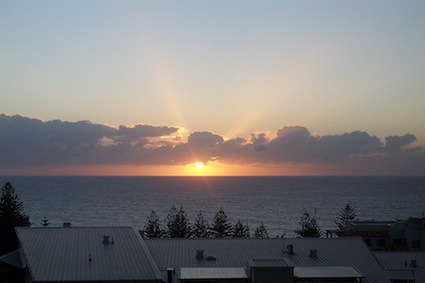 Sunrise Beach, Queensland, Australia
Photo courtesy of "John of Sydney" (see comment below)

Taman Sunrise, Kluang Johor, Malaysia (map)
Sunrise-On-Sea, Eastern Cape, South Africa (map)
Sunrise Beach, Queensland, Australia (map)
Too bad I didn't know how to say sunrise in other languages. I'm sure I could have found more.
---