Preparing for a quick out-of-town jaunt to visit with friends living in the Twelve Mile Circle, the actual geographic quirk in Delaware for which this site was named, prompted me to plot a course designed to avoid the dreaded Delaware Border Tax. I succeeded in that goal by the way although that wasn't germane to the story. Rather, this was more about the starting point (singular) although in actuality it became a matter of starting points (plural).
For some odd reason I won't type my home address into any of the online mapping programs, harboring an unrealistic expectation that somehow those all-powerful corporate or government entities can't find me or track my movements if I take that one simple step. I know. Fit me for a tinfoil hat. I realize it's completely delusional and irrational from an intellectual standpoint even though that doesn't change my behavior. That's why I found myself dropping a rather generic "Washington, DC" into several mapping programs to research an optimal route and noticing that each site defined that simple starting point differently.
It reminded me of a day many years ago during the infancy of online mapping applications, if I can go down a tangent for a moment. I was taking a walk and noticed a woman driving through the neighborhood visibly lost. Finally she stopped to ask for directions after passing me three or four times. She wanted to find a very specific apartment building several miles away and had simply designated "Arlington, Virginia" in (I think it was) Mapquest which directed her to a point two blocks due north of my house. First, I thought, what kind of idiot would put the name of a 26 square mile county into a map site and expect it to bring her to the exact spot she needed; and second, hey it was pretty cool that I lived so close to the value the map returned. Don't bother attempting that trick today. Mapquest changed its starting point for Arlington to the more logical county courthouse site years ago.
Back to the present, either intellectual curiosity or boredom — it could have been both — led me to examine Washington, DC as defined by several mapping sites.
---
OpenStreetMap
OpenStreetMap's Washington, DC Epicenter
OpenStreetMap specified a point on the northern edge of the Ellipse just across from the White House.


Zero Milestone Marker
My Own Photo

This was a spot that fell near if not directly atop the Zero Milestone marker. It was an excellent choice. The marker itself read, "Point for the measurement of distances from Washington on highways of the United States." It was hard to argue with that. Well done, OpenStreetMap. You get the Gold Star today.
---
Bing Maps
Bing Maps' Washington, DC Epicenter

I'm not sure what made 14th & Madison, NW so special. It fell just outside of the Smithsonian's American History museum, had a nice view of the Washington Monument, and provided easy access to the National Mall. That was a pretty location among hundreds of other pretty locations nearby. Nothing indicated why Bing chose that particular intersection as the starting point for Washington, DC.
---
Mapquest


Mapquest's Washington, DC Epicenter

Ditto for Mapquest at 6th St. & Constitution Ave., NW. I love the National Gallery of Art, and the tip of Federal Triangle seemed like a slightly more logical starting point although the Zero Milestone would have been better.
---
Google Maps
Google Map's Washington, DC Epicenter
And then there was the wackiness of Google Maps which selected Scott Circle for some inexplicable reason. It got weirder. I'm certain this little trick will only work for a short time. It will be eliminated once Google learns of the glitch so if someone reading this article in the future tries this trick and it doesn't work, then understand the situation.
Type "Washington, DC" into (old) Google Maps. Use the slide bar to zoom-in to the extreme street level, then take the peg man and drop him onto the red marker. This will take you to the Secret Bunker under Scott Circle. I've provided a direct link too; I wanted to show you how it could be found manually so you didn't think I was nuts.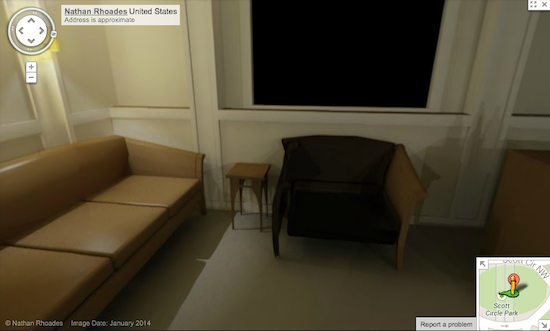 Nathan Rhoades' Secret Bunker, Washington, DC
via Google Street View, January 2014

I also took a screen shot in case it disappeared someday. It was a single room with typical Google 360° imagery, although one can only look around in a circle and not move anywhere. What a weird room, too. I see a couch, a chair, three flat-screen televisions, what appears to be a bottle of Kahlua atop a wooden crate, and a billiard table. Otherwise it was spartan, almost sterile. Maybe this is where the President of the United States will hide during the next disaster. I think Dick Cheney may have used it on 9/11. I'm kidding!
I enjoy a good conspiracy theory as much as anyone, however it appeared to be a user error. Nathan Rhoades, whoever he may be, must have accidentally specified Washington, DC as the location of his awesome rec room, and Google dutifully posted the file where its algorithms thought Washington, DC should be. One can click on Nathan's name in the online version and it will jump to his gallery. This included an additional image of the same room, this time located at a house in Taunton, Massachusetts.
Nice man cave, Nathan!
---
Completely Unrelated
I've had a love-hate relationship with reddit over the years, often reserving praise for the underlying premise with a heaping plate of scorn (if you must know the gory details) reserved for its MapPorn subreddit.
This weekend was an exception. I noticed quite a number of new visitors because of a user on the MapPort subreddit who demonstrated courtesy by taking an extra step. Redditor "CupBeEmpty" handled this exactly as it should be done in my opinion, respecting intellectual property and copyright. He went out of his way to acknowledge ownership by posting a prominent link to the original 12MC article that described the "borderlocking" phenomenon. Thank you CupBeEmpty.
---