A jagged border can be found between Perry and Yell Counties in Arkansas, complete with fifteen perfectly-aligned steps rising northeasterly like a superhuman staircase drawn upon the landscape. The path traverses land and lakes alike, in a noticeably precise pattern.
It seemed rather unusual to me. More commonly one would expect to see a border drawn along a straight, diagonal line rather than move through sequenced steps. The general history of each county provides few clues. Yell County, the one towards the west of the sawtooth, formed on December 5, 1840 and was named for an early governor of Arkansas. The bit of trivia most frequently cited is that it actually has two county seats, Dardanelle (western district) and Danville (eastern district) although the county courthouse is located in Dardanelle.
Perry County was created thirteen days later, on December 18, 1840. It doesn't have dual county seats but they named it for a more interesting character: Commodore Oliver Hazard Perry, a hero of the War of 1812. He was also the brother of Commodore Matthew Perry who was credited with opening Japan to the western world in 1854.
Both counties are dry. That means I won't be stopping in either place for long when I visit them someday in pursuit of my county counting adventures.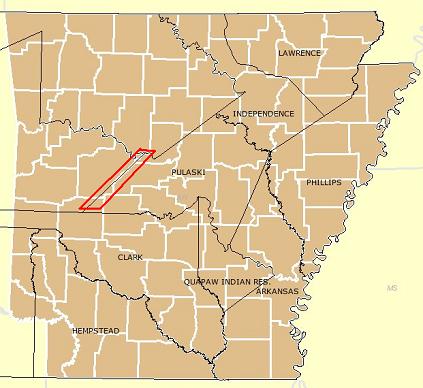 Formation stories for neither county mention a zig-zag border. That's because the steps seems to be a much more recent phenomenon. For that turn of events I consulted a favorite tool, the Arkansas page of the Atlas of Historical County Boundaries. It is a wonderful public resource provided by the Newberry Library of Chicago, and one I use frequently for another of my other hobbies, Genealogy. Knowledge of previous county boundaries is indispensable to tracking down relevant government records.
From this, I determined that the sawtooth does have some grounding in a much older, much longer line. Notice that I used the word "line" specifically, as in a single line and not a bunch of them cobbled together to form a staircase. The tool imposes historic county boundaries (black) atop the current boundary structure (white). The line appeared with an adjustment between Crawford County — which extended well into present-day Oklahoma at the time — and Pulaski County, that occurred on October 24, 1821. It's the northeastern half of what I've enclosed in the red box.
Crawford and Pulaski still exist today as an aside, albeit with greatly diminished forms. Crawford is the county just north of Fort Smith, AR, with its seat in Van Buren (yes, Van Buren! — don't you love how all these articles intertwine eventually?). Pulaski is more well known. It is the home county for the Arkansas state capital, Little Rock.
I checked all manner of historic maps of Arkansas online and I went through the Newberry tool adjusting various dates. I observed that it remained a single diagonal line throughout much of the Nineteenth Century, even as various other county boundaries changed and solidified elsewhere within Arkansas. Newberry finally displayed a sawtooth beginning April 8, 1891, which I used to search the the Acts of Arkansas on Google Books. On that date, Act CLXV ("to Define the Lines Between the Counties of Yell and Perry") came into existence. It also moved a small triangle of southwestern Perry into neighboring Yell.
The Act was full of references to townships/ranges and sections familiar to those who have ever had to work with the Public Land Survey System (again, very important for genealogists and personal historians). I then used a tool provided by Earth Point to superimpose the existing Arkansas township grid upon the Arkansas county line structure in Google Earth.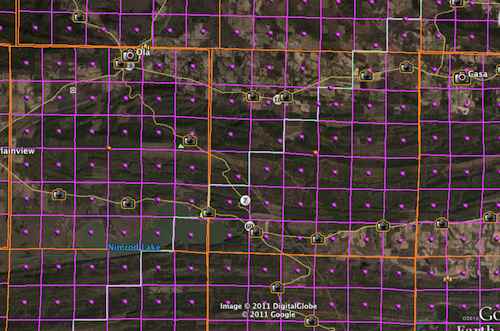 Orange lines denote townships/ranges and purple lines denote sections (notice the classic 36 sections, a mile on each side, within each township). The sawtooth boundary between Perry and Yell appears as a faint whiter line rising diagonally from the southwest corner heading to the northeast. Sure enough, it snaps directly onto the township grid.
This explains the basis for the weird county boundary but not the reason. That will require greater research than I could muster using sources easily available to me. I could speculate that it saved the state money because the new county boundaries didn't need to be resurveyed. Also it would have simplified land ownership and taxation records because township sections would fall entirely within one county or the other. Who knows, maybe even a wealthy or influential individual wanted all of his land to be placed within a specific county. Stranger things have happened.
Whatever the reason, it's one of the more unusual boundaries I've ever seen.
Under
Borders
,
Government
,
History
,
Tools
,
U.S. Counties
| Taged
Arkansas
,
Crawford
,
Danville
,
Dardanelle
,
Perry
,
Public Land Survey System
,
Pulaski
,
Yell
---