I remember the story of the the alleged World's Shortest International Bridge making the rounds of the Intertubes a few years ago. I ignored it intentionally, not so much because of what I thought about its claim since I had no way to confirm or dispute it, but because it was already receiving plenty of coverages from websites a whole lot more popular than the Twelve Mile Circle.
How many readers were expecting me to pull out this old chestnut when you saw the title of my post?

SOURCE: Flickr under Creative Commons Attribution-NonCommercial-NoDerivs 2.0 Generic (CC BY-NC-ND 2.0)

I say the "alleged" shortest international bridge because, well, it may be short but it's certainly not international. I know Google Maps can sometimes be just a little off while rendering borders, but this image is accurate (as confirmed by a USGS topographic map).
View Larger Map
If there's any doubt, hopefully this will demonstrate that Zavikon Island, one of the St. Lawrence River's "1000 Islands" is located entirely within Canada. I don't think my one lone voice will mitigate all the false information on the Internet but maybe this will help make a small dent.
---
This post is made possible by 12MC loyal reader Scott (that's Scott of the The Park You Cannot Visit and National Preserves, as opposed to Scott of Strip Annexation in Arizona; two different Scotts who are both super contributors). He came up with the idea for this article and provided evidence for what may be a genuine world's shortest international bridge, or if not then one certainly within a few centimetres of that claim.
Scott visited the Czech Republic and Poland recently, including a location that I featured in an earlier article called International Clip. The whole point of that post was to feature places where someone could drive from one nation to another, while barely clipping a third in between them.
View Larger Map
In this example, a traveler — Scott in this instance — could begin a trip in the Czech Republic, clip a 1.5 km corner of Poland and then enter Germany. What's left unstated is how Scott learned that I'd already featured an article on this spot because I certainly didn't remember it. I'm guessing he probably used my Interactive Map of Every Article Ever Featured on 12MC when he returned home. Whatever the case, this is what Scott found as he crossed from the Czech Republic at that same point and entered Poland.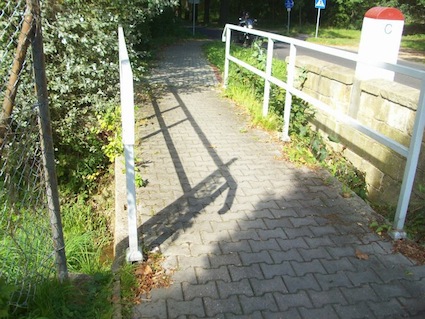 Notice the "C" on the post marking the Czech side of the border in Scott's photo. I guess I'm puzzled that this is such a mundane and unremarkable border crossing. It's all within the Schengen Area so that's to be expected now. However I remember the first time I crossed between those two nations back in the "dark ages" on a train at night. We were rousted from our sleeper berth by armed border guards with flashlights making sure our passports were in order. Now? It's no more difficult than my trip through MDVAWV a few days ago. I'm continuously amazed at how significantly the world has changed during my lifetime.
Anyway, let's get off that tangent and return to the topic at hand.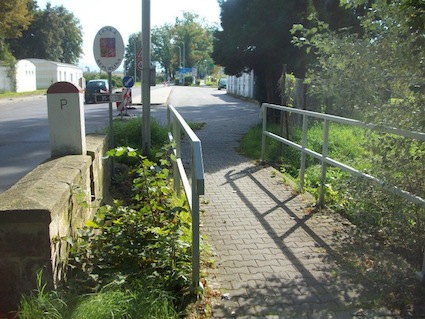 Scott turned around and took another photograph, this time with the "P" marking the Polish side. I like this one because I can also see the oval shield with the crest of the Czech Republic a couple of steps further along.
Shortest international bridge? I don't know. I guess someone could always make one a few whiskers shorter if he really wanted to claim the title. However, I have to figure at some point it would stop being a bridge and start being a road with a culvert beneath it.
This is clearly a bridge. Sure, it spans what appears to be either a minor creek or a drainage ditch but there's no doubt that it crosses from one sovereign nation into another. I challenge anyone to find a shorter international bridge. It's even shorter than the fake one in Canada.
Thanks for the great research and detective work, Scott! I owe you a finder's fee — a beer if our paths ever cross in the real world, because 12MC really is that low-budget.
---
Totally Unrelated
We let our older son pick the spot for our holiday next summer. He selected Oregon. I've already done Portland, some of the Columbia River and much of the Pacific Coast, so I'm thinking Bend, Oregon. Anyone have other suggestions?