It's not every day that I get an opportunity for a do-over. I was in Williamsburg, Virginia during the early part of this week. It's so tantalizingly close to The Swap that I featured a few weeks ago.
I travel to Williamsburg about once a year on business and I have mixed feelings about the town quite frankly. The history buff in me enjoys the old colonial aspects. Last year, however, I caught the H1N1 Swine Flu down there. I guess that played in the back of my mind as I drove along Interstate 64 following the spine of the peninsula. Remember all the panicked people standing in line for flu shots a year ago? I didn't have to worry about that. I gained my immunity the old-fashioned way: waves of fever lasting most of a week. I passed the virus promptly to my dear wife and our family cat. I digress though. I must be feeling particularly tangential this evening so let me get back on topic.
Quickly summarizing the salient point for those who don't wish to read the original article, York County and the independent city of Newport News (considered a county-equivalent for Census and other purposes) swapped an unusually large amount of land in 2007.
I told myself that I'd cross the territorial boundaries of the geo-oddity during my next Williamsburg trip. It's a mere fifteen minutes away from The Swap.


View Newport News – York Co. Adjustments; twelvemilecircle.com in a larger map

I didn't feel motivated after a full day of work so I considered every excuse conceivable: I was tired; traffic might be a hassle; it looked like it might rain. The ridiculousness of these rationalizations finally took hold and I was able to push through the excuses. I hit the road and visited both parcels personally.
This section along Richneck Road switched from York County to the City of Newport News. I wasn't sure if I would reach the spot. Currently it's closed to all but local traffic due to construction. One reason why Newport News wanted this parcel was so that it could expand Richneck Road to relieve traffic pressures on chronically congested roads nearby. I can attest that the effort is underway. Notice the dirt that's been pushed away in the photograph. I considered myself fortunate to reach the spot without dodging construction equipment.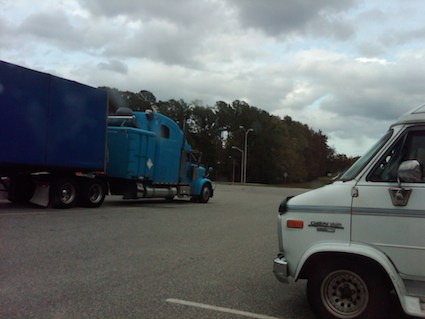 The parcel that switched from the City of Newport News to York County belongs to the Naval Weapons Station Yorktown. Most of it sits behind a secured perimeter with the exception of a large parking lot directly outside of the entrance. I'm guessing this may be a staging area for base access. Several tractor-trailers idled there waiting for permission to enter.
I parked and took a quick photograph, taking care to not record anything of military significance and quickly went on my way. Yes, I realize it's completely visible in Google Street View. However I didn't want to make any guards nervous or get my license plate noted in some database somewhere. I can only hope that nobody comes knocking on my door after a secret government computer correlates all the unusual spots I've visited over the years. Who's going to believe that it's due to my unnatural fascination with geo-oddities?
I take these personal risks for the loyal readers of the Twelve Mile Circle! Actually I did it for myself but I hope you enjoyed it too.
Under
Borders
,
Cities/Towns
,
Government
,
U.S. Counties
| Taged
Colonial Williamsburg
,
I-64
,
Interstate 64
,
Naval Weapons Station
,
Newport News
,
Virginia
,
Williamsburg
,
York County
---