Ferries for trains? I thought it might be a late April Fool's joke when I first encountered the possibility. They do exist. For the sake of accuracy I should note that railcars are uncoupled into shorter segments. The entire train doesn't simply roll onto a ship in one long string. I'd love to see that if it existed though. Can you imagine a skinny, half-mile long ship?
It's also becoming less common, being replaced steadily by bridges over shorter bodies of water and by large intermodal freight transport vessels on the open seas. Nonetheless they continue to fill a need even in an era of standardized cargo containers that can be switched quickly between various forms of transportation.
I discovered the Bay Coast Railroad (BCRR) which covers a mere 96 miles between Pocomoke City, Maryland and Little Creek, in Virginia Beach, Virginia. By coverage, I mean the railroad uses 70 miles of track and then extends another 26 miles across the mouth of the Chesapeake Bay through a car float operation.
View Larger Map
The Bay Coast Railroad started operating in 2006 but its pedigree traces back considerably farther. A north-south route on the Delmarva Peninsula and across the mouth of the Chesapeake Bay first began in 1884 as the New York, Philadelphia and Norfolk Railroad (NYP&N). More recently, circa 1981, it was the Eastern Shore Railroad. It's still the most direct route along the eastern edge of the Mid-Atlantic. As the BCRR explains:
The BCRR by-passes the congested Northeast Corridor and its restricted clearances, with the unique capability to handle high-roof 60 ft. boxcars, tri-level enclosed auto racks, and over dimension shipments. The uniqueness of this railroad is defined in its floating operations. Two barges (car floats) of 25 and 15 car capacity are used on the 26 miles water route across the Chesapeake Bay between Cape Charles and Little Creek… Float bridges consisting of four tracks each are located at both Cape Charles and Little Creek. These float bridges allow cars to be loaded directly onto our car floats.
This satellite image above displays the southern terminus at Little Creek (the other end is at Cape Charles). Notice how the train tracks extend out onto the water. A barge has been secured firmly in place. This is a good find. I'm sure the barge will disappear the next time Google updates its satellite imagery. That's why I've taken a close-up screen print and I'll save it here to confirm its existence: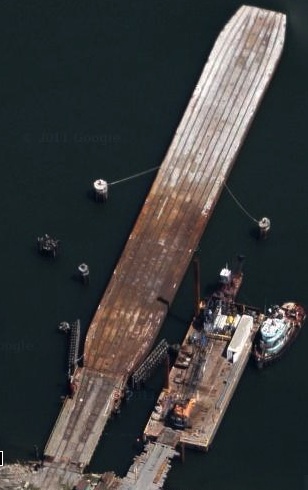 Isn't that amazing? One can see the four parallel sets of tracks on the barge, narrowing down to two as it attaches to the pier. The cars are pulled off the ferry and are then reassembled on dry land, ready to continue their journey along the east coast or farther inland. Thus, the very specific niche for this railroad ferry is its use as an alternate path around the major cities of the northeast United States. The body of water is too wide for a cost-effective railroad bridge — albeit there is an automobile bridge/tunnel here — so a train ferry makes sense in this very limited instance.
---
Canada – USA
I checked around the Intertubes and found additional North American railroad ferries. One of them is operated by the Canadian National Railway. They call it the AquaTrain and it operates between Prince Rupert, British Columbia and Whittier, Alaska. As CN explains it:
In service for over 40 years, AquaTrain is a unique rail-marine barge service that provides a vital link between Alaska and the rest of North America… AquaTrain uses one of the world's largest railcar barges to carry 45 railcars on eight tracks. It is powered by a 150-foot ocean tug on its 30-plus round trips each year.
I didn't see the AquaTrain on my 2010 visit to Whittier but I did see a train, which I captured in the video above. I realize it's a passenger train not a freight train but you know I would have searched for the AquaTrain if I realized it existed.
---
Mexico – USA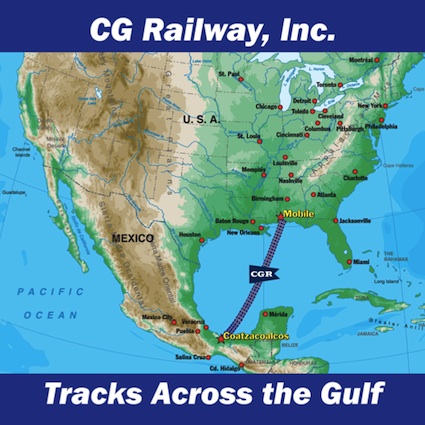 SOURCE: CG Railway Media Downlaods

Another open-water train ferry operates across the Gulf of Mexico. The Central Gulf Railroad runs between Mobile, Alabama and Coatzacoalcos, Mexico. The ferry included double decks and can carry up to 115 railcars at a time. CG provides some nice photos and videos on their Media Downloads page if you'd like to see more.
One wonders why these long-distance train ferries exist. Why haven't they been replaced by standard shipping containers on large cargo ships? Intermodal freight containers are designed to be stacked onto ships and loaded onto trains or trucks directly. That's true and that's a major reason why train ferries have become less prevalent in recent years. However, standard containers are not appropriate for all types of freight. Train ferries can carry any type of railcar. That's their niche.
It turns out that there are several more examples. Wikipedia provides a nice list of train ferries, past and present.
Under
Canada
,
Distance
,
International
,
Water
| Taged
Alabama
,
Alaska
,
AquaTrain
,
Bay Coast Railroad
,
British Columbia
,
Canadian National Railway
,
Central Gulf Railroad
,
Coatzacoalcos
,
Mexico
,
Prince Rupert
,
Virginia
,
Virginia Beach
,
Whittier
---