"Court" is one of many common suffixes used to describe streets or roads. It likely derived from a term that refered to an open-air interior space hemmed-in by the walls of a large building such as a castle, as in a courtyard. Generally, not always, a road appended with court denoted a very short non-connecting stub that terminated either with a dead end or a cul-de-sac. It mimics a courtyard, an open area surrounded by buildings. This generated all sorts of opportunities for creativity or mischief in the minds those naming streets in residential areas.
View Larger Map
The possibilities appeared to me when I first spotted Supreme Court, a suburban street in Maryland as opposed to the nation's highest court found in nearby Washington, DC that's defined in Article III of the Constitution. Indeed, "15 Supreme Ct., Gaithersburg, MD 20878" was a legitimate United States Postal Service address. I suppose that the developer thought it might be clever if residents could say they spent their days at the Supreme Court. They're better off than their neighbors stuck on the less prestigious Circuit Ct., one block over.
I observed that Supreme Court was a far more common street name than I'd ever imagined as I conducted my judicial review. I found instances scattered practically everywhere throughout the United States and beyond. Clearly real estate speculators designing these suburban tracts were not nearly as witty as they'd imagined themselves. While Supreme Court was most common — after all it's the top of the heap and has such a powerful name — that didn't stop references to other courts like the unfortunate Circuit Ct.
I'll provide a single example for other court names used in legitimate postal addresses, recognizing that there are many additional occurrences that readers should feel free to pursue on their own. An exhaustive list would take days:
Then I noticed Night Court (e.g., 699 Night Ct., Green Bay, WI 54313) which was doubly funny because it was both a type of court and an old television situation comedy from back-in-the-day. It wouldn't surprise me if the show served as an inspiration for the street name. The appearance and architecture of homes nearby seemed to fall within the approximate era of the show's run, circa 1984-1992.
Zoom One More Level for Surprise Street Name
I decided to take the analogy to its ridiculous extreme. If a completely fictional television show with a courtroom theme could inspire a street name, what about all of the daytime shows with allegedly "real" judges? Sadly, no Judge Judy Ct. existed (yet) or I might need to buy a house there. However I discovered mapping gold with People's Court. Imagine living at 28 People's Ct., Martinsburg, WV 25405. That would be awesome. The People's Court — for those unfamiliar — was the granddaddy of all binding arbitration reality television shows. It was presided over by Judge Wapner who became a household name during the 1980's as a result. Actually the show still exists in much the same format as it has since 1981, albeit with a new cast. I had no idea. I'd assumed it would have faded away like Pac-Man, leg warmers and A Flock of Seagulls haircuts.
I was less successful with other courts: no traffic courts; no divorce courts; no courts of public opinion; and no small claims courts either (although I did find a Small Claims Place in Georgetown, California, accessed from the inexplicably-named Spanish Dry Diggins Rd. — I'm going to guess both were derived from nearby mining activities rather than any judicial reference).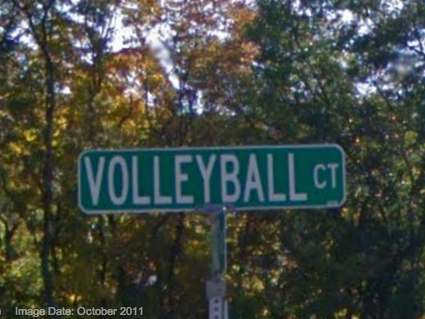 SOURCE: Google Street View, Mishawaka, Indiana, USA; October 2011

Then events took an even more bizarre turn. The general construct of a courtyard also lends itself to several sports-related playing areas. Again, numerous examples existed for each type. The following are all real postal addresses. I feel sorry for anyone who has to live on them though.
I couldn't find any roads named Basketball Ct., which surprised me a little. There are multiple Badminton Courts but not a single Basketball Court?!? Clearly, this is a missed opportunity. Land speculators, are you listening?
Courts can also refer to royalty, and true to form there were numerous Royal Courts (e.g., 1198 Royal Ct., West Linn, OR 97068). My favorite of the bunch was King Arthur's Court, a frequently occurring theme (e.g., 13 King Arthur's Ct., Attleboro, MA 02703)
Emboldened, I even attempted to find Court used as a verb, meaning to seek one's affection or to pursue someone for dating or marriage. I found no instances of Publicly Ct., Boldly Ct., Openly Ct., or Secretly Ct. I'm certain there must have been an instance out there somewhere that I overlooked. The difficulty for this search centered on finding a street name that could double as an adverb. Discover one of those, put a map link in a comment and I'll be truly impressed.
---