I've been following Every County lately while the author winds his way virtually through, well, every county. He was at the northern end of Michigan's Lower Peninsula at the time of publication, typing his was down from the Straits of Mackinac. The name Schoolcraft(¹) kept recurring as I read through new installments, a frequent geographic designation in Michigan.
Schoolcraft, for those unfamiliar with Michigan's history, was Henry Rowe Schoolcraft (1793-1864), a jack-of-all-trades, a geologist, explorer, geographer, politician, ethnologist, writer, publisher, you name it. He wandered within and around many parts of the American Frontier as it was defined in early 19th Century, particularly the Upper-Midwest in Michigan and Minnesota. Consequently, a lot of places in both states bear the Schoolcraft name.
Schoolcraft County, Michigan
Schoolcraft County, Michigan, USA
Schoolcraft County was the largest geographic namesake, an area familiar to Henry Schoolcraft during his lifetime. Michigan established the original Schoolcraft County in 1843, reorganized it in 1871 and established the current boundaries in 1885 as noted in the Newberry Library's Atlas of Historical County Boundaries for Michigan. The Schoolcraft Chamber of Commerce explained,
In 1832, the "Snowshoe Bishop" Frederic Baraga established a Catholic mission on the eastern shore of Indian Lake. It was also during this time that Henry Rowe Schoolcraft, Michigan's first Indian Agent and the county's namesake, was mapping the area, documenting the lives of tribal residence and negotiate treaties. Schoolcraft County was officially organized in 1871, with Manistique designated as the county seat.
I drove through this area a number of years ago on a trip around and across Lake Michigan. I'd love to return someday.
---
Village of Schoolcraft, Michigan

L S & M S Station, Schoolcraft, Michigan, rppc. postmarked August 31, 1908. by Wystan, on Flickr
via Creative Commons Attribution 2.0 Generic (CC BY 2.0) license

Paradoxically the Village of Schoolcraft wasn't founded in Schoolcraft County, rather it appeared on Michigan's Lower Peninsula south of Kalamazoo (map).
The Village of Schoolcraft was the first settlement established in Kalamazoo County. In fact, the original Village was platted in 1831, six years before Michigan became a state… Lucius Lyon, who had settled in the area and who had… been a member of the Cass expedition, as well as a friend of Schoolcraft, decided to name to Village in his honor.
Schoolcraft had also been a member of the 1820 Cass Expedition, named for its leader Lewis Cass who was the Territorial Governor of Michigan. Schoolcraft served as the expedition's geologist. Think about that for a moment. The governor led an expedition through the wilderness. Imagine the governor of any state today with enough courage and leadership to do something physically demanding, dirty, and even a little dangerous.
---
Schoolcraft Lake and River
Schoolcraft Lake and River
The Cass Expedition focused on several objectives and motivations, including some scientific. One involved a search for the true source of the Mississippi River in Minnesota. The explorers trekked as far inland as Cass Lake then turned back because water levels were too low for their canoes to paddle any farther in July. The expedition named the lake for its leader, declared Lake Cass the Mississippi source and called it a day.
However that differs from what people understand today, that Lake Itasca was the source. Indeed Cass Lake was many miles downstream from Itasca (map). Schoolcraft suspected the true source laid beyond Lake Cass so he returned in 1832 to finish the job, and then identified Lake Itasca as the headwaters of the mighty river.
There was a tiny Schoolcraft Island on Lake Itasca named in his honor (map)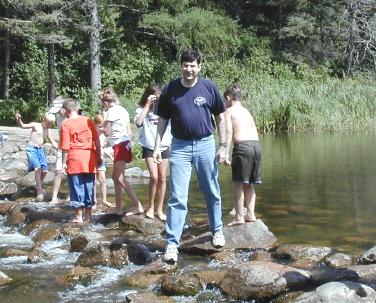 12MC Walked Across the Mississippi River

It wasn't very far away from the spot where one could Walk Across the Mississippi River as Twelve Mile Circle did a few years ago. However there was a more significant accolade nearby than the tiny island within Itasca, namely Schoolcraft Lake and River, the first significant tributary of the Mississippi River.
---
Schoolcraft College

Kite Over Schoolcraft College [3789] by Juan N Only, on Flickr
via Creative Commons Attribution-NonCommercial-ShareAlike 2.0 Generic (CC BY-NC-SA 2.0) license

There were several more Schoolcraft tributes although I'll feature only one more. Schoolcraft College was established in Livonia, Michigan, a suburb of Detroit. I thought it was creative of them to name their dining hall "Henry's Food Court," a fitting memorial to Henry Schoolcraft.
---
(¹) I think the name grabbed my attention because it sounded like a version of Minecraft that might be created by an educational institution. Minecraft has become frequent and ubiquitous in our household with our two young boys. It's all Minecraft all the time in our home.
Under
Distance
,
History
,
Island
,
U.S. States
,
Water
| Taged
Cass Expedition
,
Lake Itasca
,
Lewis Cass
,
Livonia
,
Michigan
,
Minnesota
,
Mississippi River
,
Schoolcraft
---