This isn't intended as a biography of Captain James Cook although his voyages throughout the South Pacific and beyond were numerous and legendary. Rather this is about places named for Captain Cook, strewn about the waters he sailed and the shorelines he charted. He has an entire society named for him if other aspects of his remarkable life interest you.
View Larger Map
Certainly I'd read about Captain Cook in history books as I went through school, however I can't say I'd really though much about him since then. That's not intended to dismiss his contributions as much as to note that I'd simply focused on other topics. This began to change during my most recent trip to Alaska a couple of years ago. The preponderance of Alaskan residents and visitors alike can find a near-daily reminder of Cook's legacy if they are attentive: Cook Inlet is the big arm of water connecting Anchorage to the Gulf of Alaska and the open sea. Indeed, "Anchorage" connotes a ship-friendly place where one could load and unload via Cook Inlet.
Captain Cook didn't discover Cook Inlet. The Dena'ina (Tanaina), an Athabascan people, already lived there for millennia. He wasn't even the first European to arrive. Russian fur traders beat him to the Alaskan coastline as well. Nonetheless Cook sailed into this specific body of water during his 1778 expedition while searching for the legendary Northwest Passage. Subsequent explorers named the inlet for Cook and the name stuck. Life works that way sometimes.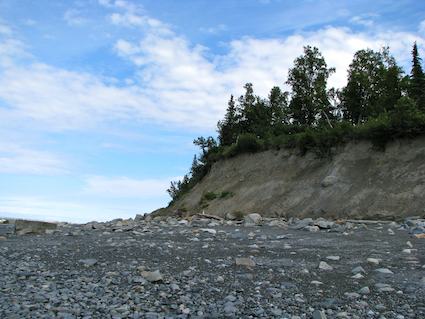 That never would have registered on my mind either except that we visited Captain Cook State Recreation Area on the inlet's southern edge along the Kenai Peninsula. It finally resonated once I was slapped silly about the head with the name. Only then did it finally connect with my conscious. I don't profess to be the brightest or most observant geo-geek.
View Larger Map
I thought it was interesting but I didn't do much with the notion until a few days ago. That's when I noticed a 12MC visitor landing on the website from Captain Cook, Hawaii. Fascinating. I'd never heard of it before. It turns out to be a census-designated place (not formally a town) on the western side of the island of Hawaii, the Big Island. It is located along Kealakekua Bay. Captain Cook stopped here in 1779, upset the natives, and died after being clubbed about the head and stabbed. Thus ended the career of Captain James Cook.
It's fitting, I suppose, that a town would bear Captain Cook's name here and that a monument would be erected in his honor nearby in Kealakekua Bay State Historical Park. Except the town isn't named for him!
Let me explain. Yes, he was definitely the Captain Cook in question. There wasn't some other Captain Cook traipsing around Hawaii in the Eighteenth Century sewing geographic confusion. The settlement was named in the early 1900's for a post office at the Captain Cook Coffee Company. Therefore, technically the town was named for the coffee that was named for the Captain. It would be like someone naming a town Cap'n Crunch because it happened to be co-located with the Quaker Oats Company. Well, maybe it's not quite that bad but you get the point.
By the way, the Captain Cook Coffee Co. still exists: "Captain Cook is one of the oldest existing coffee companies in Hawaii. Since the 1880's, Captain Cook has been growing and processing raw green Kona coffee." I wasn't expecting that at all. I would have thought they'd be long gone.
View Larger Map
There are other places named for the Captain. One is a point of land ("Captain Cook Point") in Lane County, Oregon.
Captain Cook Point isn't marked as such by Google Maps. However the coordinates are listed in the USGS Geographic Names Information System (GNIS) so it's legitimate. I do see "Cooks Chasm" on Google Maps which lends it an additional air of credibility. Captain Cook spotted nearby Cape Perpetua in 1778 so he definitely sailed past this stretch of Oregon coastline.
The coincidences continue. I could have visited Captain Cook Point if I'd only explored the weird checkerboard during my recent Oregon adventure. That's another geo-oddity I can add to my long list of lost opportunities.
The previous-mentioned Captain Cook place names are all found within the United States. There are plenty of others located outside of the US, in and around and throughout the South Pacific:
I've enjoyed my little sailing adventure with Captain Cook this morning. This list of course is by no means all-inclusive; I have only so much time to write. Please feel free to list others if I've neglected your personal favorite(s).
Under
Cities/Towns
,
History
,
International
,
Island
,
Terrain
,
Water
| Taged
Alaska
,
Australia
,
Coffee
,
Cook Inlet
,
Hawaii
,
James Cook
,
Kealakekua Bay
,
Kona
,
New Zealand
,
Northwest Passage
,
Oregon
,
Pacific Ocean
---