Quite awhile ago when the Twelve Mile Circle was still young I featured a series of posts focusing on the counties with the fewest neighboring counties. Now I've finally gotten around to the flip side of that observation, the county with the most county borders. I've done quite a lot of checking and quite a lot of counting, and I believe the answer is San Juan County, Utah. Fourteen other counties touch San Juan County. Thus, if one were to drive from the county seat in Monticello and traveled around the perimeter, one would visit a total of fifteen counties in four states.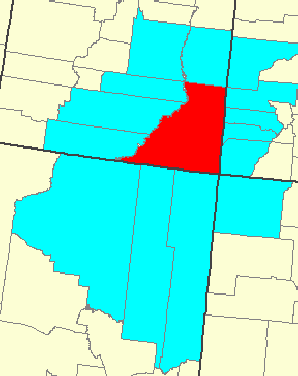 Map created using the National Atlas of the United States Map Maker

---
Here are the neighboring counties:
Kane County, UT (West)
Garfield County, UT (West)
Wayne County, UT (West)
Emery County, UT (Northwest at a single point)
Grand County, UT (North)
Mesa County, CO (Northeast at a single point)
Montrose County, CO (East)
San Miguel County, CO (East)
Dolores County, CO (East)
Montezuma County, CO (East)
San Juan County, NM (Southeast at a single point)
Apache County, AZ (South)
Navajo County, AZ (South)
Coconino County, AZ (Southwest)
The other fascinating feature of San Juan County is that it's the Utah portion of the famous "Four Corners" phenomenon. That's the only spot in the United States were a visitor can stand in four states at the same time, as I was lucky enough to accomplish a number of years ago.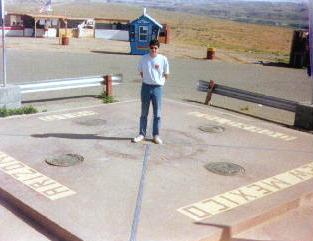 San Juan County is also the home of abundant and unspoiled natural scenery. Several national monuments are located within its borders including Cedar Mesa, Comb Wash, Natural Bridges and Hovenweep. Much of Canyonland National Park is located here as is much of of Lake Powell.
If anyone knows of another county with as many or more neighbors please let me know and I'll print a retraction, but for now I think this is the one.
---