It's a new year on the Twelve Mile Circle. I finished a lot of necessary maintenance behind the scenes over the last couple of weeks when nobody would be reading anything anyway, and I'm ready to start rolling-out new material. What better way to start a new day than by finishing up a bit of old business?
Loyal reader Steve from Connecticut Museum Quest placed a comment on an article I posted right before the holidays, "Not Quite Obscure Enough", that discussed counties with small populations but not small enough to garner true geo-oddity notoriety. I sprinkled a few savory chunks of truly trivial knowledge into the mix to keep things interesting. An item for Kenedy County, Texas piqued his interest: "'easternmost county in the US with less than one person per square mile' – I must know how you determined this nugget. I can't imagine the Census Bureau noted it."
I don't know who first noted it. I stole it verbatim from the Kenedy County Wikipedia page where it's presented without attribution. I know what you are all thinking; "Oh 12MC, really, Wikipedia? Can't you do better than that?!?" Bear with me though, I'll prove it.
By chance, my maintenance plan included an update of my individual state pages that I use for county counting. I needed to upgrade data from a 2005 estimate to the most recent decennial census (2010) and I've downloaded the necessary files to complete that. It's a straightforward process to use that same set of information to merge the county land area file with the 2010 population file. Perform an easy mathematical calculation and a sort by density, and voilà, we have an image of counties in the United States with fewer than one person per square mile: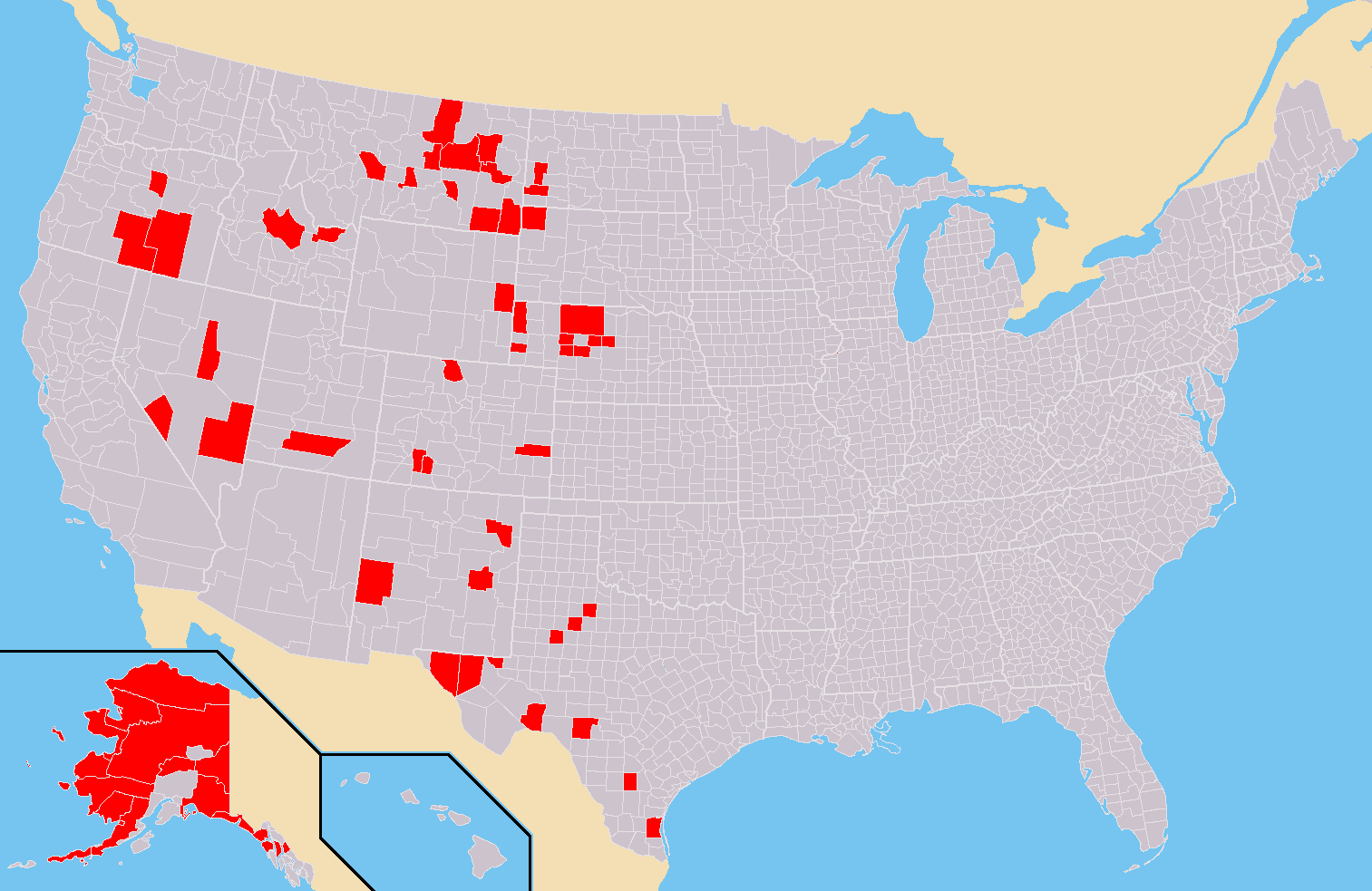 A few things to bear in mind as you ponder the results:
I included only land area in the density calculations. Nobody will ever establish a settlement on the open sea (exception noted) so it seems silly to include water in a calculation. I've noticed that this is a common assumption for these types of comparisons.
The image is much larger than what you see on the screen. I had to shrink it down to fit. Feel free to open it in another tab or window to get the full effect.
Don't worry if you can't identify all 63 counties and county equivalents. I'll talk about those in Part 2 in a couple of days. Just enjoy the beauty of the image for now.
That red dot along the Gulf coast of Texas, the one that's clearly the furthest east is indeed Kenedy County. The map demonstrates another salient point: not only is Kenedy County the easternmost territory with less than one person per square mile, it is the southernmost too. I know we have some Wikipedia editors who are regular readers here. Any one of them should feel free to update the Kenedy page to reflect both honors.
I dare say there's even a single spot on Padre Island that covers both of these distinctions simultaneously. Frankly, that's a point so trivial even I wouldn't bring it up outside of the friendly confines of 12MC. I can imagine eyes glazing over at a cocktail party as we speak.
Someone is bound to mention Alaska so let me go ahead and take that situation off the table before anyone wastes time with the comment gauntlet. Yes, we are all familiar with the trick question about Alaska being the easternmost state because a portion of the Aleutian Islands extend so far west that it crosses into the eastern hemisphere. Guess what? That segment falls within the Aleutians West Census Area. So does Unalaska/Dutch Harbor with more than 4,000 residents. Throw in various smaller villages and the Aleutians West Census Area swells to 5,561 inhabitants on 4,390 square miles of land. Thus, it is one of the few areas of Alaska that has a density above one person per square mile.
---
Kenedy County didn't get a lot of love in the comments from that earlier article, either. Possible explanations for its diminutive population included vast acreage occupied by the King Ranch (see map), being too far off the beaten track, and having unpleasant weather during the summer months. I started feeling sorry for Kenedy County. There had to be at least one redeeming feature.
View Larger Map
The unincorporated town of Sarita serves as the county seat. There's not much to it. Then I noticed an oddly specific street on the western side of town, Tony De La Rosa St.. A quick Intertubes search demonstrated that Antonio "Tony" De La Rosa was a prolific and influential conjunto musician that defined the style in the latter half of the 20th Century. He became a National Heritage Fellow of the National Endowment for the Arts in 1998 for his musical contributions:
In 1949, De La Rosa made his first recording, featuring two polkas, "Sarita" and "Tres Ríos," for the Arco label in Alice, Texas. The next year he joined the Ideal label. By the mid-1950s, his band, or conjunto, was the most popular in Texas. By that time, too, he had codified the instrumentation that endures to this day: button accordion, amplified bajo sexto (a type of 12-string guitar used as a rhythm instrument), electric bass, and drums.
More important to this post, Tony De La Rosa was born in Sarita and stayed in the area for the remainder of his life (albeit about five miles further north in Riviera, just over the border in neighboring Kleberg County). De La Rosa passed away in 2004, having redefined an entire musical genre.
This is a video from the Tejano Conjuntos Festival 92 that I lifted in order to give you an idea of the music styling. No doubt this will sound familiar if you live in an area with a Hispanic population, as I do. Hopefully this ratchets-up the significance of Kenedy County another notch or two.