People following Twelve Mile Circle's Twitter account knew something must be happening. Suddenly tweets tagged to places like Ste. Genevieve and Cape Girardeau in Missouri began to appear on my feed just before Easter. I hadn't announced the trip ahead of time although I'd been planning it for several weeks.
I've been aiding and abetting my wife's scheme to run a race in all 50 states for quite awhile. Now she wanted to add Missouri, otherwise she'd face an alarmingly obvious Midwestern doughnut hole by the end of the summer. That seemed like a great excuse for me to do some exploring, and I hatched a crazy plan. I had to work most of the week so I'd fly to St. Louis on Friday morning to meet my wife who'd already be there, then we'd drive to Cape Girardeau to be ready for the race the following morning. After the race we'd drive as far as the middle of Ohio, stay overnight, then drive the rest of the way home to Virginia to celebrate Easter with family. A two-day road trip covering a thousand miles (1,600 km) plus a half-marathon, then dealing with dysfunctional relatives? What didn't sound great about that?
---
Breaking it Down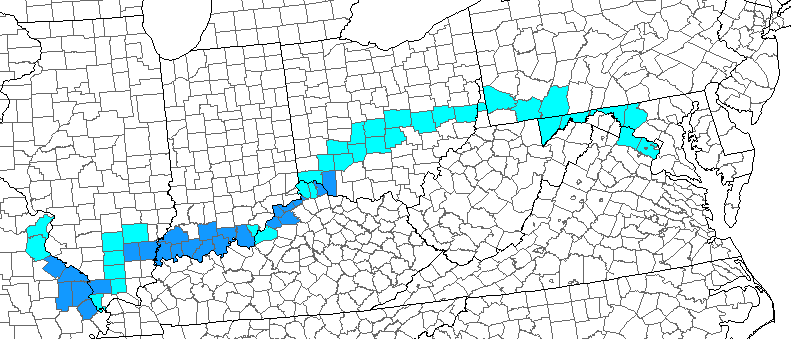 The Route. New Counties in Dark Blue

All reservations melted away when I discovered that I could tweak the route and add 19 new counties on Saturday while driving only 20 minutes extra. I could also grab five new Missouri counties on Friday. My county counting list would jump by 24 over the course of a single weekend. I plotted a route on the special Mob Rule page that I use for experiments. Previously unvisited counties appeared on my map in dark blue while those I'd visited before appeared in light blue.
I didn't have a lot of time to play around so the preponderance of new pickups would have to be Interstate Highway counties. That seemed a fair trade-off. I needed to capture them eventually so I might as well take advantage of the opportunity now. The basic route left Missouri, went over to Interstate 57 in Illinois, then to I-64 crossing Indiana, leading to I-71 in Kentucky and Ohio, then on to I-70 heading east out of Ohio, and finally home.
I also added a couple of new "overnight" counties; Cape Girardeau, Missouri and Muskingum County, Ohio . I considered those new members of the gold standard of county county visits. In my mind, staying overnight added a much higher level of prestige and credibility to a capture than simply crossing the border for literally a few seconds as happened with some of the others. I've now completed an overnight in 227 counties. I don't think I could ever finish that odd quest though. It would take 8.6 years to spend the night in every county if I slept in a different one every night until completed. I'm not nearly that obsessive.
---
Jogging Not Racing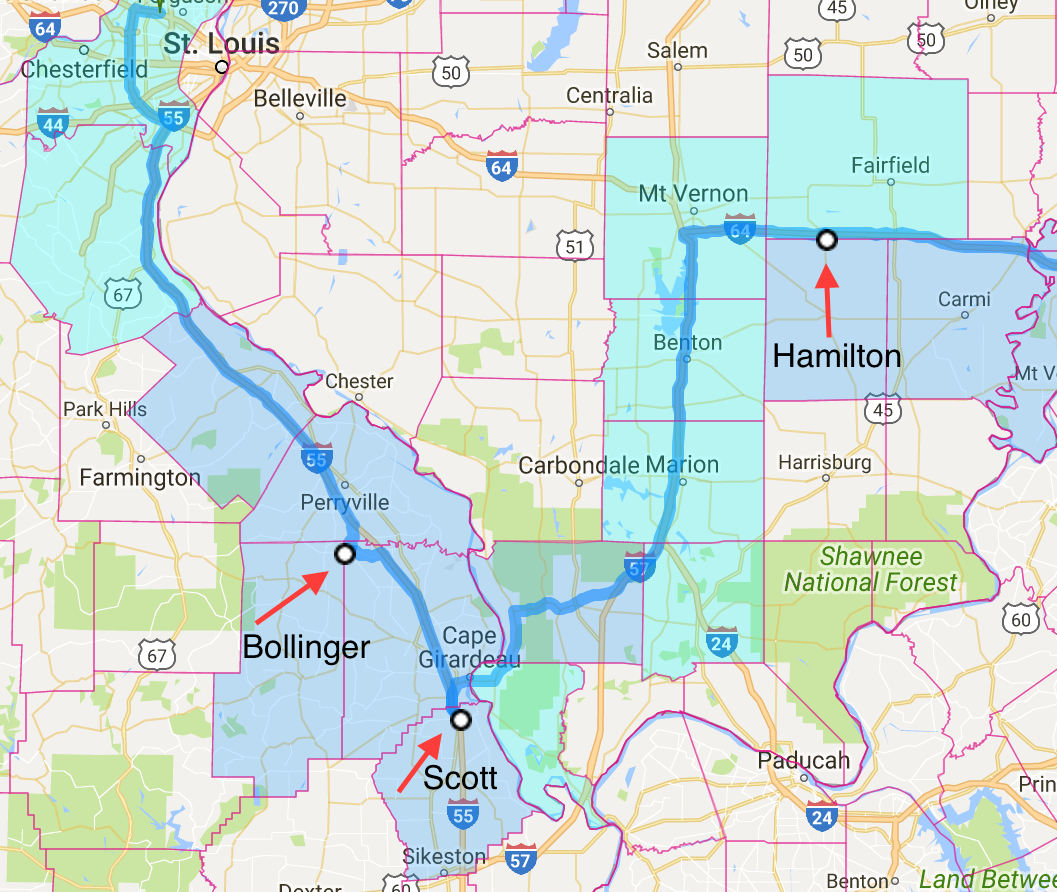 Jogging to Counties

The racing would take place on Saturday morning on foot. However, that still left plenty of time for jogging, and definitely not the kind on foot. Those involved little jogs that I took as we leveraged our proximity to snag a handful of additional counties. Two of those happened on Friday. With minor detours, really just a couple of miles out of the way, I captured Bollinger and Scott Counties in Missouri. The next day I took a similar short diversion and captured Hamilton County, Illinois. As I said to my son, "it would be a crime to come so close to (Bollinger/Scott/Hamilton) and not cross the border." The family collectively rolled their eyes even though I knew they'd appreciate it someday.
Oh, I guess I forgot to mention that the kids participated in this adventure too. They were on spring break from school so mom drove out with them to St. Louis. They took a nice, leisurely route getting there and then they went sightseeing for a few days. Their friends all went to Florida or the Caribbean or Europe, while they had to go county counting in the Heartland. I'm sure their therapist somewhere in the distant future will get an earful. Whatever.
My county counting total stood at 1,390 (or 44.2% of all counties in the United States) as the trip concluded.
---
Uh Oh, Doughnut Hole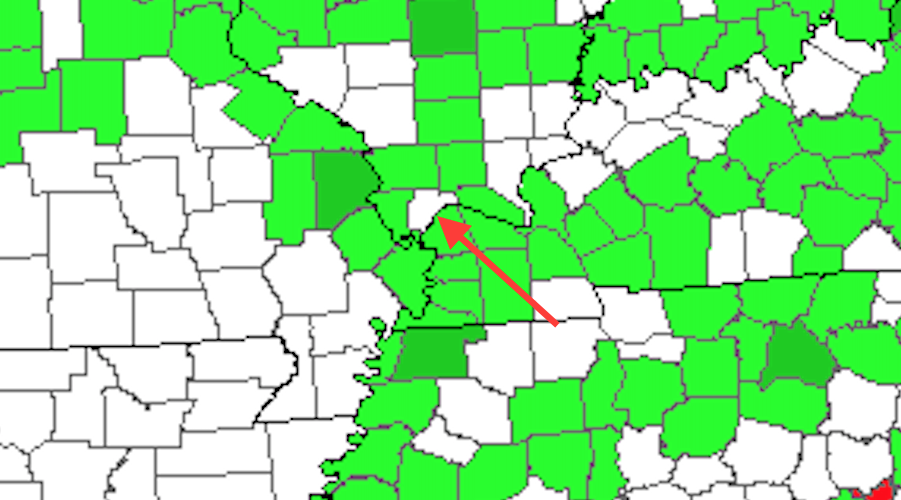 Pulaski County, Illinois – Doughnut Hole

Solving one problem can sometimes create other problems, and that happened here too. My frenzied pace and inability to deviate much from the most efficient route created a clearly visible doughnut hole. Someday, and I don't know when, I will need to return to this area to cross the border into Pulaski County, Illinois. However, it will have to stand alone at least for the foreseeable future. Who knows? Maybe someday I'll find myself unexpectedly near the confluence of the Mississippi and Ohio Rivers again. I never expected a second opportunity only three years after my original visit to the area. Lightning could strike a third time.
---
Any Excuse for a Road Trip articles: