Twelve Mile Circle highlighted Mundane First Name Places in the previous article. However, I left out the most prolific mundane name I'd discovered to date so I could feature it in its own spotlight. It didn't make sense to combine it with all of the others. Simply, his name was Mike.
Mike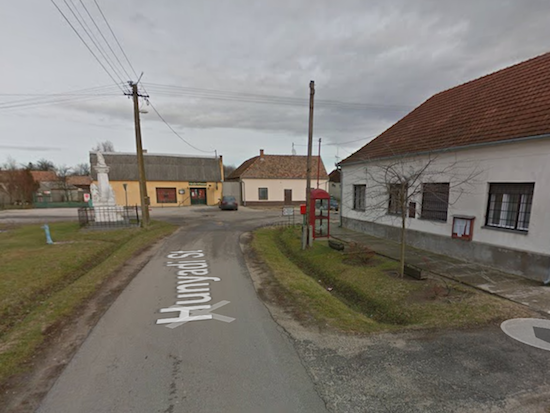 Mike, Hungary via Google Street View, December 2011

I didn't know Mike existed in Hungary although clearly it was there in the form of a village in the southwestern corner of the nation (map). It hid in relative obscurity although I found a website that offered quite a comprehensive history of Mike — such as it was — since Mike didn't have much in the way of historical significance in the larger scheme of things. Still, I appreciated the author's efforts. Someone cared enough to chronicle Mike's twists-and-turns throughout the centuries at a level of detail befitting a much larger town.
The settlement is situated in the south of Somogy County, in the north-west of Zselic region, between Kadarkut and Lábod. It is 18 km from the nearest town, Nagyatád. There is no railway, our railway station is Kutas… The first written notes are from 1213, the settlement is mentioned as Mica.
Neither Mike nor Mica translated into anything meaningful from Hungarian into English so the mystery remained. I wished the name had been flipped and then we'd have Hungary Mike. 12MC would have had a lot of fun with that one, perhaps a close cousin to Hungry Jack.
---
Tin Can Mike
Speaking of Mike in an unexpected location, I found Tin Can Mike Lake in the Boundary Waters Canoe Area Wilderness of northern Minnesota (map). Hundreds of lakes dotted this remote corner of the border between the United States and Canada. I guessed early explorers must have started running out of normal-sounding names. They must have resorted to, well, things like Tin Can Mike Lake although apparently it had also been named the more mundane Murphy Lake previously. Tin Can Mike seemed to have been a real person. I found a forum dedicated to those who appreciated the canoe area wilderness and liked to share their tips and experiences. One thread explained, "Tin Can Mike was named after Mike Murphy (thus the former name of Murphy Lake). Apparently Mike Murphy always carried and used a cup made from a tin can and got the nickname Tin Can Mike'" In the Land of 10,000 Lakes it took only a tin can to justify the naming of a body of water.
The Wilderness Area also included a Hungry Jack Lake by strange coincidence ("putatively named for Anderson Jackson Scott, a surveyor's assistant who at this lake was temporarily without food supplies"), although it lacked a Hungry Mike.
---
Ivy Mike

"Ivy Mike" atmospheric nuclear test – November 1952 by the Official CTBTO Photostream on Flickr (cc)

Ivy Mike wasn't a place although it connected to a particular patch of geography, specifically Enewetak Atoll in the Ralik Chain of the Marshall Islands (map). The U.S. government conducted more than forty atmospheric nuclear tests at the atoll between 1948 and 1958. Some were more remarkable than others, including Ivy Mike. This marked the first detonation of a hydrogen bomb, a frightening escalation in nuclear weapons technology during the height of the Cold War.
The group that posted the Ivy Mike photo was an interesting lot. The Comprehensive Nuclear-Test-Ban Treaty Organization (CTBTO) didn't technically exist. Rather, the current version was actually the Preparatory Commission for the CTBTO based in Vienna, Austria as will the actual CTBTO if it ever truly comes to pass. The Comprehensive Nuclear-Test-Ban Treaty laid out precepts for a CTBTO, to verify a test ban once 44 nations ratified the treaty. The treaty was signed in 1996 and still remained inactive twenty years later, awaiting final ratification by a handful of holdout nations including the United States. Meanwhile the Preparatory Committee continued on its merry way, implementing an infrastructure to complete its future duties, assuming it ever has the authority to move forward.
---
MKE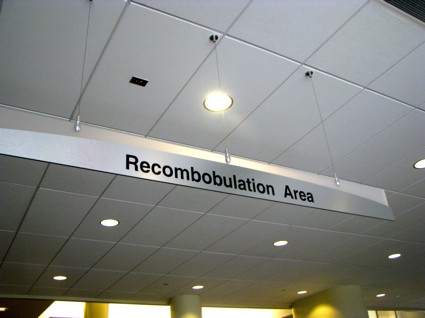 Not Mike, rather MKE, was the International Air Transport Association code for General Mitchell International Airport in Milwaukee, Wisconsin (map). I already knew that from the many times I'd flown in and out of Milwaukee on visits with the in-laws over the last couple of decades. I still smile every time I pass through security and into the recombobulation area on the way to the passenger gates (featured in More Strange Signs in 2009). MKE didn't technically fit the Mike theme although it had a special connection so I included it anyway.
It also referred more generically as a shorthand for the city of Milwaukee. As an example it appeared prominently in the website URL and logo of the Milwaukee Brewing Company. Other local businesses have used the abbreviation too.
Under
Borders
,
Cities/Towns
,
Event
,
History
,
International
,
Island
,
Water
| Taged
Boundary Waters
,
CTBTO
,
Enewetak Atoll
,
Hungary
,
Ivy Mike
,
Marshall Islands
,
Milwaukee
,
Minnesota
,
MKE
,
Nuclear
,
Somogy
,
Tin Can Mike
,
Wisconsin
---