I wrote several articles about my Michigan trip and I still had a pile of ideas I hadn't touched yet. They didn't fall into common themes so I lumped all those leftover scraps together to finish the series. I hope everyone enjoyed — or at least tolerated — my ramblings from the latest journey. We'll return to regular programming in a couple of days.
Interesting Concurrency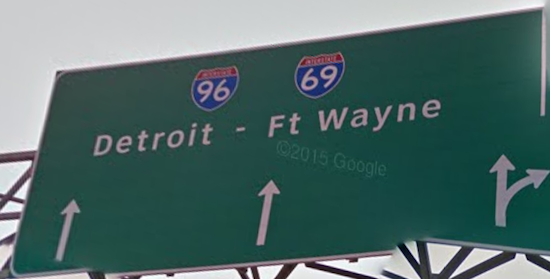 Concurrent 96/69 in Lansing, Michigan
via Google Street View, September 2015

Highway officials defined a "concurrency" as a single stretch of road with two or more route designations. This happens all of the time on Interstate highways in the United States. Roads heading between different places converge, often near a city, and both numbers remain so drivers passing through don't get confused. I noticed an oddity in the pattern in Lansing, Michigan. Interstate 96 ran across southern Michigan. Interstate 69 ran through the middle of the United States in several segments, from the Gulf of Mexico to the Canadian border. They joined briefly on the western side of a loop bypassing Lansing.
That portion created a concurrency for Interstates 96 and 69, each number the reverse of the other (map). I didn't know if any other examples existed elsewhere, probably because I didn't bother to look. Please let me know if anyone can find another one. It didn't mean much although I still enjoyed doing a double-take when I spotted it.
---
Gerald Ford Museum
I went to another Presidential Library & Museum. It probably won't become one of my regular lists although I'll visit one if it falls along my route. I saw Woodrow Wilson's museum in March and Franklin Roosevelt's in May. Why not Gerald Ford?
I wondered what treasures might fill a museum dedicated to the presidential administration of Gerald Ford (map). He served as President for barely two years. Wilson guided the nation through the First World War, and Roosevelt brought the country out of a Great Depression and then the Second World War. They had plenty of material for a museum. Ford, well, he seemed like a nice guy from Grand Rapids who happened to be tapped as Vice President and became President unexpectedly when Richard Nixon resigned. His museum featured the expected Nixon connection and topics of the times such as the end of the Vietnam War. That still left a lot of space to fill. That's probably why it included life-sized replicas of the White House's Oval Office and Cabinet Room as they appeared while Ford served as President.
---
Muskegon Lighthouses
On the other hand, I continued to count lighthouse visits. I placed a couple more sightings on my lifetime list. I hadn't really been thinking about lighthouses as I prepared for the trip so these were a nice surprise. We took a day trip to Muskegon to see the USS Silversides and the two lighthouses loomed over the harbor entrance. Certainly I could take a few moments to examine them a little closer.
The more impressive structure, and by that I mean the one that looked more like a traditional lighthouse, stood on the south pierhead. They called it the South Pierhead Light, not too creatively (map). See how that worked? Several versions stood there over the years and the current one began its service in 1903. It wasn't open to the public most of the time, having fallen into a state of disrepair. Nonetheless it continued to remain an active light for navigation purposes. The Federal government transferred ownership to the Michigan Lighthouse Conservancy in 2010, a nonprofit organization that hoped to restore the structure. We only saw this lighthouse from a distance and moved on.
We got a much better view of the nearby South Breakwater Light (map). This required a little hike of about a half-mile (0.8 km) from the parking lot at Pere Marquette Park to the tip of the breakwater. The kids complained the whole time although they needed a little exercise. They couldn't spend the entire trip playing Minecraft and watching YouTube (simultaneously) so I dragged them down the concrete breakwater for a close-up view of a pretty ugly lighthouse. They'll thank me someday. The Michigan Lighthouse Conservancy owned this one too, and also placed it on its restoration list. South Breakwater Light came much later, 1931, long after the glory days of lighthouse construction. It filled a basic utilitarian purpose although it lacked a certain grandeur and elegance.
---
Sand Dunes
Glaciers covered much of North America during the most recent Ice Age, some 16,000 years ago. Relentless pressure from accumulated ice ground into the underlying bedrock as glaciers advanced and retreated, creating fine sand and a rocky till. Winds blowing predominantly from the west pushed waves across Lake Michigan after the glaciers retreated, carrying this sand to its eastern shore. These natural forces created the "largest collection of freshwater dunes in the world" along Michigan's shoreline.
Michigan had more sandy beaches than just about anywhere I'd been before. Some of the dunes reached hundreds of feet high. We didn't make it to Sleeping Bear Dunes National Lakeshore on this trip, although the Saugatuck Dunes (map) offered a nice proxy closer to our temporary home.
---
Zoos
Keeping the peace on a family trip meant taking time for activities I might otherwise overlook. I enjoyed zoos as much as anyone I supposed, although I didn't feel any great need to go out of my way to see them either. We visited two, the Cleveland Metroparks Zoo (map) in Ohio and the John Ball Zoo (map) in Grand Rapids, Michigan. That's what my older son enjoyed so that's how they found their way onto our itinerary. He wants to visit every zoo in the United States. He also wants to collect a map at each zoo he visits.
I can't imagine where he inherited that relentless need to create lists and collect maps.
---
Articles in the Michigan Journey Series:
See Also: The Complete Photo Album on Flickr
Under
Government
,
History
,
Roads
,
Terrain
| Taged
Concurrency
,
Gerald Ford
,
Grand Rapids
,
I-69
,
I-96
,
Ice Age
,
Interstate 69
,
Interstate 96
,
Lansing
,
Lighthouse
,
Michigan
,
Muskegon
,
Presidential Library
,
Sand Dune
,
Saugatuck
,
Zoo
---