The Twelve Mile Circle is getting ready for Inauguration Day, January 20, 2009. Everyone is excited. Even one of the local brewpubs is getting in on the action.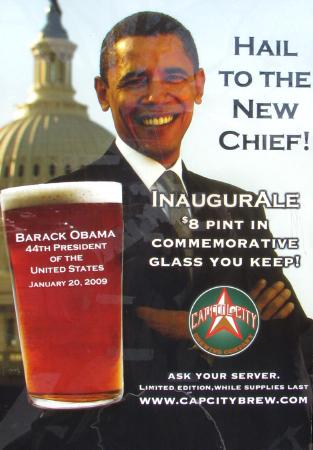 ---
The downside is a traffic nightmare. I've watched in amazement as officials have leveraged the local geography to establish a security perimeter. From Virginia it's a simple a matter of restricting access to five Potomac River bridges inside the Beltway to completely block the flow of private vehicular traffic into the District of Columbia. Shutting down two interstate highways and the parkway to inbound travelers won't help much either.
I can see the need to regulate the 14th Street Bridge, Memorial Bridge and Theodore Roosevelt Bridge. Those all lead directly to the heart of the downtown core. I'm a little skeptical about restrictions on Key Bridge and Chain Bridge further up-river. Local officials believe that the road infrastructure on either side of the bridges cannot handle the expected crush, and I can sort-of see that. What is totally baloney is an argument I've seen floated around that this is somehow a Civil War pay-back to Virginia. That's a crock. No, rather, it's simply security theater on steroids.
I didn't have time to create a map so I borrowed one. Click the individual lines to view the restrictions. You can see below how messed up the situation will be for those who live deep inside the Beltway.


View Larger Map
AUTHOR: Carlos Moran (who has been kind enough to share his map in Public View).

---
I know lots of people who are going to hunker down and treat the Inauguration as if it were Snow Day. You know, stay inside the house, watch a couple movies, microwave some popcorn, maybe take a little walk around the neighborhood if the weather cooperates. Not me. I'm outta there. I'm sitting down South some fifteen hundred miles away at the moment!
Actually, that's just a coincidence and I planned to be far away a long time ago. Today is my grandmother's 100th birthday, although we actually celebrated it yesterday, I guess because it was the weekend. The whole family gathered together for the party and gorged on barbecue and Shiner Bock. This afternoon we're going to take her to a local restaurant where they make a big deal about patrons' birthdays, and freak 'em out. Did I mention my family has a strange sense of humor?
She's doing well; mobile healthy and alert. We should all be so lucky.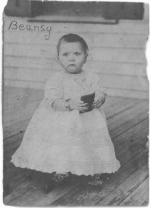 Happy birthday, grandma.
Under
Cities/Towns
,
Event
,
Government
,
Roads
| Taged
Beltway
,
Gridlock
,
Inauguration
,
Inside the Beltway
,
Obama
,
Obama Beer
,
Potomac River
,
Security Theater
---