It's snowing here in the Washington, DC area today. Already they're calling it the snowpocalypse, the snownami, and of course "The Blizzard of 2009." People around here tend to overreact when it snows because we don't generally get large accumulations, and strip the grocery stores bare of milk, bread, and toilet paper. Always. It's an odd manifestation of a herd instinct. The cities and counties are not equipped to deal with anything more than a couple of inches, much less something that happens maybe once every five or ten years, so people were in full panic mode yesterday evening.
This is how it appeared around 9:30 this morning from the safety and warmth of our enclosed porch.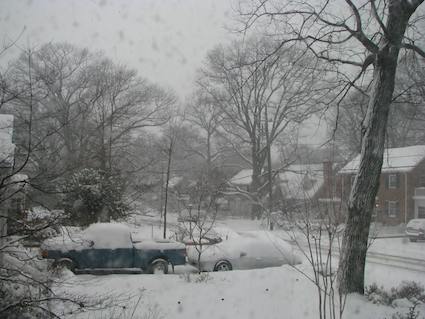 I measured eight inches of snow on the ground a few moments ago and the heaviest part of the storm has yet to arrive. A blizzard warning has been expanded to cover our specific location. The meteorologist on the local television station just said he can't recall ever seeing a blizzard warning issued for the District of Columbia. We, of course, are located just across the border in the Commonwealth so we're right in the thick of it too.
Ironically, we decided to remain in Virginia over the holidays because of the awful weather we experienced when we visited the in-laws in Wisconsin last winter. Now they're calling for 15-24 inches here by the time the storm passes this evening.
This is one of those days where we'll remain indoors as the snow falls and the winds howl. I don't have anywhere I need to go. The Christmas shopping is done. Everyone is warm and happy. I have a big mug of coffee and a pile of unread magazines. It took three days for our street to be plowed the last time it snowed this much so it looks like we're here for the duration.
Tomorrow we'll venture out into the neighborhood and explore the drifted terrain on foot so stay tuned for what are likely to be an impressive set of photos.
---