I had a fascinating Twitter conversation with Steve from Connecticut Museum Quest recently. He has a much more interesting Twitter feed @CTMQ than my mundane @TheReal12MC. Seriously, I don't have much to say on Twitter other than using it to announce each new article and maybe posting a few beer pictures occasionally. A few people seem to follow it and sometimes I get article ideas so its useful to keep it going. You should subscribe and maybe I'll start being more diligent. Anyway Steve wanted to know about the oddly over-sized Kossuth County on the northern edge of the state. It appeared as if it got a double scoop of territory when the authorities doled-out portions.
That's exactly what happened although the story was a little more complicated.
Few people lived in Iowa in the earliest part of the 19th Century although settlers began to arrive in greater numbers as the decades passed. Iowa gained sufficient critical mass to become a state in 1846. It didn't have a lot of counties yet and that was starting to create a problem. The county structure looked like this when Iowa joined the Union: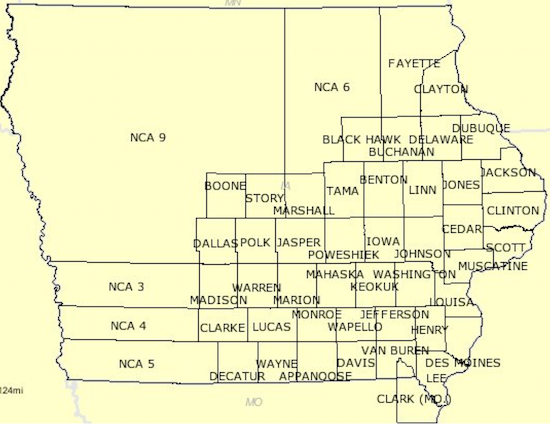 Iowa Counties in 1846
Generated From Newberry Library Atlas of Historical County Boundaries

There were plenty of counties in the southeastern quadrant where pioneers had settled although the rest of Iowa remained largely unorganized at the local level. The Iowa Legislature addressed the governance gap by establishing forty eight new counties in 1851 all at once. The configuration then matched essentially the same structure that exists today. It wasn't completely identical, however. A few tweaks happened over the next few years, including some involving Kossuth County and its neighbors.
I've color-coded Kossuth and its surrounding counties to help explain the situation that was described in detail in the History of Kossuth County, Iowa (1913). My summary derived largely from that source unless otherwise noted.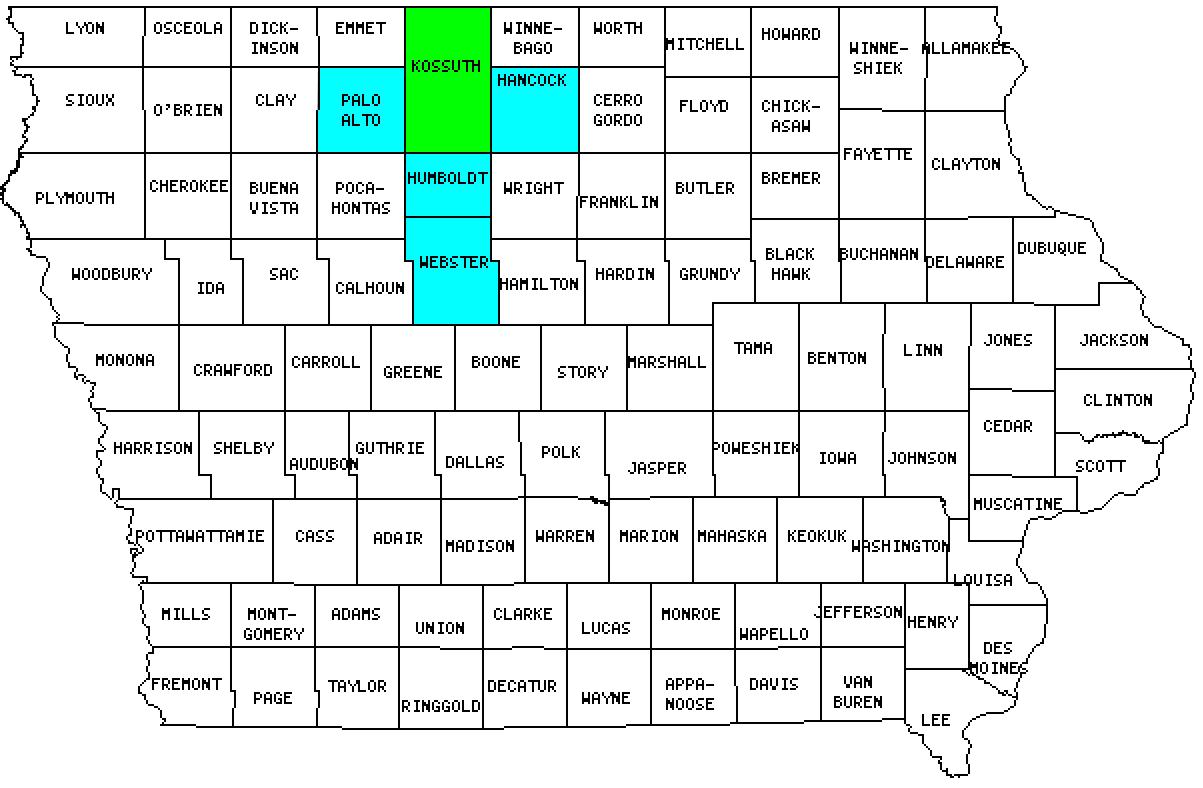 Kossuth and Surrounding Counties in Iowa

Kossuth County Judge Asa C. Call became a driving force during this formative period. Practically nobody lived in Kossuth when the Call brothers, Asa and Ambrose, arrived in 1854. Judge Call recalled,
I made my first settlement in the county in July 1854. At that time there was no settlement north of Fort Dodge which was forty miles from us and no one on the east nearer than Clear Lake. I brought my wife to the new settlement on the 4th of November.

Algona, Iowa, High School by photolibrarian, on Flickr
Creative Commons Attribution-NonCommercial-NoDerivs 2.0 Generic (CC BY-NC-ND 2.0)

The two brothers founded the town of Algona and it became the county seat. They named it for a Henry Schoolcraft (remember him?) corruption of an indigenous word meaning "Algonquin Waters," I suppose it was done in recognition of the Native American tribes that were forced from the area only a couple of years earlier. The local tribes were Sioux, not Algonquin, although that didn't seem to matter. An Indian was an Indian to those early pioneers. It was better than the original proposal though, Call's Grove.
In the beginning, with the creation of those new counties in 1851, Kossuth was the same size as its neighbors to the west and east, Palo Alto and Hancock. However, Judge Cass was an ambitious man, a beloved figure and well-connected politically. He noticed Bancroft County immediately to his north and figured it would make a mighty fine addition to Kossuth, seeing how practically nobody lived there so it couldn't defend its own interests. He also pondered Humboldt County to his immediate south. It would be helpful for Algona to sit near the center of the county if it were to be an effective seat of government so Kossuth had to pick up some southern territory too.
Webster County, south of Humboldt, also wielded power. Fort Dodge was its county seat. Webster was well organized politically and structurally due to the earlier establishment of Fort Dodge as a military outpost. Kossuth managed to grab all of Bancroft in the 1855 Legislative session. However, it had to split Humboldt with Webster. Bancroft and Humboldt counties, caught in a squeeze, disappeared. This was called "The 1855 Freak Legislation." I'm not making this stuff up.
Right now the 12MC audience is saying, "but wait, I see Humboldt County on the map!" That's right. Judge Call learned about schemers in Webster plotting to expand farther, and they hoped to grab a large chunk of Kossuth in a subsequent session that would leave it vulnerable to being obliterated entirely. He foiled the plot by colluding with former Humboldt officials. He managed to reestablish Humboldt so it could act as a buffer between Kossuth and Webster. It was better to give up some of the larger Kossuth than to jeopardize its future existence. However, Webster was able to hold onto the bottom tier of Humboldt's former townships and that left the restored Humboldt appreciably smaller than the original.
That explained why Kossuth became the largest county in Iowa, Humboldt was so small, and the neat latitudinal lines across Iowa created in 1851 fell out of alignment in the the north-central part of the state.
Under
Borders
,
Cities/Towns
,
Government
,
History
,
Latitude
,
U.S. Counties
| Taged
Algona
,
Algonquin
,
Asa C. Call
,
CTMQ
,
Fort Dodge
,
Iowa
,
Kossuth
,
Schoolcraft
---