I've been inundated with search engine queries for the last several days about a city with a volcano and lots of brewpubs. They've been landing on the guest article that Marc Alifanz wrote about Portland, Oregon, which I think is probably the correct answer to the readers' question. I've tried to find the source. Often it's a Car Talk Puzzler but not this time. Maybe it's kids taking the easy way out on a homework assignment. I don't know. I never did find out.
My investigation proved fruitless but my dogged pursuit led to a geo-oddity that was previously unknown to me: Jackson, Mississippi sits atop an extinct volcano.
View Larger Map
I'd never guess that simply looking at a map. The terrain seems pretty gentle. It's devoid of anything that might resemble the classic conical shape of a stratovolcano. Oh, it's down there alright, lurking 2,900 feet (884 meters) below sedimentary layers deposited over millions of years. According to the Mississippi Department of Environmental Quality, an underground feature named the Jackson Dome sits below the city, and has been known to geologists since the 1860's. Scientists began to understand its structure better because of energy exploration and drilling during the 20th Century. New drilling data created the best map to date in 1997.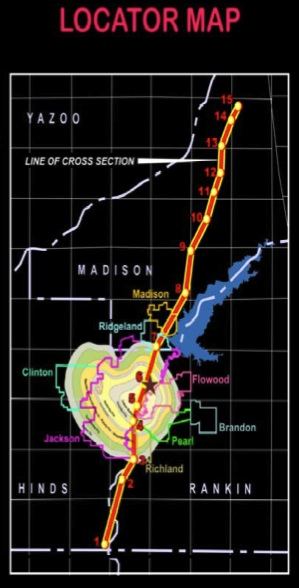 MDEQ Environmental News: Volume 5 Issue 7; July 2008

Residents of Jackson have little to worry about. The volcano hasn't erupted for 75 million years and its been totally extinct for about the last 70 million years or so. The landscape was considerably different during those days, too. This was the late Cretaceous period when Tyrannosaurs Rex and many of the familiar dinosaurs we've all heard about roamed the earth. A shallow sea covered a wide area of modern-day central and southeastern United States, including most of Mississippi. Interspersed, there were several volcanic islands that rose above the seas in a rim-of-fire. The Jackson Dome, now buried and mostly unknown, was one of those islands.
View Larger Map
One would never wish to sit dangerously close to an erupting volcano. The worst place of all would have be directly above the crater where magma exits from the depths of the earth. If the Jackson Dome were ever to erupt, and of course that's no longer possible, the Mississippi Coliseum would sit directly atop it. The Google Street view image seems a little ominous, doesn't it? I can almost imaging the ash and dust instead of clouds, like the spirit of old Jackson Dome continuing to make its presence known.
Actually, it does make its present known, but not through volcanic activity. Massive amounts of carbon dioxide remain trapped beneath the surface, an echo of long-gone eruptions. Energy companies are able to harness the CO2 to force residual oil and gas from fields previously considered depleted. This has been so successful that even other countries have studied this model, including the United Kingdom for possible use in the North Sea.
View Larger Map
Jackson Dome isn't the only late Cretaceous rim-of-fire volcano found in Mississippi, just better known because of its location. The other one is buried beneath the small town of Midnight in Humphreys County, Mississippi. It's known appropriately enough as the Midnight Volcano. I like that name better but the above-ground features don't offer quite the same dramatic effect as the Jackson Dome.