Twelve Mile Circle noticed increasing visitor traffic from India over the last couple of years and particularly within last several months. Maybe that's a recognition of growing Internet access within the subcontinent and perhaps a general improvement in its technological infrastructure. I'd prefer to think of it in simpler terms. India loves 12MC. This wasn't the first time I've focused on people who love 12MC. I'm always on the lookout for new constituencies who appreciate this humble little geo-oddity site. There aren't many of us. We need to stick together.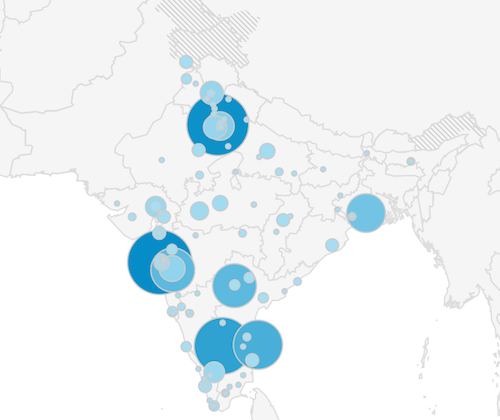 Twelve Mile Circle Readership from India in 2014

On the other hand, India is a nation of more than 1.2 billion people, and 12MC can only attract a few hundred visitors in an entire year? Does that sound like love? Well, everything is relative of course, and the readership has much improved within that geographic area. That's a fact. Also traffic wasn't coming from a single person returning to the site day-after-day. Hits were coming from all over. The larger blobs on the map represented numerous readers from metropolitan areas such as Mumbai, New Delhi, Hyderabad, Bangalore, Chennai and Kolkata.

Kolkata by Flip Nomad, on Flickr
Creative Commons Attribution-NonCommercial-NoDerivs 2.0 Generic (CC BY-NC-ND 2.0)

I'm not sure my culturally insensitive mind will ever get used to the name Kolkata. My brain reflexively seemed to drive towards the westernized colonial imperialist version, Calcutta, instead. Kolkata sounded too much like Cold Cuts. It would compare favorably with other foodie-sounding places such as Turkey and Chile (and why not Hamburg and Frankfurt while I'm at it). I've really got on a tangent this morning. I'll see if I can pull it back together.
Then I noticed that Kolkata fell within the West Bengal State, an area of peculiar geographic shape.

West Bengal Districts via Wikimedia Commons,
Creative Commons Attribution-Share Alike 2.5 Generic

West Bengal included two narrow necks of less than 20 kilometres across as it ambled north from the Bay of Bengal, past Kolkata, and onward towards India's borders with Nepal and Bhutan. Bangladesh pinched West Bengal from the east and other Indian states pushed from the west. I took a closer look at the lower neck, a place anchored by Farakka on the Ganges River. One corner was called Farakka Barrage Township (map), which I considered an unusual name that might benefit from further investigation.
A barrage in a military context would turn into an unpleasant experience rather quickly. It would likely include heavy artillery bombardment. Fortunately that wasn't the case in Farakka. It didn't reference a barrage from an historical context based on warfare.
Barrage derived from a French word meaning "barrier." Militarily, artillery could be used either as an offensive or defensive barrier. In a peaceful situation as in Farakka, a barrier could be used against natural forces such as water. A barrage was a very specific type of dam used to control the flow of water instead of creating a reservoir. At Farakka, "The purpose of the barrage is to divert 1,100 cubic metres per second (40,000 cu ft/s) of water from the Ganges to the Hooghly River for flushing out the sediment deposition from the Kolkata harbour without the need of regular mechanical dredging."
Enclaves and Exclaves of the India / Bangladesh Border
West Bengal also included the famed Cooch Behar district, a distinct section of border between India and Bangladesh noteworthy for its particularly complicated intertwining of the nations. As I noted in that previous article, "Within this odd borderland are 106 exclaves of India within Bangladesh and 92 exclaves of Bangladesh within India, including numerous exclaves within the exclaves." It also included a number of quadripoints and boundary crosses.
Anyway, Twelve Mile Circle extends a hearty welcome today to readers who hail from India (and everyone else of course).
Under
Borders
,
Cities/Towns
,
International
,
Water
| Taged
Cooch Behar
,
Enclave
,
Exclave
,
Farakka
,
Ganges
,
India
,
Kolkata
,
Quadripoint
,
West Bengal
---