Those pesky rivers! People go to great trouble to designate a river as a boundary, decide who has ownership or how it will be split, draw all those maps, and then the river has the audacity to jump its bank and form a new channel. Does this mean the boundary automatically changes too? Of course not. Nobody wants to lose territory once they control it.
View Larger Map
DeSoto Point, Louisiana resulted from a sharp bend in the Mississippi River next to the city of Vicksburg. It played a small role in the 1863 Vicksburg Campaign during the Civil War when Gen. Grant tried to dig a canal across it in a failed attempt to bypass the city and its punishing hillside batteries. Nature later completed what Grant could not: an 1876 flood cut across the point and redirected the river. This left the tip of DeSoto Point disconnected from the rest of Louisiana and contiguous with the State of Mississippi.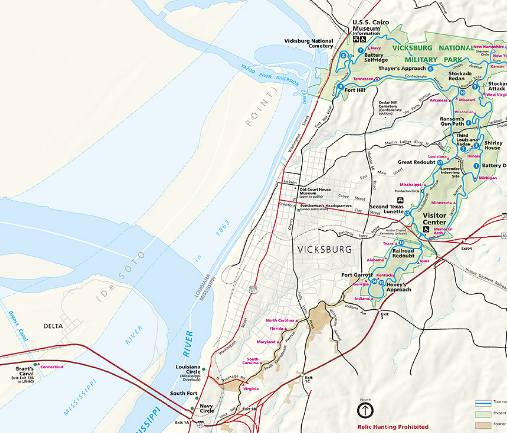 This image from the National Park Service superimposes the 1863 wartime placement of DeSoto point upon its present configuration. This provides a clearer depiction of what happened here as a result of the 1876 flood.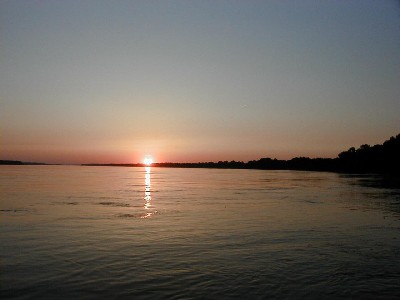 A stranded chunk of Louisiana in Mississippi
I took the photograph above where the Yazoo River Diversion Channel meets the Mississippi River. Louisiana is visible on the left horizon, with the residual portion of DeSoto Point — physically removed from the rest of Louisiana — located on the right. The State of Mississippi is visible straight ahead.
There are literally hundreds of similar situations along the Mississippi River and its extended watershed as it drains the flat, central portion of the United States. Other examples covered elsewhere on Twelve Mile Circle include:
---