Bonnie Parker and Clyde Barrow earned instant fame during the gangster era of the 1930's. They and their gang were despicable people, common thugs and criminals. They also practiced extreme violence, killing numerous people including nine police officers. They robbed banks and shops through midland America, from Minnesota down to the Gulf states, with much of their activity focused in Texas and Louisiana.
The Couple

Bonnie & Clyde on Wikimedia Commons, in the public domain

Bonnie and Clyde came from the Dallas, Texas area, both surviving tough childhoods in poverty. Clyde became a hardened criminal at a young age with a string of arrests and a serious prison record by the time he turned 21 years old. Bonnie didn't become a criminal until she met Clyde, gladly tagging along on a multi-state crime spree. They quickly captured the imagination of the public in an era when women weren't generally thought of as gangsters. Undoubtedly, the romantic angle of criminal lovebirds with rifles also piqued interest.
They mastered quirks of geography, oddly enough. Bonnie and Clyde understood the power of state borders and the limitations of law enforcement. Their crimes fell within the jurisdiction of state enforcement. They committing crimes near state borders and simply slipping across the line to neighboring states to escape. That simple trick kept them a step ahead of the law.
---
Fame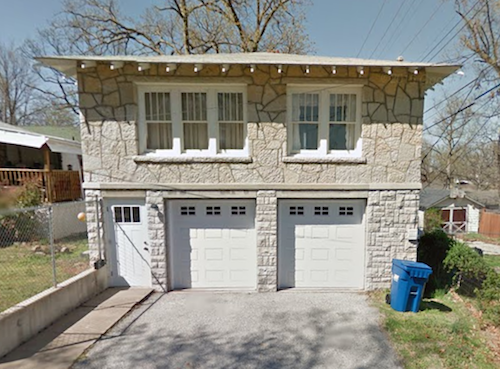 Bonnie & Clyde Hideout in Joplin, Missouri
via Google Street View, April 2013

The duo made a series of mistakes during a brief hideaway in Joplin, Missouri. Otherwise they may have remained unknown to the public. They needed to lay low for awhile with members of their extended gang and selected a garage apartment at 3347½ Oak Ridge Drive (map). Joplin offered quick access to Kansas and Oklahoma should the gang need to flee. They located out of site in a quiet neighborhood. Then they got drunk every night and made lots of noise into the late hours. Neighbors contacted police to report rowdy behavior, not because anyone suspected a house full of armed robbers. Police thought they were busting bootleggers when they raided the apartment on April 13, 1933. Instead they encountered a pack of killers who opened fire. Two policemen died and the gang escaped.
However they fled in a hurry, leaving most their belongings behind including identification papers and a camera with rolls of undeveloped film. Images included Bonnie and Clyde acting as a happy couple, posing with weapons, and acting lovingly tough. One iconic image showed Bonny with a cigar and a pistol in a very unladylike manner. Images hit the newswires immediately, and became front page material in newspapers around the nation. Bonnie, Clyde and the newly-dubbed Barrow Gang became instant celebrities.
They lived in the apartment for less than two weeks. However the trove of photographs created a myth that resonated with the public, catapulting the couple into instant fame for all the wrong reasons. The significance of this location justified its inclusion on the National Register of Historic Places in 2010. It even had its own website.
---
The Last Stand

Bonnie & Clyde historical marker in Louisiana by finchlake2000 on Flickr (cc)

Their fixation on geography eventually became their undoing. The state of Texas called a retired Texas Ranger, Frank Hamer, to hunt down Bonnie and Clyde in 1934. He understood the geography and also saw that the gang traveled in a predictable manner. Notably they visited family members upon occasion. Hamer assembled several Texas and Louisiana officers to negate the border issues, then on a hunch, began a stakeout along a secluded country road. He guessed correctly. Bonnie and Clyde rambled down that road in the middle of nowhere near Gibsland, Louisiana, and drove straight into an ambush (map). The officers never attempted to stop the duo, they simply opened fire with automatic rifles and finished the job with shotguns. Lawmen emptied 130 rounds into the stolen 1932 Ford V-8 automobile, riddling Bonnie and Clyde with lead and killing them on the spot.
The Bienville Parish police department erected a stone monument at the site of the ambush. Vandals shot it repeatedly, leaving it damaged and pockmarked. I supposed it seemed appropriate given what happened to Bonnie and Clyde on that same spot.
---
Remnants

Bonnie & Clyde's Death Car by Jay Bonvouloir on Flickr (cc)

The Twelve Mile Circle audience would be forgiven for not wanting to travel all the way to Gibsland, Louisiana, to see where Bonnie and Clyde died. One could still see where they died, their actual car, in a more accessible location. Whiskey Pete's casino in Primm, Nevada put the car on exhibit in recent years along with the tattered shirt Clyde wore at his death (map).
I thought Bonnie and Clyde might approve. Primm sat directly beside the border, barely inside Nevada. A spectral Barrow Gang could ride again and escape into California in a pinch.
Under
Borders
,
History
,
Miscellaneous
,
U.S. States
| Taged
Barrow Gang
,
Bonnie and Clyde
,
Frank Hamer
,
Gibsland
,
Joplin
,
Louisiana
,
Missouri
,
Nevada
,
Primm
,
Whiskey Pete's
---