Twelve Mile Circle posted an article I titled Mutual Ownership Defense Housing in January 2014. It focused on a little-known unit of the of the United States government's Federal Works Agency. This resulted in eight housing developments constructed between 1940 and 1942. Seven of them thrived. However the eighth seemed lost to history, a place called Dallas Park in Texas. I couldn't find it anywhere.
Recently I received an email message from David Perry saying he'd rediscovered the hidden location of the former Dallas Park. I asked for permission to share his findings as a guest post on 12MC and he graciously agreed. What follows is his original email message lightly edited to fit into a blog format. I embedded some images, added paragraph headings, removed some personal identifying information, and also shortened a few sentences. Otherwise it faithfully represented Mr. Perry's excellent thoughts and original analysis.
Enjoy.
---
An Interest in Cooperative Housing


Mutual Ownership Defense Housing, Google Map by Twelve Mile Circle

I took an interest in the history of cooperative housing developments when my wife and I considered joining a similar community a few years back. It's very lovely and surprisingly well maintained, but the units were just too small. Of the eight Mutual Ownership Defense Housing projects, I've visited Pennypack Woods in Philadelphia and the three in New Jersey, so I have some familiarity of the types of construction used in those communities and the patterns in which they were laid out.
---
Uncovering the Missing Development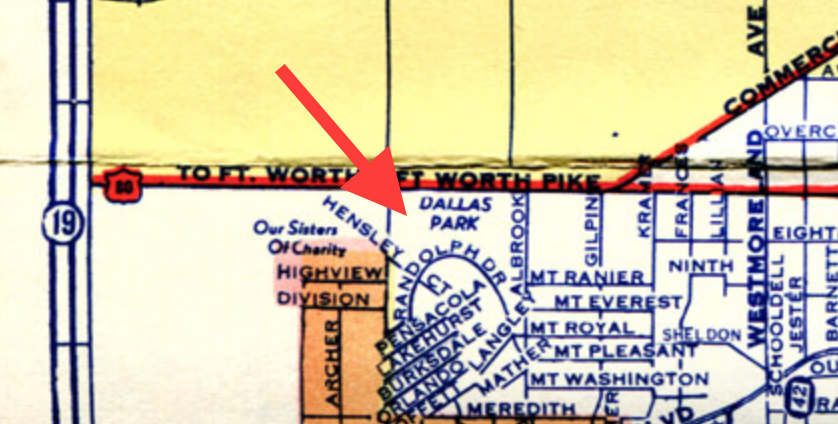 Dallas Park via Ashburn's Dallas City Map (1949)

I had always been curious about the location of the fabled lost Dallas Park myself, and your page inspired me to try to solve the problem once and for all. Eventually, Ashburn's Dallas City Map turned up from 1949. If you zoom in, then find the number 19 on the lower left hand edge, you'll see the words "Dallas Park" about 1.5 inches to the right, under the words "Ft. Worth Pike." A somewhat better view, albeit at a slightly earlier stage of street development in the neighborhood, can be found on this 1942 Dallas transit map. Again, zoom in and find the letter "L" on the left edge; a little ways to the right. You'll see a red square with the number 54 next to it. Dallas Park is inside this square.
This is consistent with the entry for Dallas Park that I found in the Directory of Consumers' Cooperatives in the United States, Volume 1949 (second entry from the top). It gives the address as 100 Randolph Rd.
Punching that into Google Maps gives this result. You'll find this is in the same neighborhood as noted on the other two maps, although the street layout is quite different and some of the names have changed.
---
Investigating Dallas Park


Dallas Park, Google Map by David Perry

I have also put together a Google map with my best guesses at the boundary of the development (yellow line) and how long the streets were (other colored lines). The east side is definitely a guess, because obviously that side of Randolph Dr. has been shifted radically, and an entire new neighborhood laid out between it and Mt. Ranier St.
However, the properties on the one side of the long alleyway seem to be very differently oriented than the ones on the other side, and the houses on the Mt. Royal street side of the line don't fit the defense housing model. Looking at the older maps, it seems hard to believe that they could have fit so many streets between where Mt. Royal Street is now and Albrook St. Perhaps the maps aren't very accurate, or else the shift from where Randolph was to where Mt. Royal is now is so great that it throws off my bearings.
---
Evidence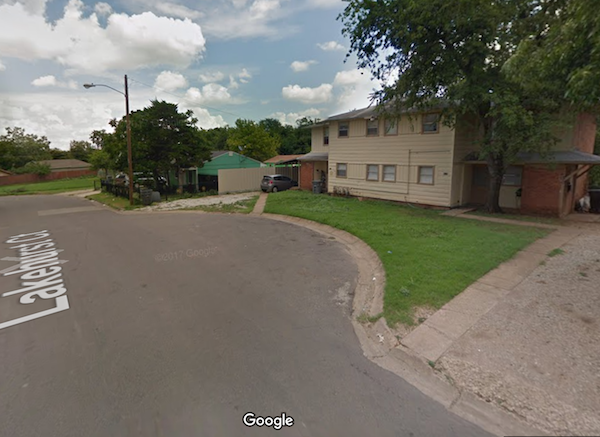 Typical Co-op Housing in Dallas Park. Notice the former cul-de-sac street layout.
via Google Street View, August 2016

More pieces of evidence are as follows:
(1) You'll notice that there is once again a theme to the street names. Here, it's military airfields: Barksdale (misspelled "Burksdale" on both of the 40's maps), Orlando (misspelled "Orland" on the transit map), Mather, Langley, and Chanute either are or were Air Force bases. Pensacola, Lakehurst, and Moffett are all Naval Air Stations. As you point out in your discussion, Hensley Field was the base near Avion Village and I suspect a lot of Dallas Park residents worked there too.
(2) If you look at the ends of the lines I've drawn for the streets on Google Maps, you'll see cul-de-sacs, which in most cases have been cut through to let the street continue. In the case of Moffett and Langley, the names were wiped out when they were connected to Mather and Orlando, respectively. This is very typical of how these projects were laid out.
(3) While obviously many of the units from Dallas Park were torn down and replaced with other structures (most notably, the huge "Casa de Loma" apartment building that was thunked down where the management office was). Quite a few of them survive, and they are very much like the buildings I have seen at the other defense housing developments. Some good examples are 4236 Barksdale Ct., 188 Randolph Dr., 4106 Barksdale Ct., and 4119 Lakehurst Ct.. Going through the neighborhood with Street View will reveal quite a few others. The wooden frame construction, the sharing of walls, the way the sidewalks are laid out, and the shared off-street parking spaces for some units, rather than driveways, are all telltale signs.
---
Epilogue
Sadly, given how well many of the co-ops have worked out over the years, this area doesn't look like a very good one. Neither the original units nor the more classically suburban "Monopoly" houses seem to be very well maintained in most cases. The newer parts of the neighborhood seem a bit better, with some serious investment having been plowed into some homes, but overall, it looks pretty impoverished.
Were I President or in Congress, I'd push to have all of the public housing projects converted into co-ops. I think giving people responsibility for maintaining their own properties is good both for the housing and the tenants. The fact that these communities, which were thrown up as cheaply and quickly as possible with no thought for the long-term, are in many cases still in good shape and pleasant to live in 75 years later is a testament to the power of the cooperative model.
I hope this isn't a repeat of something you already know, but I just thought it was neat to see at least one other person with the same highly esoteric interest (I guess this person thinks they're cool, too).