Strange Maps recently featured "Shifting Like A Snake: Ancient Mississippi Courses" with a beautiful rendition of its meandering riverbanks over time. The relatively flat middle portion of the United States seems particularly susceptible to these types of changes along its grand watersheds, whether the Mississippi, Missouri, Platte or others. I believe my favorite example involves an area known as Carter Lake which separated from the rest of the Iowa when the Missouri River changed course in 1877.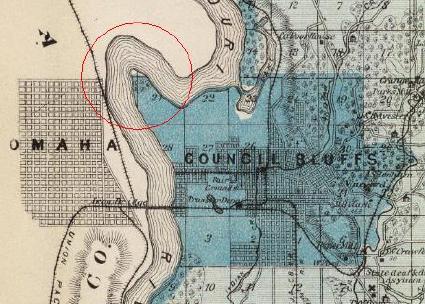 Andreas' 1875 map of Pottawattamie County Iowa shows Saratoga Bend on the Missouri River (inside the red circle). A channel formed across its neck two years later, shifting the Missouri River 1.25 miles to the southeast. The remnants of Saratoga Bend became an oxbow lake. Land once situated between the folds of the bend suddenly flipped to the other side of the river. Iowa and Nebraska both laid claim but the United States Supreme Court finally settled the question in 1892. The land belonged to Iowa.
View Larger Map
I used to fly often into Epply Airfield in Omaha, Nebraska, and I'll never forget the disconcerted feeling I experienced the first time I spotted the "Welcome to Iowa" sign as I headed towards downtown. I've been to several stranded chunks over the years but none of them has been as easily accessible as the City of Carter Lake with more than 3,200 inhabitants. It has everything a town should have including a town hall, police force, several churches, hotels, a library, public parks and a golf course. It has its own elementary school although kids are bussed across the river for middle school and high school. It also has Iowa's shortest State Highway, IA 165, a half-mile ribbon lodged between Omaha and its airport. The town fits so well within its surrounding terrain that nobody would ever guess its unusual prominence without the road sign.
---
SOURCE of Andreas' 1875 map of Pottawattamie County Iowa:
Iowa Digital Library
. Copyright © 2000 by Cartography Associates. Images may be reproduced or transmitted, but not for commercial use. For commercial use or commercial republication, contact carto@luna-img.com. This work is licensed under a Creative Commons License.
http://creativecommons.org/licenses/by-nc-sa/2.0/
---