I found a genuine Canadian landmark in the form of Landmark, Manitoba, a village of about a thousand people in the Rural Municipality of Taché, southeast of Winnipeg. Sure there were other Landmarks in Canada including mountains by that name in British Columbia and Yukon plus a point in Newfoundland and Labrador, although the Landmark in Manitoba was the only inhabited one.
The Landmark Chamber of Commerce mentioned some attractive entertainment options recently including "'Redneck Nite' at Keating Mechanical & Landmark Christian Fellowship Church" featuring both a Lawnmower Race and a Roadkill Supper. That wasn't intended to be sarcastic or mocking. I grew up in redneck territory and I appreciate that kind of corny stuff. As we used to say back home, "there ain't no fun like redneck fun." I've even featured lawnmower racing on the pages of 12MC before. The roadkill supper, well, maybe I'd take a pass on that.
Landmark took special pride in its fortuante geographic prominence, astride the "Longitudinal Centre of Canada."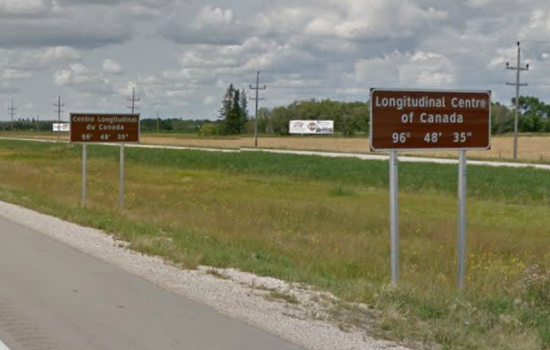 SOURCE: Google Street View, Longitudinal Centre of Canada near Winnipeg, Manitoba; April 2012

If one started with the extreme eastern and western edges of Canada and used them to calculated the national midpoint, the resulting line would run along a longitude of 96° 48′ 35″ west. That's what the experts said. I didn't fact-check it. I figured if people bothered to place official signs along the Trans-Canada Highway attesting to this unique situation, that it was either correct or I didn't want to dispel their hard work and effort. That would be rude.
Some might have speculated that English-speaking Canadians recognized a slightly different longitudinal centre of the nation than their French-speaking brethren because the government posted two separate signs. That might not be far-fetched although I disproved it. Based on my eyeball estimate, the line ran between the two signs on both sides of the highway. The English version came into view first for drivers traveling in either direction so it all evened out. French Canadiens might still have a valid complaint, as I think about it, because the English signs came first. I'm sure the opposite would have occurred had the longitude crossed through Québec instead.
The Longitudinal Centre described the same basic precept as the better-known 100th Meridian, a metaphor for the emptiness and beauty of the Canadian prairie. Musicians found inspiration in these geographic designations. I mentioned one instance a couple of years ago in Tragically Hundred. Now I've learned that John K. Samson of The Weakerthans focused on the Longitudinal Centre in his 2012 debut album Provincials, which "delves deep along roads into the Canadian landscape of Manitoba." He even mentioned the signs:
How the wind strums on those signs that say
The Atlantic and Pacific are the very same far away.
Canadian musicians had a better appreciation of specific longitudinal designations than their counterparts south of the border, apparently.
Any 12MC readers in Winnipeg, or anyone crossing the Great Plains on the Trans-Canada Highway for that matter, should consider a road trip extending from the Longitudinal Centre to the 100th Meridian. The journey should take about three hours between the two points, never leaving Manitoba. That could be a nice day trip. Don't forget to send photos.
Longitudinal Centre at Landmark, MB
Now, if only the Longitudinal Centre actually ran through Landmark. That was a cheap shot. The line fell extremely close, maybe even clipping the very last house in town (map). I'm sure it won't be an issue much longer when the town continues to grows as a bedroom community for Winnipeg.
Ironically, the name Landmark had nothing to do with the Longitudinal Centre and inexplicably it had nothing to do with anything apparently. Landmark went by various names into the early 20th Century including Prairie Rose, Linden and Lorette, in addition to Landmark. Sources differed. Landmark was either a name assigned arbitrarily by the government to a local post office or it was picked randomly by one of the early settlers. Either way the name stuck and it certainly seemed appropriate given Landmark's fortunate geographic placement.
---