All that talk of bowling greens in the previous article increased my curiosity about the sport of bowls (or lawn bowls) in general. It's similar to a family of Continental lawn bowling games including Bocce and Pétanque and it spread wherever the British Empire extended. I'm not sure why I didn't discover Bowls a couple of years ago when I tracked down Sports Facilities I Never Imagined because it would have fit in perfectly with that theme.
The Hong Kong Lawn Bowls Association provided a good concise explanation of the sport.
The game of Bowls is played on a 34 to 40M square of closely cut grass called the green. The green is divided into playing areas called rinks. The green is surrounded by a small ditch to catch bowls which leave the green, and a bank upon which markers indicate the corners and centrelines of each rink. Players deliver their bowls alternately from a mat at one end of the rink, towards a small white ball called the jack at the other end. The bowls are shaped so that they do not run in a straight line, but take a curved path towards the jack… the objective of the game is to get one or more bowls closer to the jack than those of the opposition – one point is scored for each counting bowl.
---
Governance
The World Bowls Board oversees the sport, setting laws and regulations for "55 member National Authorities in 51 Member Nations." The Board governs Bowls from its location in Rutland Square, Edinburgh, Scotland. I drilled-in to the address using satellite view and noticed a verdant lawn at the square. I thought that would be a wonderfully appropriate spot for a bowling green. Apparently the managers of the World Bowls Board thought the same because…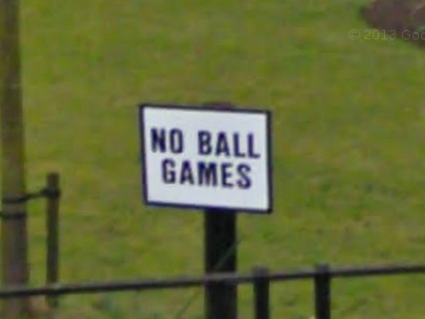 World Bowls Headquarters, Edinburgh, Scotland, UK
via Google Street View, March 2010

… someone had to erect a "No Ball Games" sign in the square. That was amusing. Imagine those hellions at the World Bowls Board running amok on Rutland Square during their lunchtime, with unsanctioned pickup matches, unruly ball rolling and bothering the pigeons and such. I bet they still sneak-in matches when the authorities look the other way.
---
Commonwealth Games
Bowls is a significant sport in several nations, and World Bowls is justifiably proud that Bowls is "a core sport in the Commonwealth Games." At the upcoming 2014 Games in Glasgow,
Athletes will compete for eight Gold medals across the men's and women's singles, pairs, triples and fours, beginning with a round robin format before knockout finals determine the medal winners. Set in one of Glasgow's most famous parks, the Lawn Bowls competition will take place at the picturesque Kelvingrove Lawn Bowls Centre, adjacent to the renowned Kelvingrove Art Gallery and Museum.
Kelvingrove Lawn Bowls Centre, Glasgow, Scotland, UK
The Kelvingrove Lawn Bowls Centre has six, count them SIX, bowling greens, with at least five of them upgraded to international standard.
---
The Oldest Bowling Green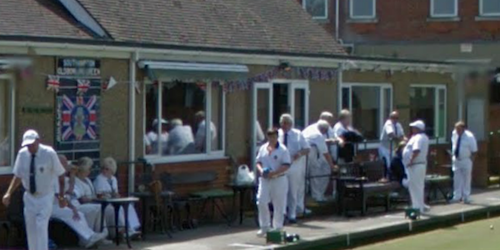 Southampton (Old) Bowling Green, Southampton, England, UK
via Google Street View, June 2012

The oldest surviving bowling green is believed to be the Southampton (Old) Bowling Green in England. This green has been in continuous use since 1299. I guess I'll have to take that on faith because "everybody" in the sport said it was true and the history page on the club's website was down. Nonetheless I was more fortunate with I drilled down to Lower Canal Walk in Southampton using Google Street View. There I observed and captured an image of club members in action. It may not be possible for me to confirm that anyone played at Southampton in 1299, however Google proved that matches took place in June 2012.
---
Bowls in the United States
Bowls certainly had devoted fans in the United States even if it didn't have quite the same recognition as found in the UK. Bowls USA governs the sport across an extensive list of Divisions and Clubs.
Leisure World, Silver Spring, Maryland, USA
I found the club closest to my residence. It turned out to be located at Leisure World of Maryland, "a private, age-restricted community." I guess I'll have to defer my dreams of Bowls glory awhile longer. That seemed to be a recurring theme in the United States. Twelve clubs existed in Florida while none existed in huge swaths of the Midwest. Bowls seemed to skew towards an older demographic.
---
Most Isolated Green?
Murray Barracks Bowling Green, Port Moresby, Papua New Guinea
I examined the list of international member countries recognized by World Bowls to locate the most isolated bowling green. I probably could have selected any one of several South Pacific islands. Instead I chose to focus on Papua New Guinea for no particular reason other than it seemed improbable. Instead, I discovered that Bowls was apparently quite popular and worthy of television coverage.
Port Moresby has an international standard bowling green at Murray Barracks, the headquarters of the Papua New Guinea Defence Force.
Under
Event
,
International
,
Miscellaneous
,
United Kingdom
| Taged
Bowls
,
Commonwealth Games
,
Edinburgh
,
England
,
Glasgow
,
Kelvingrove
,
Lawn Bowling
,
Leisure World
,
Maryland
,
Papua New Guinea
,
Port Moresby
,
Scotland
,
Southampton
,
World Bowls Board
---