For a long time I've wondered what would happen if a county counter hiked the Appalachian Trail. I know that's not a normal curiosity but I'm not the type of person to let my mind wander in the same direction as everyone else. I am not interested in walking the Appalachian Trail. I am sure the wonders and hardships a hiker would experience on this truly memorable personal journey of physical endurance would provide a lifetime of memories. I think it's a great thing, but it's just not for me. I don't even want to drive that far. No I simply wanted to see what the map would look like after someone might complete the hike, so I created one.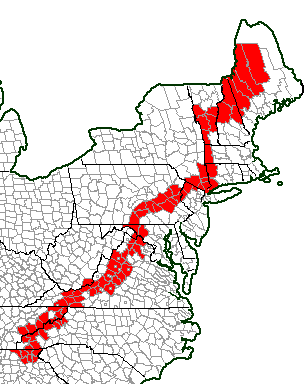 A more useful map, and an interactive one to boot, is provided by the Appalachian Trail Conservancy.
The Appalachian Trail, officially the Appalachian National Scenic Trail but sometimes shortened all the way down to AT, stretches an impressive 2,179 miles (3,507 kilometres) through fourteen states from Springer Mountain in Georgia to Mount Katahdin in Maine. Thru-hikers will attempt to cover every mile in a single season. Most of them will fail. Generally, but not always, they will start in Georgia and hike north. They'll catch the warmth of a southern spring at the beginning their journey and avoid the worst of the summer heat later on. This feat of endurance can last five or six months, or even longer.
If a thru-hiker is a purist (e.g., sticks to the white paint blazes with no shortcuts) — and for this exercise let's call him oh I don't know, maybe let's call him Steve — then Steve would be able to mark 87 counties on his county counting map. If he were a county counter. Which he's not.
I could focus attention on any of those 87 counties but I think I'll select only one of them as the closest thing to an AT geo-oddity: Jefferson County, West Virginia.


The Trail Crosses a Road in WV

West Virginia hosts the shortest segment of the trail. Only 4 miles (6 km) of the trail crosses completely within West Virginia. An additional 20 miles (32km) runs along a shared border with neighboring Virginia. Even with that, West Virginia has fewer miles than any other Appalachian Trail state.
The entirety of the 4 miles can be found in Jefferson County.
It passes right through the historic town of Harpers Ferry.
It's the easiest place along the trail where one can reasonably expect to be in three states in a single day.
It's also the only segment of the Appalachian Trail that I've ever hiked.
---