The Twelve Mile Circle feeds my on-the-ground experiences and my experiences loop-back and feed 12MC. It's a great circle of activity, although I mention that with apologies for the analogy. A reader comment brought John Day to my attention, which resulted in an article, which resulted in some fascinating places to visit during my Oregon trip.
I've been tripping across John Day repeatedly ever since.
View Larger Map
This is the approximate route for the John Day portion of the journey, although not all in a single day. We're using Bend, OR as a base camp and making day-trips into the countryside from there, having driven down from the Tri-Cities area of eastern Washington earlier.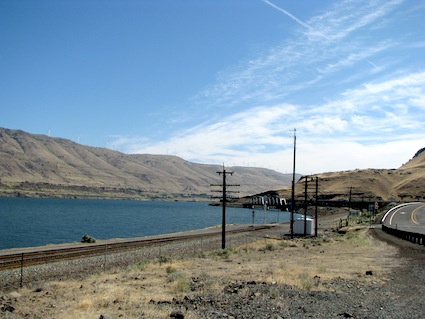 I began with a drive-by of the Columbia / John Day River confluence along Interstate 84, on the Oregon side of its shared border with Washington. The John Day dumps into the much-larger Columbia right at the railroad trestle farther back in the image. I could have stopped at Le Page Park, situated directly at the confluence, but that would have required an admission fee and I'm cheap. I wasn't going to pay just to take a photo as much as I love the 12MC audience. Sorry.
We checked-in with John Day a bit more dramatically at the John Day Fossil Beds National Monument a few days later. It's truly in the middle of nowhere and all of the park rangers appeared to be in their mid-20's. I think John Day may be a form of newly-hired ranger hazing. I can imagine the parks superintendent saying something like, "So, you want to work at Yosemite, do you? Well, put in about 20 years and maybe we can make that happen. First, let's start you off at John Day and see what you're made of."
View Larger Map
The satellite image makes John Day look bleak. That's deceptive. It's absolutely stunning and gorgeous at ground level.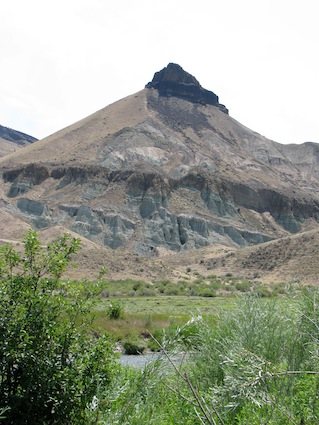 The National Monument has three units and we visited two of them. It's headquartered at the Sheep Rock Unit named, appropriately enough, for Sheep Rock. You're looking at Sheep Rock right now.
One can visit the Thomas Condon Paleontology Center and the nearby James Cant Ranch in quick succession. This part of the park has the only true amenities (e.g., genuine flush toilets). My wife felt it was important to note that for the more demure members of the 12MC audience. It's apparently a big deal. There are also a variety of short-hike opportunities with spectacular scenery nearby too.
Notice the trickle of water in the foreground of the image. Yes, that's the same John Day River that will dump into the Columbia more purposefully another hundred-or-so-miles to the north. Much of the flow down here gets diverted for agricultural purposes. Water rights are strictly apportioned and enforced. Farms could not exist in the High Desert without careful water management. My favorite trivial tidbit from an interpretive sign at the ranch:
Just as the Cant family did before us, the National Park Service is dedicated to continuing the tradition of working this land by farming and cultivating an annual hay crop. In fact, to manage this operation, John Day Fossil Beds National Monument employs the only full-time farmer in a national park.
I can now say I saw the only full-time national parks farmer puttering-along on his tractor.
The Sheep Rock unit is slightly over the Grant County line, approaching from the west. My wife pointed out the sign to me as we crossed the border. I felt a sense of accomplishment, that she's finally acclimated to my county counting fixation albeit she never truly understanding it. I also felt a sense of bemusement that she didn't seem to realize I'd mapped and planned this county capture well ahead of time, and in fact, it was a contributory reason for trekking all the way out to the Sheep Rock unit in the first place. I give her a look of mild surprise, and responded "oh, isn't that interesting?"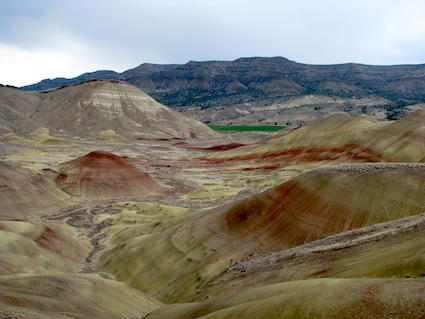 The kids enjoyed the fossils at the Sheep Rock unit most of all. My wife and I favored the scenery of the Painted Hills Unit. There was something for the whole family to appreciate. I call that success.
I cannot even begin to describe the Painted Hills and the photograph doesn't do it justice. The colors, if anything, were even more vibrant. A passing shower created additional viewing opportunities, changing the entire nature of the scenery. Yes, apparently I have the ability to bring rain to the desert. Call it my special gift. I can't have a vacation without rainfall. It passed quickly and didn't spoil the day, so no harm done.
The Painted Hills are located in Wheeler County, which is the Oregon county with the smallest population (1,441 residents in 2010). It also covers 1,715 square miles, making it one of those rarefied counties with more land than people. What does more land than people look like? Empty. Really, really empty. As in, make sure you have a full tank of gas before you arrive because it's going to be a long time before you get another chance, empty. Do you want to live completely isolated in a stunningly beautiful place? Wheeler County might be your choice.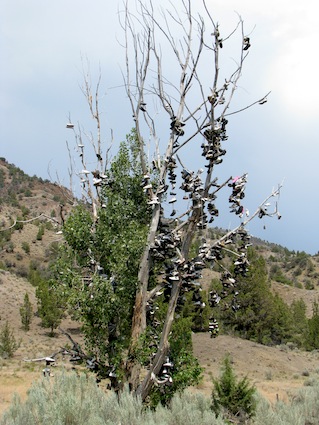 I didn't get to the town of John Day or Dayville, both named for the John Day River rather than directly for the man himself, because they were further down the road and the kids would have mutinied. I did, however, stop by this odd Shoe Tree between Dayville and Mitchell.
We stumbled upon this completely by accident although I found it listed on Roadside Americana after we returned. I guess it's famous, sort of, or whatever. A beat-up pickup truck stood by the side of the road when we pulled over. Two middle-aged guys, looking like they'd been plucked right out of the 1840's Mountain Man era complete with ZZ Top beards, were throwing old shoes onto the tree. They explained that it was a tradition started by local high school kids, and alcohol may have been involved.
Actually they looked at us like we were the odd ones. "You don't have shoe trees where you're from?" Um… no, can't say that we do.
---
Other articles in this travelogue:
Under
Borders
,
Nature
,
Roads
,
Terrain
,
U.S. Counties
,
U.S. States
,
Water
,
Weather
| Taged
Grant County
,
I-84
,
Interstate 84
,
John Day Fossil Beds
,
John Day River
,
National Park Service
,
Oregon
,
Shoe Tree
,
Wheeler County
---