I've been on the road these last few days, at present in New Orleans, Louisiana. During this outing I've managed to collect another Strange Geography sighting and I would like to give the regular readers of Twelve Mile Circle a little preview of what I'll be adding to my more comprehensive website in the coming days.
There is a section of New Orleans known as the west bank. It's a designation that refers to land located west of the Mississippi River, the lifeblood of this riverport city. In the United States the Mississippi often serves as a pseudo-cultural divide between the eastern portion of the country and the western, much as the Mason-Dixon Line mentally splits it from north from south. In New Orleans the river takes on an additional significance. The older settlement sits east of the Mississippi and is considered by many residents to be a more prestigious address.
View Larger Map
There's one very unusual feature (and I provided a little foreshadowing on my recent South of Detroit entry). The west bank is actually EAST of the city. Notice the marker I've placed on historic Algiers Point, the oldest section of New Orleans located on the west bank. It was settled as early as 1719 although not intensively so until the 19th Century. Clearly it is to the east. Now use the map controls to zoom out from this location. While the Mississippi River generally flows towards the south, notice that when it gets to New Orleans it's running in an eastern direction with lots of twists and turns. One of those curves happens to occur right at the point where the French Quarter and Algiers line up on opposite banks of the river. So here, the western shore of the Mississippi is actually east of the eastern shore.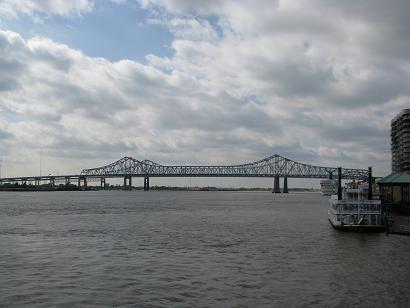 The Crescent City Connection is the name of two steel truss cantilever bridges that carry U.S. Route 90 between the New Orleans central business district and the west bank. They run almost exactly east – west. The west bank sign marking the approach to the Crescent City Connection can be quite disconcerting if one is not familiar with the odd geographic anomaly that goes along with the moniker.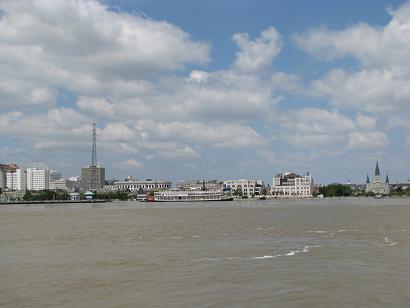 There is even a more scenic way to travel to the west bank however, by using a free ferry service departing from the base of Canal Street. I took this photograph as we crossed the Mississippi by boat. The famous St. Louis Cathedral on Jackson Square is the building with the three spires on the right side of the photo. The ferry provided perhaps the most magnificent views of the city from any location.
Indeed, east is west and west is east in New Orleans, and experiencing it first hand is half the fun for a geography fan.
---