There are various small locations in the United States that are physically disconnected from the rest of the country. Two of those spots require people to clear immigration and customs to enter Canada, then do it all over again to get to the small parcel, unless you want to take a boat. I've featured those locations previously: Point Roberts, Washington and Minnesota's Northwest Angle.
But there's a spot in Vermont that's also physically disconnected from the United States. Sort of.
View Larger Map
Check out this peninsula at the northern end of Lake Champlain with all the different towns named with some variation of Alburg. Indeed, while the peninsula has a long border with Canada it is surrounded by water on the other three side and does not have a physical land connection to any other part of the United States. Technically it represents the same situation as Point Roberts and the Northwest Angle. Well, except for the three bridges that provide direct access. So, for this one, there's absolutely no reason to travel into Canada and circle back. Yes, it's physically disconnected, but should it hold the same esteemed position as the other two instances if you don't have to clear customs and immigration twice to get to it? You just drive to it. You probably wouldn't even know its significance unless someone pointed it out.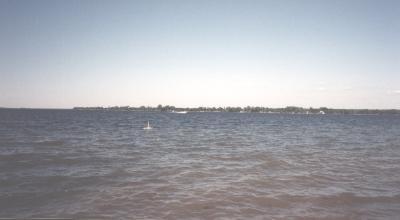 I visited this anomaly a few years ago. Actually I did cross an international border but only because I was driving down from Montréal (I would have had to cross that border regardless). It's beautiful country up here. This photo wasn't actually taken on the peninsula, but immediately to the east, from the state park on North Hero Island. This view looks across Lake Champlain towards the peninsula. It is literally as peaceful as it looks.
Under
Borders
,
Canada
,
International
,
Water
| Taged
Alburg
,
Canadian Border
,
Lake Champlain
,
North Hero Island
,
North Hero State Park
,
Peninsula
,
US Border
,
Vermont
---