The topic became my white whale. I came close to conquering it when I wrote Nimby Lane in 2015. Even then I joked about my problem, my seeming inability to write an article about the NIMBY phenomenon even after several attempts. NIMBY stood for "not in my back yard." In that earlier article we established that the acronym even appeared outside of the United States. Subsequent research also showed that it seemed to be transitioning from an all-caps NIMBY to a lowercase nimby. I think I'll make that adjustment too.
It might be worth repeating the definition as listed in Dictionary.com. That could be helpful to readers who don't speak English natively. It's used to describe:
… opposition by local citizens to the locating in their neighborhood of a civic project, as a jail, garbage dump, or drug rehabilitation center, that, though needed by the larger community, is considered unsightly, dangerous, or likely to lead to decreased property values.
Anyway, the day finally arrived! Today I offer my nimby article at long last. The solution, once I discovered it, came easy. I simply typed nimby into Google and selected news. I chose examples only from the initial page of results as they appeared in front of me. Your results will vary.
I don't mean to imply that any of these stories actually qualified as examples of nimby behavior. I'm not making value judgments. However, somebody though they did or the news articles never would have been published.
---
Falls Church, Virginia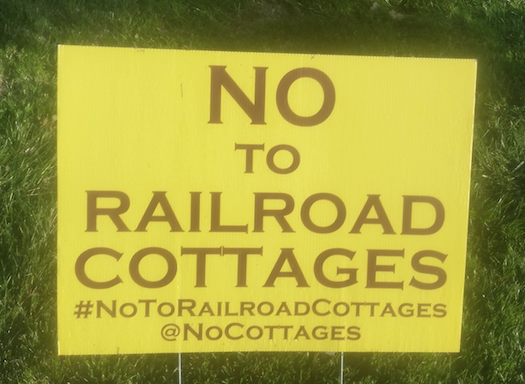 No to Railroad Cottages. My own photo.

Actually I noticed the first example in person before I ever saw it online. I spotted little placards stuck along the side of the Washington & Old Dominion trail as I biked through Falls Church a few days ago. They read, "No to Railroad Cottages." I didn't give them another thought until my recent search results popped-up some commentary about them, Cottage Criticism is Just More NIMBY Opposition. I think Google fed it to me because of my geographic proximity.
The City of Falls Church provided more detail about the Railroad Cottages Project. Ten small standalone houses would cluster closely together around common open space and a social interaction building. It would cater to residents aged 55 years and older. The 1.3 acre triangular lot sat at the eastern end of Railroad Avenue, hugging the W&OD trail (map). Supporters cited it as an example of smart growth that also allowed city residents to downsize as they aged. Opponents worried about traffic, parking, density, noise, emergency response, displacement of flora and fauna, and diminished property values.
The lot also hid an interesting history. An African-American family purchased it just after the Civil War and retained ownership for the next 150 years. The man who sold the lot to developers was the great-great-great grandson of the person who first bought it for $75 in 1865.
---
Snow River, Kenai Peninsula, Alaska

Moose Pass. My own photo.

Next I came across The NIMBY state on Alaska's Kenai Peninsula. Twelve Mile Circle visited the area back in 2010 so I paid particular attention. Huge numbers of people traveled down to the Kenai each summer for salmon fishing. Fishermen needed guides, equipment, food and places to stay, so tourism dollars fueled a huge part of the local economy.
People got angry when they heard that the Chugach Electric Association wanted to consider damming the Snow River (map) near Moose Pass. As the article noted, "Dam is a four-letter word worse than the f-word in that community." This one would reach 300 feet high and 700 feet across, too. Chugach Electric hoped to figure out whether a dam might actually increase salmon along the Snow River. Theoretically a better controlled river could improve spawning channels. However, that question will always remain a mystery. The public outcry forced Chugach Electric to abandon its effort. Citizens felt the risk to the local economy was too great.
---
Rainford, St Helens, Merseyside, England

Rainford – farm in the snow. Photo by Ian McFegan on Flickr (cc)

One person at least proclaimed she was Proud to be a Nimby in Rainford, England (map). This came in response to social media statements made by a member of the St. Helens Council. The Councillor remarked, "As I say you are nimby's," referring to members of the Rainford Action Group. The group opposed turning over some of the village's green belt to developers to build more than a thousand homes. It cited loss of agricultural land and jobs, as well as "extra pressure on our roads, surgeries, dentists, drains, or schools." The battle raged on.
---
Devonport, Auckland, New Zealand

Auckland seen from Devonport. Photo by Jeremy Oakley on Flickr (cc)

The nimby phenomenon existed in New Zealand too. There I found Nimby wars: everyone's a winner in Devonport, or are they? Ryman Healthcare wanted to build a retirement village on a vacant parcel in suburban Aukland, along the scenic Ngataringa Bay (map). Opponents didn't so much care for the design aesthetics, and they also feared the impact on endangered plants. Plus they claimed it would cut the neighborhood in half. This situation seemed to have resulted in a happier ending than most. Ryman Healthcare agreed to a number of design changes that pleased most, although not all local residents.
Maybe I'll run this experiment again in a few months and see how much the results change. Maybe I won't.