Strange boundaries came to light as I examined Lago de Maracaibo — Lake Maracaibo — in northwestern Venezuela. See if you agree.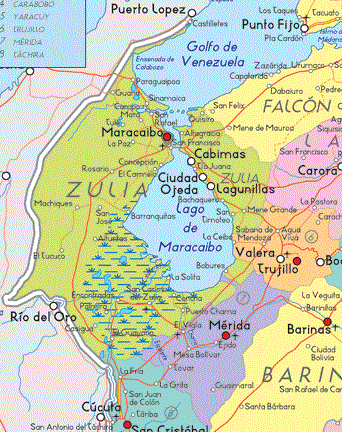 Lago de Maracaibo

I'd like to give proper credit for this map although I couldn't find a citation. I found it at some random website using Google Images. The little snippet I took should count as "fair use" in any case so it didn't concern me too much. Anyway, the state of Zulia encircled much of the lake. Trujillo included a small if respectable border adjoining the lake as well on the eastern side. Mérida proved to be the exception. It featured a little tendril, a narrow sipping straw that ran up to the lake from the southeast while creating a Zulia exclave in the process.
Some portion of the Twelve Mile Circle audience may wonder if I plan to delve into the political situation in Venezuela. No, this is not a politics blog. I'll stick purely with geography, thank you. Let's move onward.
---
State of Mérida
An explanation for the narrow Mérida strip onto the lake appeared in the Spanish version of Wikipedia. Assuming a nominal level of accuracy, the corridor apparently came courtesy of Zulia, a gift to Mérida in 1904. Mérida did not have an outlet to the sea before that time. In fact, geographically much of Mérida fell within the Western Andean Region. This included the Venezuelan national highpoint, Pico Bolívar (map) at 4,978 metres (16,332 feet).
Thus, Mérida got its pathway to the lake, and thereby an extension to the Gulf of Venezuela, the Caribbean Sea and the rest of the outside world. It didn't do much with it though. Little development happened along the waterfront. Only the tiny fishing village of Palmarito (map) graced Mérida's shoreline. Palmarito also differed considerably from the rest of Mérida. Certainly no mountains existed there. If anything, it resembled something closer to the islands of the Caribbean. The population differed too, descended primarily from Africans brought as slaves to work plantations centuries earlier during the Colonial period.
Nonetheless, a decent road ran along the corridor and connected Palmarito to the Pan American Highway, only 10 kilometres away. Theoretically it could become a major port someday. The century old gift from Zulia should be considered within that light. It was a nice gesture.
---
State of Zulia
However, Zulia's gift to Mérida created an odd situation for itself. It cleaved Municipio (municipality) Sucre into two nearly equally-sized portions, one attached to the rest of Zulia and the other an exclave. The larger portion of Sucre's population fell within the exclave, with fully half of its residents (26,000 people) within the single town of Caja Seca (map). However, it didn't seem like residents of either portion would feel too disconnected from each other. Caja Seca fell right on the border with Mérida and the Pan American Highway ran directly through it. The rest of Sucre municipality could be reached easily enough after a short jaunt down a paved highway across the neck of the Mérida corridor (map). No problem.
Caja Seca translated from Spanish into English as "Dry Box." I couldn't figure out why. Nonetheless, when twinned with the neighboring town of Nueva Bolivia (across the border in Mérida), it formed an economic catalyst for the whole southern end of the lake. The area grew rapidly in recent years. Nueva Bolivia began in 1928 as nothing more than a cluster of houses along a road used to move goods between lake and land. Over time, and especially after construction of the highway, it gained ongoing prominence and became the capital of Municipio Tulio Febres-Cordero in 1988. Caja Seca got a later start although it reached and perhaps eclipsed Nueva Bolivia recently.
---
Postscript
Only a narrow channel of the Torondoy River separated Caja Seca in Zulia from Nueva Bolivia in Mérida. In actuality, the two melded together into a single conglomerate of close to a hundred thousand residents when combined with other towns nearby. Once an agricultural center, it began to shift rapidly towards a service-based economy in recent years. Ironically, as time passed, access to the highway seemed more important to Mérida than access to the lake.